AKTIVITAS PROTEOLITIK BAKTERI LOKAL YANG DI ISOLASI DARI TEMPAT PENANGKARAN BUAYA
Jendri Mamangkey

Program Studi Pendidikan Biologi, FKIP-Universitas Kristen Indonesia, DKI Jakarta

Dwi Suryanto

Departemen Biologi, FMIPA-Universitas Sumatera Utara, Medan
Keywords:
Proteolytic, crocodile breeding, qualitative and quantitative, protease
Abstract
Indonesia has an ecological diversity which can be used as significantly potential habitat for local bacteria. One of such environments is crocodile breeding where research on proteolytic bacteria is still minimal. Proteolytic bacteria are a type of bacteria which can produce protease enzymes. This research was performed aiming to find selected proteolytic bacteria that can produce protease enzymes. Pour plate method using skim milk agar media was employed to isolate the bacteria. Bacteria isolates were selected based on qualitative and quantitative tests. Current research results discovered 6 bacteria isolates which had proteolytic ability after the qualitative test. Among those 6 isolates, 3 (FB2, THB1b, and THB6a) were able to hydrolyze skim milk media with the fastest incubation time of 18 hours. Meanwhile, based on quantitative test, 1 isolate produced the highest protease activity, which is FB2 isolate with 958 U/mL having a total of 12.05 cells/mL. Based on this research report, FB2 isolate collected from crocodile feces (FB) has the potential to be utilized in protease enzymes application in the environment.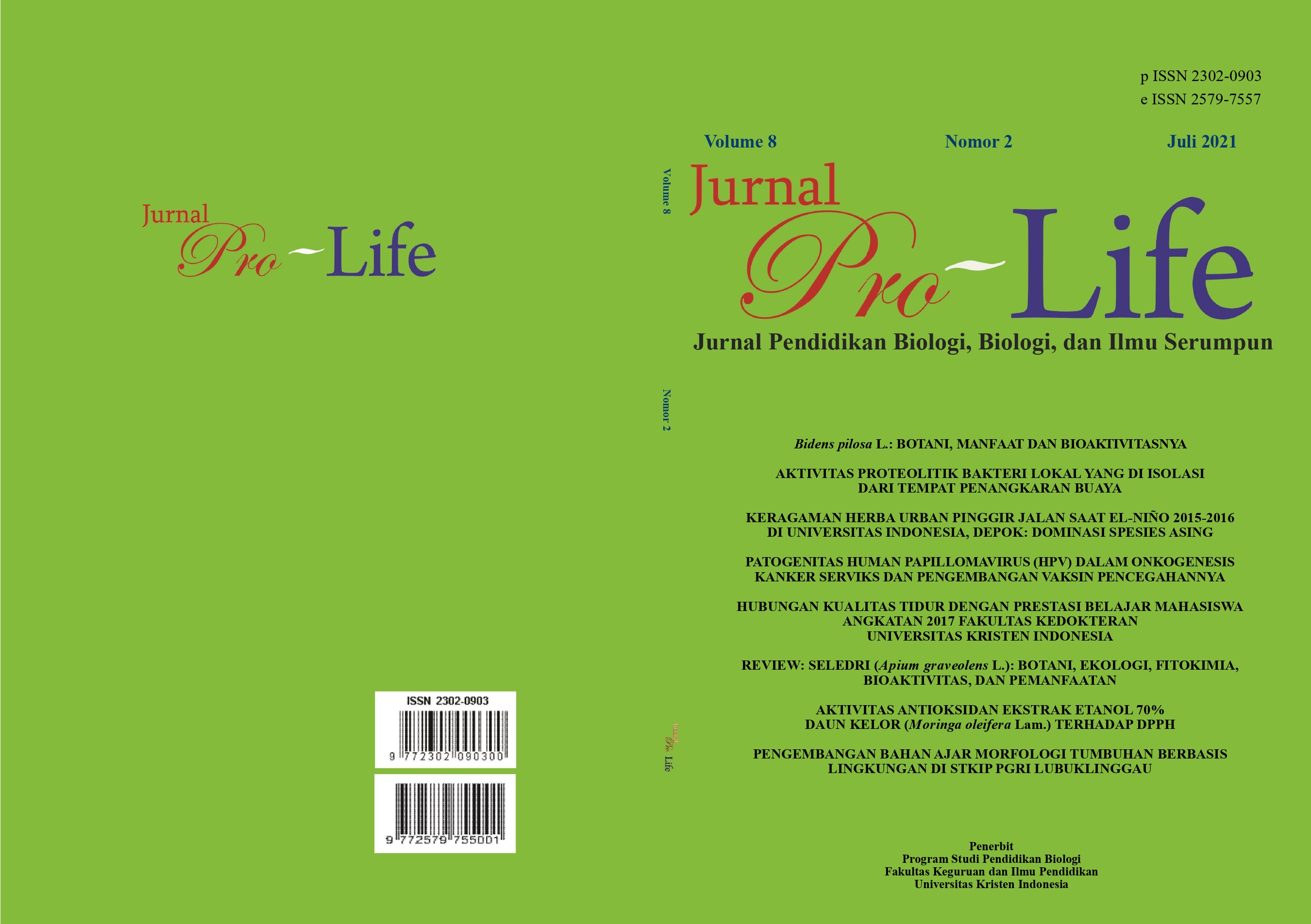 View 197 times Download 197 times PDF
Copyright (c) 2021 Jurnal Pro-Life: Jurnal Pendidikan Biologi, Biologi, dan Ilmu Serumpun
This work is licensed under a Creative Commons Attribution-NonCommercial-NoDerivatives 4.0 International License.