STRUKTUR TUBULUS SEMINIFERUS MENCIT (Mus musculusL.) SETELAH PAPARAN EKSTRAK ETANOL DAUN MIMBA (Azadirachta Indica A.Juss)
Sarifudin Avycena

Departemen Biologi, Fakultas Sains dan Matematika, Universitas Diponegoro, Semarang

Agung Janika Sitasiwi

Departemen Biologi, Fakultas Sains dan Matematika, Universitas Diponegoro, Semarang

Siti Muflcihatun Mardiati

Departemen Biologi, Fakultas Sains dan Matematika, Universitas Diponegoro, Semarang
Abstract
Neem leaves are one of the traditional medicinal plants (Azadirachta indica A Juss). Neem leaves contain an active
composition as an antifertility such as azadirachtin, flavonoids, saponins, nembeen and nimbidin. Spermatogenic
Index of male mice (Mus musculus L) after being given ethanol extract from the leaves of the mimba (Azadirachta
indica A. Juss). This study used a completely randomized design (CRD) with 2 control groups (aquades) and
treatment (giving the leaves of the mangosteen ethanol extract at a dose of 14 mg / KgBB / day) with 15 replications.
The treatment was given orally with a volume of 0.2 ml for 21 days. The 22 days of the testes were isolated, weighed
and made histological preparations using a paraffin method with a thickness of 5 μm, and staining of Hematoxylin
Eosin (HE). Observation of seminiferous tubule structure and measurement of seminiferous tubule diameter was
carried out in 4 fields of view. The Spermatogenic Index values (SI) was determined by the number of phases of
each field specified in the seminiferous tubules. Data were analyzed by t test with a confidence level of 95%. The
results of the analysis showed not significant different on body weight, testicular weight and diameter of the
seminiferous tubules. Spermatogenic Index observations showed that the control group had a dominant fase of 5
while the treatment group had dominant fase of 4.The research concluded that the administration of mimba leaves
ethanol extract was recommended as an antifertility of male animals.

Keywords: Neem; seminiferous Tubules; Spermatogenic Index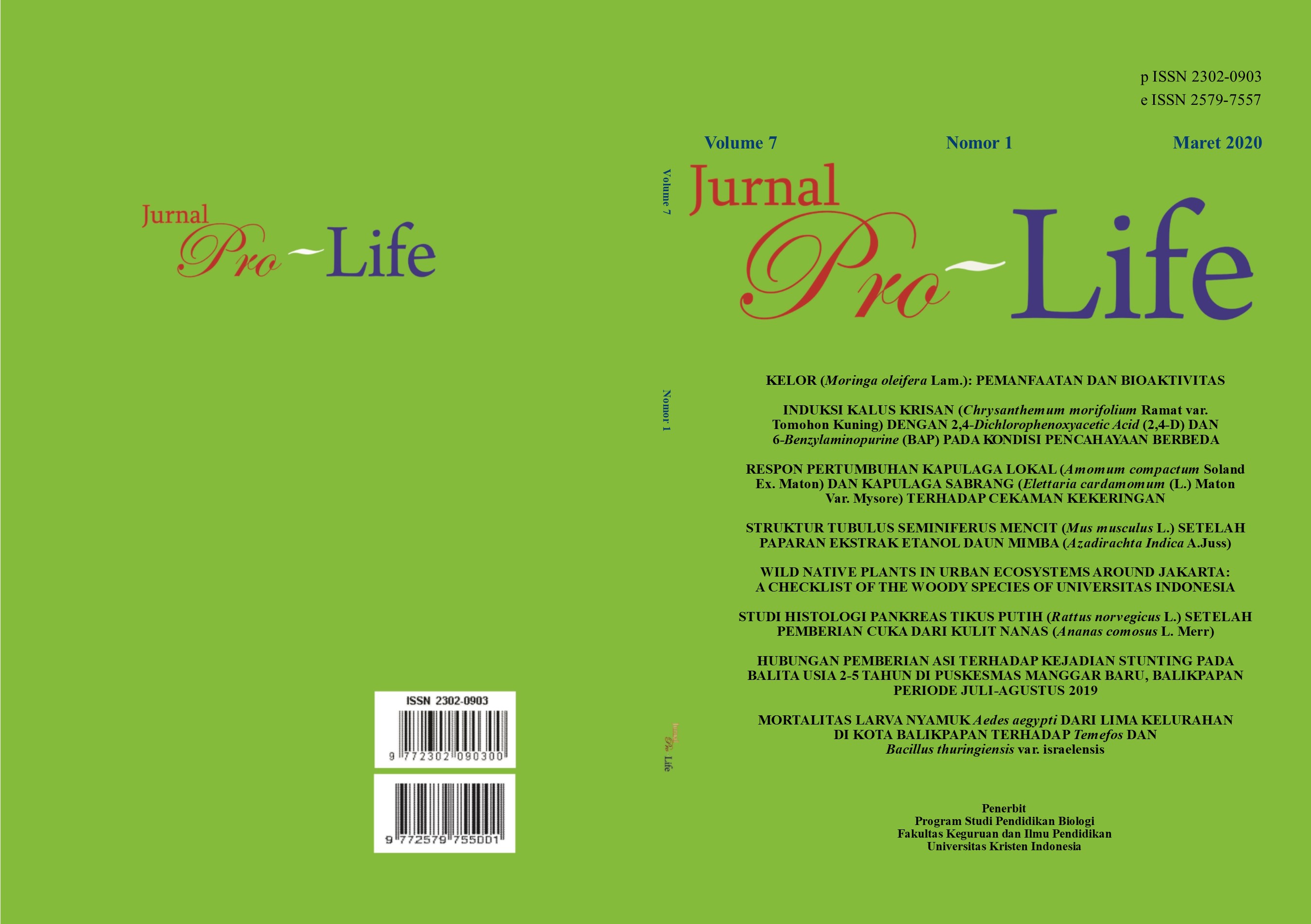 View 4145 times Download 4145 times PDF
How to Cite
Avycena, S., Sitasiwi, A. J., & Mardiati, S. M. (2020). STRUKTUR TUBULUS SEMINIFERUS MENCIT (Mus musculusL.) SETELAH PAPARAN EKSTRAK ETANOL DAUN MIMBA (Azadirachta Indica A.Juss). Jurnal Pro-Life, 7(1), 42-48. https://doi.org/10.33541/jpvol6Iss2pp102