KERAGAMAN HERBA URBAN PINGGIR JALAN SAAT EL-NIÑO 2015-2016 DI UNIVERSITAS INDONESIA, DEPOK: DOMINASI SPESIES ASING
Wendy A. Mustaqim

Program Studi Biologi, Fakultas Teknik, Universitas Samudra, Langsa, Aceh

Aulia S. Ningrum

OMPT Canopy, Departemen Biologi, FMIPA, Universitas Indonesia, Depok, Jawa Barat

Windra Suffan

OMPT Canopy, Departemen Biologi, FMIPA, Universitas Indonesia, Depok, Jawa Barat
Keywords:
El-Niño, alien plant, herbs diversity, urban plants, Western Java plants
Abstract
One of the focuses of urban ecology is a study that regarded the native versus alien species. During the 2015-2016 El-Niño event, we have conducted an analysis on the diversity of living roadside herbs in a green landscape of Western Java from Universitas Indonesia. The result of the study revealed that a high percentage of non-native species (41.67%) in a roadside ecosystem during the El-Niño event. Axonopus compressus which is an alien species is the most important species based on its importance value index with 74.01%. This condition, together with the high percentage of non-native species show the resistance of those group in its new environment outside their native range even in one of the driest period. It also shows the possibility of such a group to become persist if the habitat of the native species affected by temperature increases, such as climate change.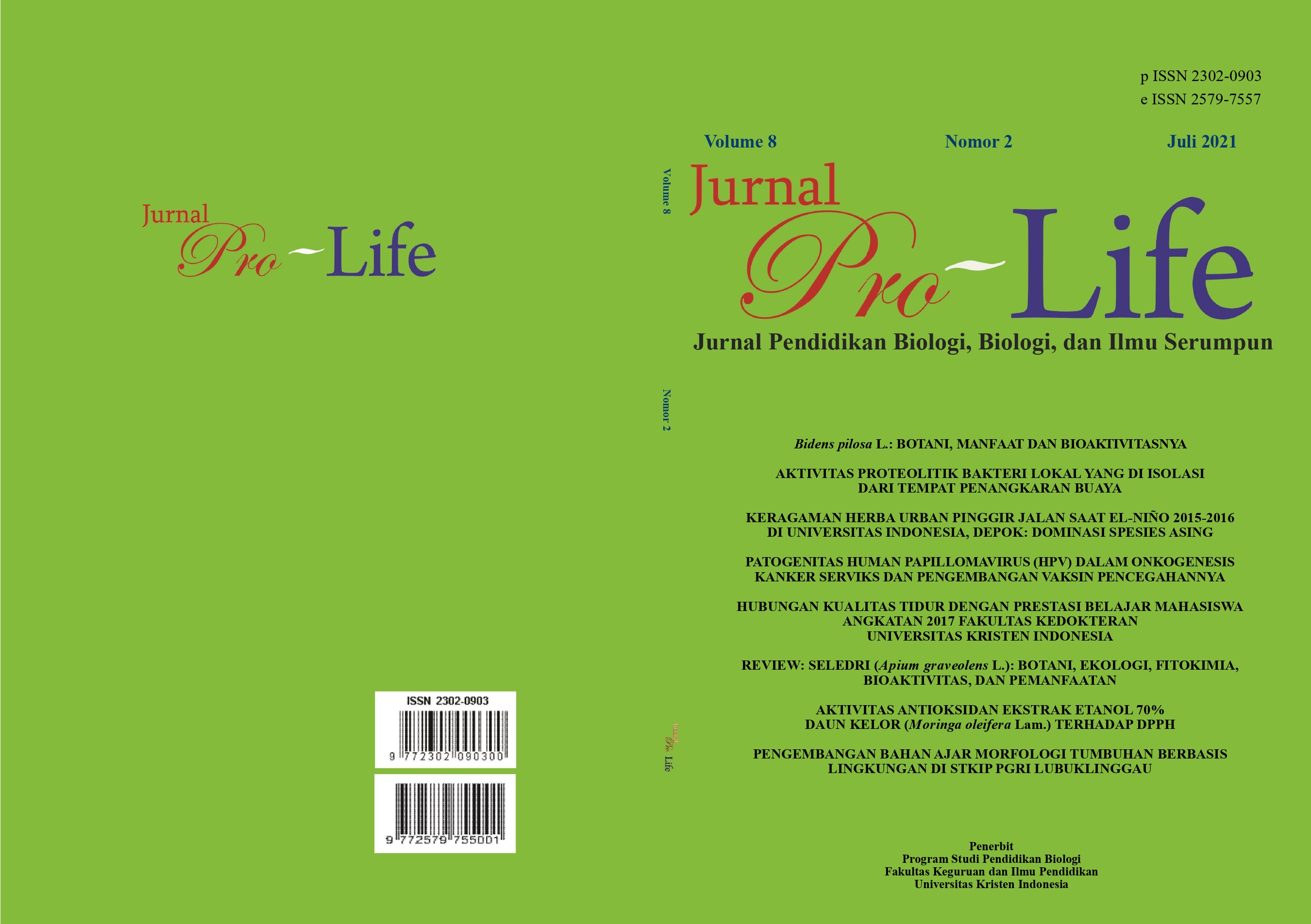 View 81 times Download 81 times PDF
Copyright (c) 2021 Jurnal Pro-Life: Jurnal Pendidikan Biologi, Biologi, dan Ilmu Serumpun
This work is licensed under a Creative Commons Attribution-NonCommercial-NoDerivatives 4.0 International License.