PENERAPAN METODE SCRAMBLE DALAM PEMBELAJARAN PENDIDIKAN AGAMA KRISTEN UNTUK MENINGKATKAN HASIL BELAJAR SISWA
Agnes Monica Halawa

SD Tunas Cemerlang Jakarta Timur 2 (Alumni Pascasarjana, Universitas Kristen Indonesia)
Keywords:
Scramble Method, Learning Outcomes, Chirstian Religious Education
Abstract
In the learning process the teacher needs a method as a means, a technique for conveying material and achieving the learning objectives itself. The scramble method is on of interesting learning methods to be applied in the learning process, especially for Christian religious education because it helps  concentration and thinking speed of student in learning. The purpose of this study by applying the scramble method is the researcher wanted to improve learning outcomes of student in Christian religious education at Tunas Cemerlang primary school, East Jakarta with a total of 10 christian students consisting of 4 female students and 6 male students. The method used in this research is classroom action research (PTK) carried out in two cycles in one learning year or one cycle in one semester. In each cycle consisting of four stages, namely planning, implementing, observing, and reflecting. The application of the scramble method to improve student learning outcomes in Christian religious education resulted in cycle I (50%) students were able to successfully achieve learning outcomes in according with the minimum completenees criteria and cycle II showed an increase with the results of (80%) students successfully achieving learning outcomes above the minimum completeness criteria in chirstian religious education subjects. The application of the scramble method can done in Christian religious education learning to achieve the objectives of this study in improving learning outcomes, but also helping to increase activity of teacher and student activity. The scramble method also helps the learning process of Christian religious education to be not boring.
References
Anthony, Michael J. Introducing Christian Education, Fondasi Pendidkan Abad 21. Malang: Gandum Mas, 2017.
Aqib, Zainal. Penelitian Tindakan Kelas untuk guru SMP, SMA, SMK. Bandung: Yrama Widya, 2019.
Fitriyah, Nur Ida Lailatul. "Penerapan Metode Pembelajaran Scramble untuk Meningkatkan Hasil Belajar Siswa pada Mata Pelajaran IPS Kelas V SDN Ketapangkuning." Jurnal Penelitian Pendidikan Guru Sekolah Dasar (JPGSD) 5, no. 3 (2017): 647.
Herdiawanto, Heri, Fokky Fuad Wasitaatmadja, dan Jumanta Hamdayama. Kewarganegaraan dan Masyarakat Madani. Jakarta: Prenadamedia Group, 2019.
Hidayatullah. Penelitian Tindakan Kelas. Banten: LKP Setia Budi, 2018.
Homrighausen, E.G. dan I.H. Enklaar. Pendidikan Agama Kristen. Jakarta: BPK Gunung Mulia, 2012.
Huda, Miftahul. Model-model pengajaran dan pembelajaran. Yogyakarta: Pustaka Pelajar, 2017.
Iskandar, Ranu. Pendoman Penilaisan Hasil Belajar Peserta Didik. Sukabumi: Jejak Publisher, 2019.
Ismail, Andar. Ajarlah Mereka Melakukan. Jakarta: BPK Gunung Mulia, 2004.
Jura, Demsy. Pendidikan Agama Kristen dalam Rimba Kontemplasi. Jakarta: UKI Press, 2018.
Kristianto, Paulus Lilik. Prinsip dan Praktik Pendidikan Agama Kristen. Yogyakarta: ANDI, 2012.
Kusnadi. Metode Pembelajaran Klaboratif. Tasikmalaya: Edu Publsher, 2018.
Nuhamara, Daniel. Pembimbing Pendidikan Agama Kristen. Jakarta: BPK Gunung Mulia, 2010.
Saridewi, N.M. Putri, dan N.Nym. Kusmariyatni. "Penerapan Model Pembelajaran Scramble untuk Meningkatkan Hasil Belajar Ipa siswa kelas." Jurnal Pendidikan dan Pengajaran 1, no. 3 (2017): 232–323.
Sohimin, Aris. 68 Metode Pembelajaran Inovatif dalam kurikulum 2013. Yogyakarta: Ar-Ruzz Media, 2016.
Sudjana. Penelitian Hasil Belajar Mengajar. Bandung: Remaja Rosdakarya, 2009.
Sugiarto, Toto. E-Learning Berbasis Schoology Tingkatkan Hasil Belajar Fisika. Cv. Mine, 2020.
Syafaruddin, Supiono, dan Burhanuddin. Guru Mari Kita Menulis Penelitian Tindakan Kelas (PTK). Yogyakarta: Budi Utama, 2019.
Syahputra, Edy. Snowbal Throwing Tingkatkan Minat dan Hasil Belajar. Sukabumi: Haura Publising, 2020.
Undang-Undang Republik Indonesia Nomor 20 Tahun 2003 tentang Sitem Pendidikan Nasional dan Undang-Undang Republik Indonesia Nomor 14 Tahun 2005 tentang Guru dan Dosen. Jakarta: Transmedia Pustaka, 2008.
Wiriaatmadja, Rochiati. Metode Penelitian Tindakan Kelas. Bandung: Remaja Rosdakarya, 2018.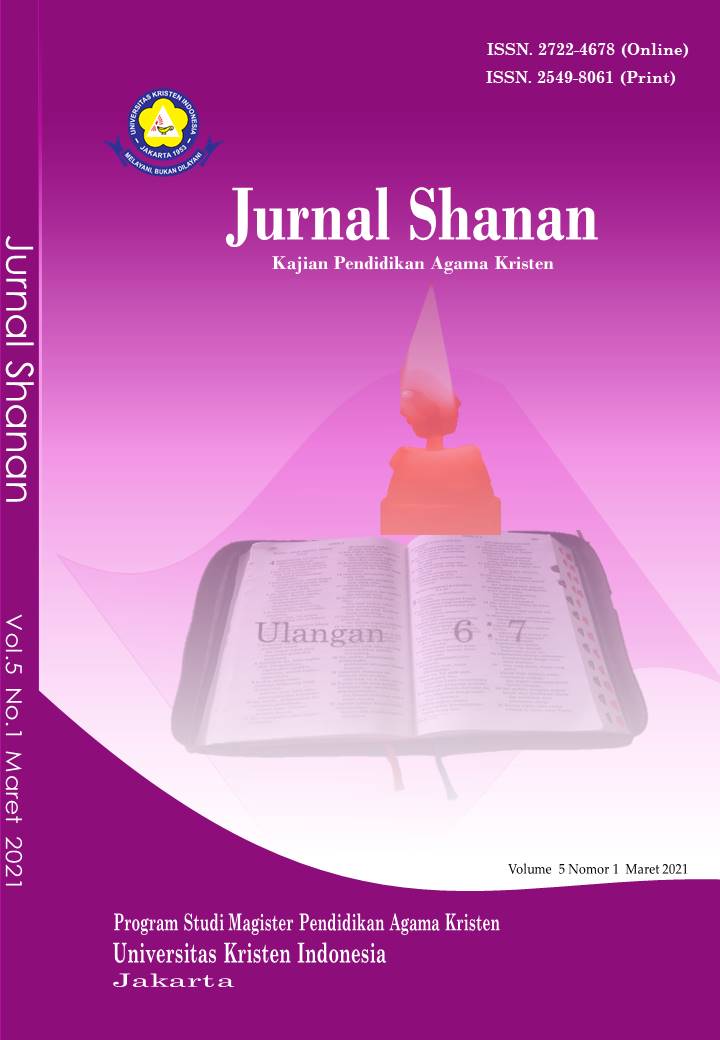 How to Cite
Halawa, Agnes Monica. "PENERAPAN METODE SCRAMBLE DALAM PEMBELAJARAN PENDIDIKAN AGAMA KRISTEN UNTUK MENINGKATKAN HASIL BELAJAR SISWA". Jurnal Shanan 5, no. 1 (March 30, 2021): 15-28. Accessed April 23, 2021. http://ejournal.uki.ac.id/index.php/shan/article/view/2512.