Mentransformasi Generasi Kepemimpinan Kristen Berlandaskan Teori Perkembangan Iman Karya James W. Fowler
Yunardi Kristian Zega

Sekolah Tinggi Teologi Real, Batam

Hermina Sulistiawati

Sekolah Tinggi Teologi Real, Batam

Otieli Harefa

Sekolah Tinggi Teologi Real, Batam

Hendrik Bernadus Tetelepta

Sekolah Tinggi Teologi Real, Batam
Keywords:
Christian Education, Faith, James Fowler, Leadership, Transformation
Abstract
Today there is a leadership crisis, especially in Christian institutions. For example, the process of selecting church leaders or synods cannot be separated from elements of Corruption, Collusion and Nepotism (KKN). This shows that Christian leadership is experiencing moral and faith degradation. Therefore, the purpose of this study is to provide an overview of transforming generations of Christian leaders who are in accordance with the teachings of the Bible, based on James W. Fowler's 6 stages of faith development theory. For this reason, this research uses descriptive qualitative research with a literature approach. The results obtained include: First, at the age of 0-6 years, growing children's confidence and self-confidence. Second, at the age of 6-12 years, set an example regarding the morals and integrity of leadership. Third, At the age of 12-18 years, take care of the children's association and environment. Fourth, at the age of 18-25 years, provide religious teachers who can become role models in leadership. Fifth, at the age of 25-40 years, form an open point of view. Sixth, At the age of 40 and above, adjust to the views of others and see the truth from many points of view. With this in mind, cases that often occur in the Christian leadership environment will be minimized.
References
Bagaskara, Mirza. "KPK Sebut Harley Davidson Rafael Alun Bodong, Tak Terdaftar di Samsat." Nasional.Tempo.Co. Last modified 2023. Accessed March 3, 2023. https://nasional.tempo.co/read/1698166/kpk-sebut-harley-davidson-rafael-alun-bodong-tak-terdaftar-di-samsat.
Cremers, Agus. Teori Perkembangan Kepercayaan Karya-Karya Penting James W. Fowler. Yogyakarta: Kanisius, 1995.
Darmalaksana, Wahyudin. "Metode Penelitian Kualitatif Studi Pustaka dan Studi Lapangan." Digital Library UIN Sunan Gunung Djati Bandung.
Eriksson, Erik H. Identitas dan Siklus Hidup Manusia : Bunga Rampai / Erik H. Eriksson ; Terjemahan dan Pendahuluan Agus Cremers. Jakarta: Gramedia, 1989.
Fennita, Maria, dan Mellie Cynthia. "Skandal Polisi Terburuk di Indonesia Melibatkan Orang Kristen. Pemimpin Menilai Dampaknya." Christianitytoday.Com. Last modified 2023. Accessed March 3, 2023. https://www.christianitytoday.com/ct/2023/february-web-only/skandal-polisi-kristen-sambo-eliezer-otoritas-id.html.
Fowler, James W. Manual for Faith Development Research. Georgia USA: Center for Research in Faith and Moral Development, 2004.
Harruma, Issha. "Data Kasus Korupsi di Indonesia Tahun 2022." Kompas.Com. Last modified 2022. https://nasional.kompas.com/read/2022/09/21/01000051/data-kasus-korupsi-di-indonesia-tahun-2022.
Hasan, Johan. "Sumbangsih Pemikiran James W. Fowler dalam Pendidikan Agama di Perguruan Tinggi Indonesia." Jurnal RESPONS Vol.23, No. No.2 (2018): 188.
Ibda, Fatimah. "Perkembangan Kognitif: Teori Jean Piaget." INTELEKTUALITA Vol. 3, No. 1 (2015): 33. https://www.jurnal.ar-raniry.ac.id/index.php/intel/article/view/197.
Idrus, Muhammad. "Keraguan Kepada Tuhan pada Remaja." Psikologika : Jurnal Pemikiran dan Penelitian Psikologi 11, No. 21 (Februari 20, 2006). http://jurnal.uii.ac.id/index.php/Psikologika/article/view/280.
Marisi, Candra Gunawan, Didimus Sutanto, dan Ardianto Lahagu. "Teologi Pastoral Dalam Menghadapi Tantangan Kepemimpinan Kristen di Era Post-Modern: Tinjauan Yesaya 40:11." DIEGESIS: Jurnal Teologi Kharismatika 3, No. 2 (Desember 31, 2020): 120-132. https://ojs.sttrealbatam.ac.id/index.php/diegesis/article/view/80.
Markes, Karlitu Dias. "Suksesi Kepemimpinan Muda Kepada Yosua Sebagai Model Regenerasi Kepemimpinan Kristen Masa Kini." BONAFIDE: Jurnal Teologi dan Pendidikan Kristen 2, No. 2 (Desember 21, 2021): 214-236. http://jurnal.sttissiau.ac.id/index.php/jbs/article/view/80.
Mukmin, Silahul, dan Indra Prasetyo. "Pengaruh Gaya Kepemimpinan dan Budaya Organisasi Terhadap Kinerja Karyawan Melalui Kepuasan Kerja Karyawan Sebagai Variabel Intervening." Jurnal Manajerial Bisnis 4, No. 2 (Januari 5, 2021): 123-136. http://jurnal.uwp.ac.id/pps/index.php/mm/article/view/297.
Ngesthi, Yonathan Salmon Efrayim, Carolina Etnasari Anjaya, dan Yonatan Alex Arifianto. "Merefleksikan Prinsip dan Tanggung Jawab Kepemimpinan Adam dalam Kepemimpinan Kristen: Kajian Biblis Kejadian 2-3." Jurnal TERUNA BHAKTI 3, No. 2 (2021): 144-154.
Nicolas, Djone Georges, Timothy Amien Rk, Soneta Sang S. Siahaan, Lasino J.W. Putro, dan Abdon A. Amtiran. "Kepemimpinan Kristen yang Efektif Berdasarkan Iman Dan Visi Ilahi." Jurnal Impresi Indonesia 1, No. 5 (Mei 20, 2022): 461-467. https://jii.rivierapublishing.id/index.php/jii/article/view/63.
Panjaitan, Firman. "Kepemimpinan Yesus Kristus Sebagai Model Dasar Kepemimpinan Kristen Berdasarkan Matius 20:20-28." KINAA: Jurnal Kepemimpinan Kristen dan Pemberdayaan Jemaat 1, No. 2 (Desember 22, 2020). http://kinaa.iakn-toraja.ac.id/index.php/ojsdatakinaa/article/view/14.
Prihanto, Agus. "Peran Proses Mentoring Pemimpin Kaum Muda Bagi Perkembangan Pelayanan Pemuda di Gereja." Jurnal Jaffray 16, No. 2 (Oktober 6, 2018): 197. http://ojs.sttjaffray.ac.id/index.php/JJV71/article/view/258.
Sanderan, Rannu. "Dilema Kepemimpinan Kristen, Tuhan atau Atasan?" SOPHIA: Jurnal Teologi dan Pendidikan Kristen 2, No. 2 (Desember 2, 2021): 1-15. https://sophia.iakn-toraja.ac.id/index.php/ojsdatasophia/article/view/40.
Santosa, Santosa. "Urgensi Peran Orang Tua Membangun Kepemimpinan Anak di Era Disrupsi Teknologi Berdasarkan Ulangan 6: 6-9." EDULEAD: Journal of Christian Education and Leadership 2, no. 1 (Juni 1, 2021): 71-88. https://stak-pesat.ac.id/e-journal/index.php/edulead/article/view/61.
Saputra, Denny Surya. "Perkembangan Spiritual Remaja SMA Dharma Putra." Jurnal: Psikologi 15, No. 2 (2018): 60-67.
Septianingrum, Lusia Wahyu, dan Dellawaty Supraba. "Pengaruh Dukungan Sosial Atasan pada Optimisme Karyawan PT Propan Raya ICC Malang dalam Bekerja di Era New Normal Covid-19." Jurnal Psikologi Tabularasa 16, no. 2 (Oktober 27, 2021): 64-76. https://jurnal.unmer.ac.id/index.php/jpt/article/view/7661.
Siahaya, Johannis. "Kepemimpinan Kristen dalam Pluralitas Indonesia." Jurnal Teruna Bhakti 1, No. 1 (Maret 18, 2019): 1. http://stakterunabhakti.ac.id/e-journal/index.php/teruna/article/view/8.
Sugiyono. Memahami Penelitian Kualitatif. Bandung: Alfabeta, 2005.
Suparlan, Henricus. "Filsafat Pendidikan Ki Hadjar Dewantara dan Sumbangannya Bagi Pendidikan Indonesia." Jurnal Filsafat 25, No. 1 (Agustus 14, 2016): 56. http://jurnal.ugm.ac.id/wisdom/article/view/12614.
Tambunan, Fernando. "Karakter Kepemimpinan Kristen Sebagai Jawaban Terhadap Krisis Kepemimpinan Masa Kini." ILLUMINATE: Jurnal Teologi dan Pendidikan Kristiani 1, No. 1 (Juni 30, 2018): 81-104. http://sttbaptis-medan.ac.id/e-journal/index.php/illuminate/article/view/6.
Tarigan, Sayang, Yanto Paulus Hermanto, dan Nira Olivia P. "Kepemimpinan Tuhan Yesus di Masa Krisis Sebagai Model Kepemimpinan Kristen Saat Ini." HARVESTER: Jurnal Teologi dan Kepemimpinan Kristen 6, No. 1 (Juni 15, 2021): 38-54. https://e-journal.sttharvestsemarang.ac.id/index.php/harvester/article/view/54.
Widi, Shilvina. "Kasus Korupsi di Indonesia Terbanyak dari Pemerintah Pusat." DataIndonesia.Id. Last modified 2022. https://dataindonesia.id/ragam/detail/kasus-korupsi-di-indonesia-terbanyak-dari-pemerintah-pusat.
Yunus, Nur Rohim. "Etika dan Moralitas Politik Anggota Dewan." Mizan: Journal of Islamic Law 2, No. 2 (Juni 12, 2018). https://www.jurnalfai-uikabogor.org/index.php/mizan/article/view/148.
Zega, Yunardi Kristian. "Teori Perkembangan Iman Remaja Menurut James W. Fowler dan Implikasinya bagi Pendidikan Agama Kristen." Jurnal Pendidikan dan Kebudayaan Missio 12, No. 2 (Juli 6, 2020): 140-151. http://unikastpaulus.ac.id/jurnal/index.php/jpkm/article/view/488.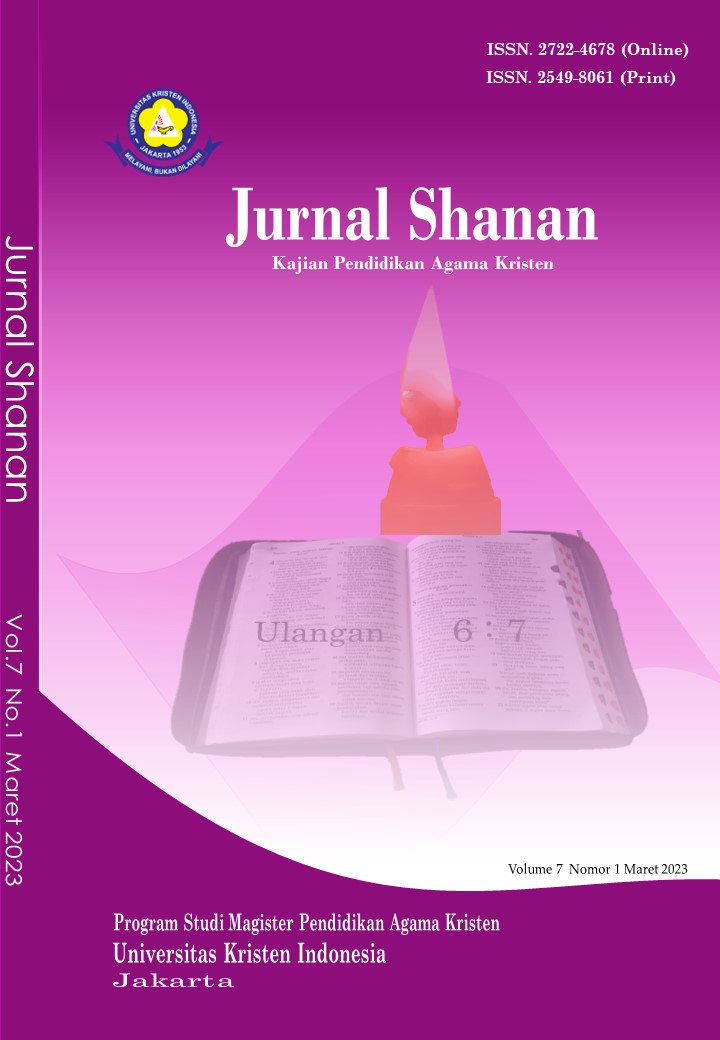 How to Cite
Zega, Yunardi Kristian, Hermina Sulistiawati, Otieli Harefa, and Hendrik Bernadus Tetelepta. "Mentransformasi Generasi Kepemimpinan Kristen Berlandaskan Teori Perkembangan Iman Karya James W. Fowler". Jurnal Shanan 7, no. 1 (March 31, 2023): 1-18. Accessed May 29, 2023. http://ejournal.uki.ac.id/index.php/shan/article/view/4671.
Copyright (c) 2023 Yunardi Kristian Zega, Hermina Sulistiawati, Otieli Harefa, Hendrik Bernadus Tetelepta
This work is licensed under a Creative Commons Attribution 4.0 International License.