Pembelajaran Berdiferensiasi dalam Kurikulum Merdeka Belajar Pada Mata Pelajaran Pendidikan Agama Kristen
Peggy Lucia Marita

Universitas Kristen Indonesia, Jakarta
Keywords:
Christian Religious Education, Differentiated Learning, Independent Learning
Abstract
The independent learning curriculum is the government's effort to advance education in Indonesia. One of the approaches in order to realize independent learning is the differentiated learning approach. Differentiated learning is one of the approaches that can be implemented by teachers to meet the needs of students according to their readiness, interests and learning profiles. However, differentiated learning is still rarely done due to teachers' lack of understanding in designing learning. This is because this curriculum is a newly implemented curriculum and not all education units have fully implemented it. The purpose of this study is to assist teachers in implementing learning in the classroom based on needs and applying differentiated learning strategies, namely content, process, and product so that together they can achieve educational goals. The research was conducted at SMPN 240 Jakarta from January to March 2023 using qualitative research methods with a descriptive analysis approach. The participants in this research are teachers and students. The focus of the research is to explain the stages of differentiated learning in Christian Religious Education subjects with the material of the Bible as the guide of my life. The results of this study show that differentiated learning has a positive impact on students and can help teachers to be able to fulfill their duties and responsibilities through the stages of preparing initial mapping with diagnostic assessments, compiling learning modules, and implementing learning.
References
Ade Sintia Wulandari. "Literature Review: Pendekatan Berdiferensiasi Solusi Pembelajaran dalam Keberagaman." Jurnal Pendidikan Mipa 12, No. 3 (2022): 682-689.
Albi Anggito, J S. Metodologi Penelitian Kualitatif. CV Jejak (Jejak Publisher), 2018.
Amiruddin, Yasser A. Menatap Guru Penggerak. Jakarta: GUEPEDIA, 2021.
Bahriah, E S, L Yunita, R N Sholihat, S Haryanti, and M S Indonesia. Aplikasi Kurikulum Merdeka: Fenomena Learning Loss Pada Pembelajaran Kimia. Media Sains Indonesia, 2023.
Dede Novalis, Yuel Sumarno, Josia Pantja Paruntung. "View of Penerapan Strategi Pembelajaran Kontekstual dalam Upaya Meningkatkan Minat Belajar Pak." Last modified 2019. Accessed February 25, 2023.
Faiz, Aiman, Anis Pratama, dan Imas Kurniawaty. "Pembelajaran Berdiferensiasi dalam Program Guru Penggerak Pada Modul 2.1." Jurnal Basicedu 6, No. 2 (2022): 2846-2853.
Fredik Melkias, Boiliu, dan S Sinaga. "Pembelajaran Pendidikan Agama Kristen Berbasis Student Centered Learning di Sekolah." Jurnal Education and Development 9, No. 2 (2021): 120-126.
Giawa, Lydia Indriswari; Kamertin. "Pengaruh Pelaksanaan Pendidikan Agama Kristen Terhadap Karakter Anak." Journal of Chemical Information and Modeling 53, No. 9 (2018): 1689-1699.
Groome, T H. Christian Religious Education. Jakarta: BPK Gunung Mulia, 2011.
Gustap Elias, S P, Fauzie, Bayumi, Ahmad Zainudin, Efriyeni Chaniago, dan Hapizoh. Penerapan Model Pembelajaran Berdiferensiasi. Deepublish, 2021.
Hidayat, Udin Firman, Martha Megawati Pasaribu, Djoys Anneke Rantung, dan Noh Ibrahim Boiliu. "Penerapan Pembelajaran Pendidikan Agama Kristen Adaptif dalam Menghadapi Tantangan Teknologi Pendidikan." Journal on Education 5, No. 2 (2023): 3492-3506.
Kristina Herawati. "Pentingnya Pendidikan Agama Kristen (PAK) Bagi Etiket Pergaulan Anak." SCRIPTA: Jurnal Teologi dan Pelayanan Kontekstual 2, No. 2 (2016): 56-67.
Marampa, Elieser R. "Peran Orangtua dan Guru Pendidikan Agama Kristen dalam Membentuk Karakter Kerohanian Peserta Didik." Teologi, Jurnal Pendidikan, D A N 2, No. 2 (2021): 100-115.
Non-Serrano, Janse Belandina. Buku Panduan Guru Pendidikan Agama Kristen Dan Budi Pekerti Untuk SMP Kelas VII. Jakarta: Pusat Kurikulum dan Perbukuan Badan Penelitian dan Pengembangan dan Perbukuan Kementerian Pendidikan, Kebudayaan, Riset, dan Teknolog, 2021.
Non-Serrano, Janse Belandina & Stephen Suleeman. Buku Guru Pendidikan Agama Kristen dan Budi Pekerti. Jakarta: Pusat Kurikulum dan Perbukuan, Balitbang, Kemendikbud, 2017.
Safarati, Nanda, dan Fatma Zuhra. "Literature Review: Pembelajaran Berdiferensiasi di Sekolah Menengah." Jurnal Pendidikan Genta Mulya No. 14 1 (2023): 15-26.
Sherly, Edy Dharma, Humiras Betty Sihombing. "View of Merdeka Belajar: Kajian Literatur." FKIP –Universitas Muhammadiyah Banjarmasin. Last modified 2020. Accessed February 25, 2023.
Suwartiningsih, "Penerapan Pembelajaran Berdiferensiasi Untuk Meningkatkan Hasil Belajar Siswa pada Mata Pelajaran IPA Pokok Bahasan Tanah dan Keberlangsungan Kehidupan di Kelas IXb Semester Genap SMPN 4 Monta Tahun Pelajaran 2020/2021." Jurnal Pendidikan dan Pembelajaran Indonesia (JPPI) 1, No. 2 (2021): 80-94.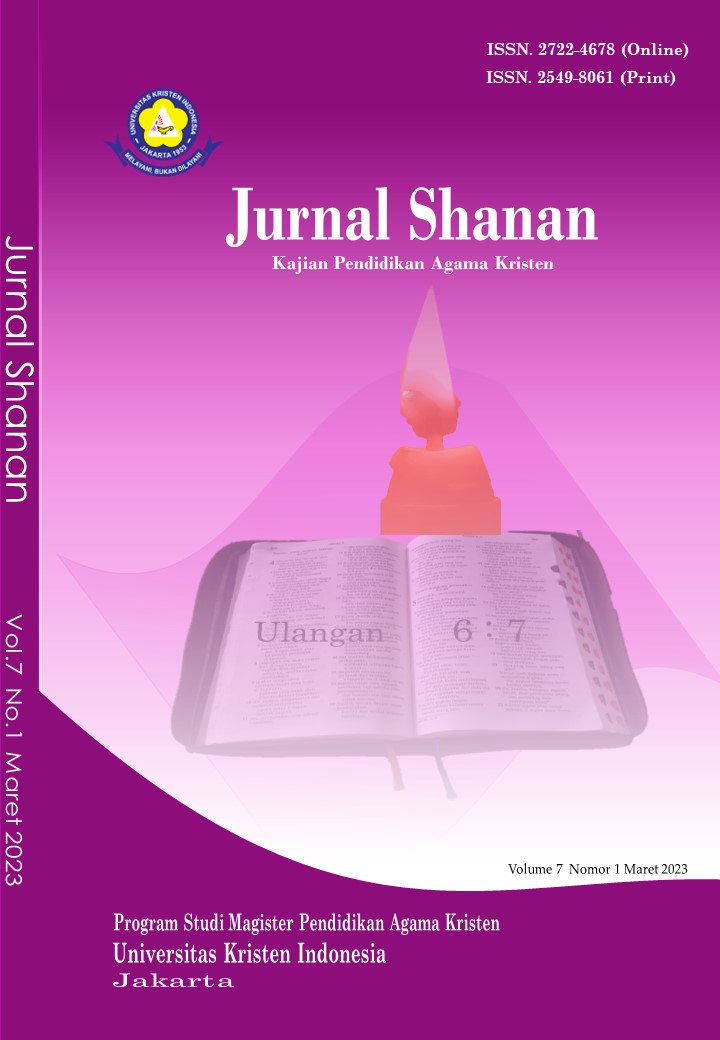 How to Cite
Marita, Peggy Lucia. "Pembelajaran Berdiferensiasi Dalam Kurikulum Merdeka Belajar Pada Mata Pelajaran Pendidikan Agama Kristen". Jurnal Shanan 7, no. 1 (March 31, 2023): 159-174. Accessed May 29, 2023. http://ejournal.uki.ac.id/index.php/shan/article/view/4665.
Copyright (c) 2023 Peggy Lucia Marita
This work is licensed under a Creative Commons Attribution 4.0 International License.