Implementasi Firman Tuhan dalam Mewujudkan Pendidikan Pluralisme Bagi Sekolah Minggu: Sebuah Kajian Pendidikan Agama Kristen
Elista Simanjuntak

Universitas Kristen Satya Wacana, Salatiga
Keywords:
Christian Religious Education, Pluralism Education, Sunday School
Abstract
This research is motivated by the conflict over the demolition and burning of a church at the Indonesian Christian Huria Suka Makmur in Aceh Singkil. The main purpose of this research is to provide education that Sunday School is a Christian educational institution that teaches and trains children to experience the true growth of faith in Jesus and teaches them how to be open and accept any differences that exist, in terms of religion, ethnicity, race, and so on. The method used in this study is descriptive qualitative by describing the Bible and its implementation in realizing pluralism education for Sunday Schools. The results of the study show that the Bible as the essence of forming the character of pluralism in children from an early age in the midst of diversity can be applied through the educational realm of Sunday School institutions on the basis that the Bible is the fundamentalism of diversity. In addition, the Bible is also a source of teaching legitimacy and the nature of pluralism education in Sunday Schools.
References
Angkouw, Gabriel James. "Scriptural Reasoning: Peran Kitab Keagamaan dalam Pendidikan Agama Multikultural di Young Interfaith Peacemaker Community Indonesia." Al-Adabiya: Jurnal Kebudayaan dan Keagamaan 15, No. 01 (2020): 69-91.
Atabik, Ahmad. "Pendidikan dan Pengembangan Potensi Anak Usia Dini." ThufuLA: Jurnal Inovasi Pendidikan Guru Raudhatul Athfal 2, No. 1 (2018): 149-163.
Daniel Fajar Panuntun, Rinaldus Tanduklanglani, Merry Adeng, Christian Eleyazar Randalele. "Model Ibadah Sekolah Minggu Kreatif Interaktif Bagi Generasi Alfa di Gereja Toraja." Jurnal Teologi dan Pendidikan Kristen Kontekstual Volume 2, (n.d.): 198-199.
Devi, Dwi Ananta. Toleransi Beragama. Semarang: Semarang: Alprin Finishing & Bindery Shop, 2021.
Djoys Anneke Rantung, M . Th Program. "Pluralisme, Pendidikan Kurikulum, dalam Metode, d a n PAK, Pembelajaran Anak, Bagi Minggu, Sekolah Laporan Penelitian oleh" (2016).
Fredik Melkias Boiliu "Model Pendidikan yang Cocok dalam Masyarakat Majemuk di Indonesia: Pendidikan Agama yang Inklusif yan Pendidikan Agama yang Multikultural." Prosiding "Revitalisasi Indonesia Melalui Identitas Kemajemukan Berdasarkan Pancasila," No. 1 (2018): 178-190.
GP, Harianto. PAK dalam Alkitab dan Dunia Pendidikan Masa Kini. Yogyakarta: Andi, 2012.
Gratzer, Walter. "The Golden Age." Biochemist 30, No. 6 (2008): 8-10.
Groome. Christian Religious Education-Pendidikan Agama Kristen :Berbagi Cerita Dan Visi Kita. Jakarta: Jakarta : PT. BPK Gunung Mulia, 2021.
H. Indra. Fundamentalisme Agama Titik Perbandingan Islam dan Kristen. Yogyakarta: Bening Pustaka, 2018.
Hartani, Mallia, dan Soni Akhmad Nulhaqim. "Analisis Konflik Antar Umat Beragama Di Aceh Singkil." Jurnal Kolaborasi Resolusi Konflik 2, No. 2 (2020): 93-111.
Karen Armstrong. Sejarah Alkitab. Bandung: PT.Mizan Pustaka, 2017.
Khadijah. Perkembangan Kognitif Anak Usia Dini: Teori dan Praktik. Jakarta: Kencana, 2020.
Mahfudh, Sahal, dkk., "Sikap Keberagamaan dalam Memperkokoh Semangat Kebangsaan Kumpulan Pemikiran Lokakarya," 2008.
Mohammad Yusuf. Politik Pendidikan Agama Kurikulum 2013 dan Ruang Publik Sekolah. Yogyakarta: Universitas Gajah Mada., 2014.
Oetarman. Fundamentalisme, Agama-Agama dan Teknologi. (Jakarta: PT. BPK Gunung Mulia), 2016.
Palunte Magdalena. "Peranan Guru Sekolahh Minggu Terhadap Perilaku Anak di Gereja Sebagai Pengikut Kristus." Mp (2019): 9.
Prasetya, Penta Astari. "Membangun Sikap Moderasi Beragama Melalui Pembelajaran Agama Inklusif : Studi Kasus di SMK Wira Harapan - Bali Building Religious Moderation Attitudes Through Inclusive Religious Learning : A Case Study at Wira Harapan Vocational High School - Bali." DIDAXEI Vol. 3, No. 1 Januari – Juni 2022 3 (2022): 356-366.
Simanjuntak, Elista. "Kitab Keagamaan dan Implikasinya dalam Membangun Pendidikan Pluralisme Bagi Anak Usia Dini." Jurnal Loko Kada 2, No. 02 (2022): 45-54.
Simanjuntak, Elista dan Iky Sumarthina Putri Prayitno. "Peran Guru Sekolah Minggu Terhadap Pendidikan Seks Bagi Anak Sekolah Minggu Usia Dini." Fidei: Jurnal Teologi Sistematika dan Praktika 5, No. 2 (2022): 169-192.
Sit, Masganti. Psikologi Perkembangan Anak Usia Dini, 2018.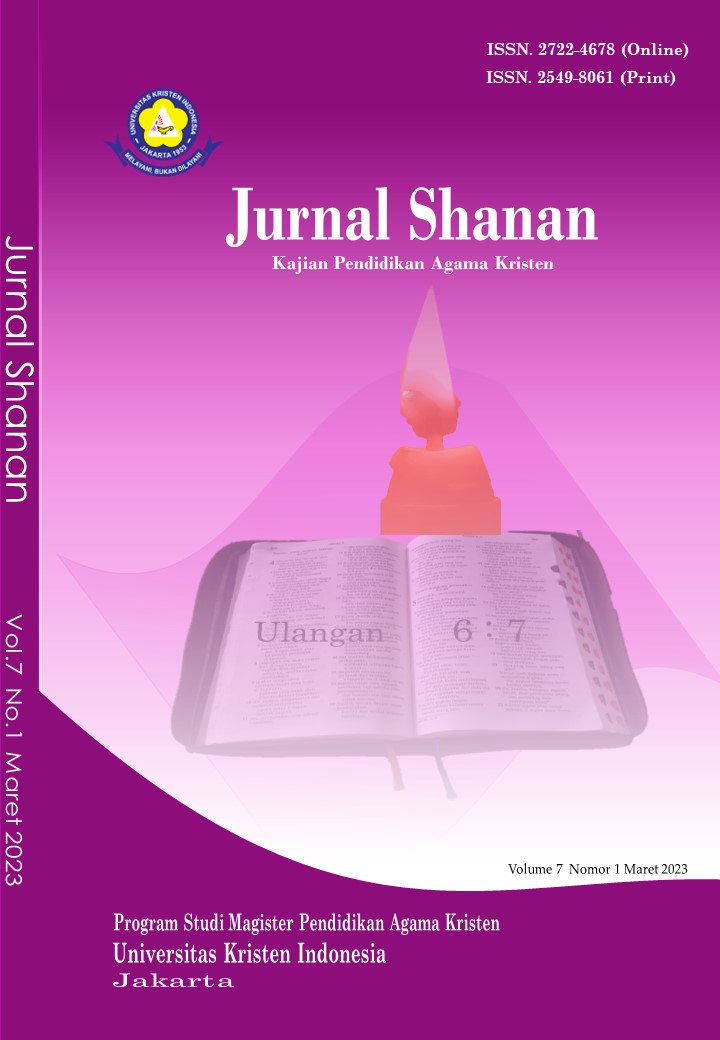 How to Cite
Simanjuntak, Elista. "Implementasi Firman Tuhan Dalam Mewujudkan Pendidikan Pluralisme Bagi Sekolah Minggu: Sebuah Kajian Pendidikan Agama Kristen". Jurnal Shanan 7, no. 1 (March 31, 2023): 119-134. Accessed May 29, 2023. http://ejournal.uki.ac.id/index.php/shan/article/view/4136.
Copyright (c) 2023 elista simanjuntak
This work is licensed under a Creative Commons Attribution 4.0 International License.