Penerapan Kurikulum Pendidikan Agama Kristen Sekolah Minggu dengan Menggunakan Teori Maria Harris
Iman Setia Telaumbanua

Universitas Kristen Indonesia, Jakarta

Lusia Rahajeng

Universitas Kristen Indonesia, Jakarta

Hasahatan Hutahaean

Sekolah Tinggi Teologi Arastamar, Jakarta
Keywords:
Christian Education, Curriculum, Sunday School, Maria Harris Theory
Abstract
The curriculum is the center or center of educational activities that greatly affect the implementation of the teaching and learning process. Due to the large influence of the curriculum on the implementation of teaching and learning activities, it is necessary to develop a curriculum that is in accordance with the needs of teaching and learning activities. One of the Christian education experts who contributed to the curriculum in the church is Maria Harris. Curriculum development begins with goal setting and is implemented in the Christian community. Maria Harris curriculum development offers new insights into the design of the Christian education curriculum model, which in this case can be recognized by its design and "educational" aesthetic characteristics. The purpose of this study was to design the Sunday School PAK curriculum using the Maria Harris theory. The research method used in this study is a qualitative research method that refers to library research, where researchers will use various literatures such as books or articles and other sources that are accurate and related to the application of the Maria Harris curriculum to the preparation of Christian Religious Education. Sunday school. The results of this study indicate that the application of the Maria Harris curriculum can help the church to be able to fulfill its duties and vocations through the stages in preparing the Sunday school curriculum.
References
Arifin, Zainal. Konsep & Model Pengembangan Kurikulum. Bandung: PT. Remaja Rosdakarya, 2011.
Daud, Misson Immanuel. Perkembangan Kurikulum Sekolah Minggu Gereja-Gereja di Manado. Jakarta: Publika Indonesia Utama, 2022.
Harris, Maria. Fashion Me A People Curriculum In The Church. Louisville London: Westminster John Knox Press, 1989.
Lumban Tobing, Nancy. "Kurikulum Pendidikan Agama Kristen di Indonesia." Mitra Sriwijaya: Jurnal Teologi dan Pendidikan Kristen 1, no. 1 (2020): 77-108.
Maola, Putri Sofiatul, dan Triana Lestari. "Pengaruh Gadget Terhadap Perkembangan Sosial Anak Sekolah Dasar." Journal of Education 3, no. 15 (2021): 219-225.
Moleong, Lexy J. Metodologi Penelitian Kualitatif. Bandung: Remaja Rosdakarya, 2011.
Nainggolan, John M. Strategi Pendidikan Agama Kristen. Bandung: Generasi Info Media, 2008.
Picanussa, Branckly Egbert. "Pengembangan Kurikulum Pendidikan Kristiani." Voice of Wesley: Jurnal Ilmiah Musik dan Agama 3, no. 1 (2020): 1-15.
Publik, Ruang, and Binsen S Sidjabat. "Indonesian Journal of Theology 7/1" 1, no. July (2019): 7-24.
Ratag, Adolf Edwin. "Pengembanganan Kurikulum Sekolah Minggu." LOGON ZOES: Jurnal Teologi, Sosial dan Budaya 1, no. 1 (2017): 1-17.
Sandang, Jaffray. "Evaluasi Pemikiran Maria Harris dan D. Campbell Wyckoff."
Simanjuntak, Junihot. Psikologi Pendidikan Agama Kristen. Yogyakarta: ANDI, 2016.
Simanjuntak, Junihot M. "Implikasi Konsep dan Desain Kurikulum dalam Tugas Pembinaan Warga Jemaat." Jurnal Jaffray 12, no. 2 (2014): 251-272.
Simanjuntak, Ramses. "Mengenal Sejarah Kurikulum Nasional Indonesia." Teologi Sanctum Domine (2015): 35-50.
Smith, Joanmarie. "Christian Educators Of The 20th Century." Biola University.
Sujarweni, V. Wiratna. Metodologi Penelitian. Yogyakarta: Pustaka Baru Press, 2014.
Telaumbanua, Arozatulo. "Peranan Guru Pendidikan Agama Kristen dalam Membentuk Karakter Siswa." FIDEI: Jurnal Teologi Sistematika dan Praktika 1, no. 2 (2018): 219-231.
Tubulau, Imanuel. "Kajian Teoritis Tentang Konsep Ruang Lingkup Kurikulum Pendidikan Agama Kristen." Jurnal Ilmiah Religiosity Entity Humanity (JIREH) 2, no. 1 (2020): 27-38.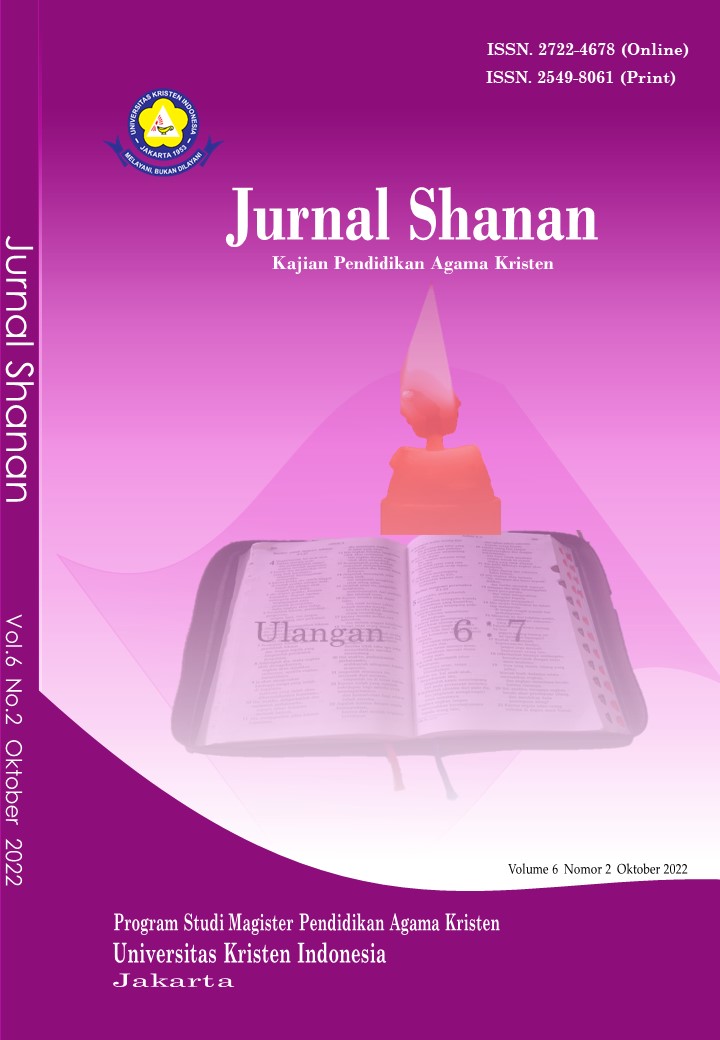 How to Cite
Telaumbanua, Iman Setia, Lusia Rahajeng, and Hasahatan Hutahaean. "Penerapan Kurikulum Pendidikan Agama Kristen Sekolah Minggu Dengan Menggunakan Teori Maria Harris". Jurnal Shanan 6, no. 2 (October 31, 2022): 241-258. Accessed June 5, 2023. http://ejournal.uki.ac.id/index.php/shan/article/view/4052.
Copyright (c) 2022 Iman Setia Telaumbanua, Lusia Rahajeng, Hasahatan Hutahaean
This work is licensed under a Creative Commons Attribution 4.0 International License.