Talinum paniculatum (Jacq.) Gertn (Kajian Pemanfaatannya sebagai Bahan Pangan dan Bioaktivitasnya
Marina Silalahi

Universitas Kristen Indonesia
Keywords:
Talinum paniculatum, anti-microbial, anti-aging, Javanese ginseng
Abstract
Talinum paniculatum (Talinaceae), known by local Indonesians as Javanese ginseng, has long been used as a vegetable and traditional medicine, but information is limited to certain circles. This study aims to explain the benefits of T. paniculatum as a food ingredient and its bioactivity. This research is library research obtained from Google Scholar using the keywords T. paniculatum, uses T. paniculatum and T. paniculatum bioactivity. In Indonesia, T. paniculatum is easily found in the surrounding environment, either intentionally planted or growing wild and has been traded in traditional markets as a vegetable ingredient. The use of T. paniculatum as a food ingredient is related to its nutritional content in the form of protein, fiber, ascorbic acid, magnesium, potassium, and calcium. The bioactivity of T. paniculatum includes: increasing sexual activity and estrogenic activity, anti-microbial, aphrodisiac, anti-hypertensive, anti-oxidant and anti-aging. Talinum paniculatum has the potential to be developed as a healthy food ingredient, especially as an anti-microbial and anti-aging.
References
Catthareeya T, P Papirom, S Chanlun and S Kupittayanant. 2013. Talinum paniculatum (Jacq.) Gertn: a medicinal plant with potential estrogenic activity in ovariectomized rats. Int. J. Pharm. Pharm. Sci, 5: 478-485.
Cerdeira CD, JJ da Silva, MFR Netto, MFG Boriollo, GB Santos, LFC dos Reis, and MRPL Brigagão. 2020. Talinum paniculatum leaves with in vitro antimicrobial activity against reference and clinical strains of Staphylococcus aureus interfere with oxacillin action. Revista Colombiana de Ciencias Químico-Farmacéuticas, 49(2): 432-451.
Gamage RNN, KB Hasanthi and KDKP Kumari. 2017. A comparative study on in vitro antibacterial activity of different leaf extracts of medicinal plant Talinum paniculatum. International Journal of Pharmacy & Pharmaceutical Research 10(3): 143-154.
Hastuti US, I Rahmawati, LMK Mastika, PM Al Asna and S Sundari. 2016. Daya antibakteri metabolit kapang endofit dari tanaman obat gingseng jawa (Talinum paniculatum (Jacq). geartn) terhadap E. coli dan B. subtilis. Seminar Nasional Pendidikan Dan Saintek, 127–130.
Lakitan B, K Kartika, LI Widuri, E Siaga, and LN Fadilah. 2021. Lesser-known ethnic leafy vegetables Talinum paniculatum grown at tropical ecosystem: Morphological traits and non-destructive estimation of total leaf area per branch. Biodiversitas Journal of Biological Diversity 22(10): 4487-4495.
Lestario LN, AE Christian, and Y Martono. 2009. Aktivitas antioksidan daun ginseng jawa (Talinum paniculatum Gaertn). Agritech 29(2): 71-78.
Menezes FDDAB, TA Ishizawa, LRF Souto and TFD Oliveira. 2021. Talinum paniculatum (Jacq.) Gaertn. leaves–source of nutrients, antioxidant and antibacterial potentials. Acta Scientiarum Polonorum Technologia Alimentaria 20(3): 253-263.
Mendoza FJM and JR Wood. 2013. Taxonomic revision of Talinum (Talinaceae) in Bolivia with a note on the occurrence of Phemeranthus (Montiaceae). Kew Bulletin, 68(2): 233-247.
Mabberley DJ. 2008. Mabberley's Plant-Book. Cam bridge University Press, Cambrige
Moura IO, CC Santana, YRF Lourenço, MF Souza, ARST Silva, SS Dolabella, AM e Silva, TB Oliveira, MC Duarte and AS Faraoni. 2021. Chemical characterization, antioxidant activity and cytotoxicity of the unconventional food plants: sweet potato (Ipomoea batatas (L.) Lam.) leaf, major gomes (Talinum paniculatum (Jacq.) Gaertn.) and caruru (Amaranthus deflexus L.). Waste and Biomass Valorization, 12(5): 2407-2431.
Pan TQ, QT Wen, LD Huang, ZD Yan, ZP Zhang, CX Lan, and SY Huang. 2014. Study on the antioxidation activities of polysaccharides from the Talinum paniculatum. Lishizhen Medicine and Materia Medica Research 01.
Purbajanti ED, S Setyawati and BA Kristanto. 2019. Growth, herbage yield and chemical composition of Talinum Paniculatum (Jacq.). Indian Journal of Agricultural Research, 53(6): 741-744.
Oh JY, JH Kim, GS Lee, YH Zhang and HB Pyo. 2013. Antioxidative and Anti-aging Effects of Extract from Talinum paniculatum. Journal of the Society of Cosmetic Scientists of Korea 39(4): 313-322.
Oo N. 2020. Comparative morphological and histological studies of Talinum triangulare (Jacq.) Willd. and Talinum paniculatum (Jacq.) Gaertn. (Myanmar Ginseng). J. Myanmar Acad. Arts. Sci, 8(4B): 254-266.
Patel J, K Santos, K Mungai, V Arseneault, Y Pokuaa and K St. Louis, K Patel, L Gilligan, K Mansour, P Patel, and KA Gonzalez. 2018. Talinum paniculatum root exhibits synergistic antimicrobial activity with Tetracycline, Erythromycin, and Streptomycin against S. aureus but has no observed effect on antibiotic efficacy against E. coli. Journal of Emerging Investigators 1:1-4.
Reis LFCDOS, CD Cerdeira, BF Paula, JJ Silva, LFL da Coelho, MA Silva, VBB Marques, JK Chavasco and G Alves-Da-Silva. 2015. Chemical characterization and evaluation of antibacterial, antifungal, antimycobacterial, and cytotoxic activities of Talinum paniculatum. Revista Do Instituto de Medicina Tropical de São Paulo, 57: 397-405.
Riyana A, A Mudigdo and B Wasita. 2019. The effects of ginseng java roots (Talinum paniculatum) extract on Malondialdehyde (MDA) levels in male white sprague dawley rats with forced swimming test model. IOP Conference Series: Materials Science and Engineering, 546(6): 62025.
Septiani D, M Angelina and D Kusmana. 2021. Aphrodisiac activity of java ginseng (Talinum paniculatum Gaertn.) leaves ethanolic extract on libido wistar male rats (Rattus norvegicus). Hermina Health Sciences Journal 27-33.
Setyani W, H Setyowati and D Ayuningtyas. 2016. Pemanfaatan ekstrak terstandarisasi daun som jawa (Talinum paniculatum) (Jacq. Gaertn) dalam sediaan krim anti bakteri Staphylococcus aureus. Jurnal Farmasi Sains Dan Komunitas, 13(10).
Setyowati H and W Setyani. 2019. Formulation of chewable lozenges of som jawa (Talinum paniculatum (Jacq.) Gaertn) leaves extract applied as antiscorbut Candida albicans. Jurnal Kedokteran Dan Kesehatan Indonesia, 10(1): 14-23.
Silalahi M, Sunarto, TM Munthe and D. Pardosi. 2021. Keanekaragaman tumbuhan bahan pangan di pasar Tradisional Kranggan Mas, Bekasi, Jawa Barat. Laporan Hasil Penelitian, Prodi Pendidikan Biologi, FKIP, Universitas Kristen Indonesia, Jakarta.
Silalahi M, Nisyawati and R Anggraeni. 2018. Studi etnobotani tumbuhan pangan yang tidak dibudidayakan oleh masyarakat lokal Sub-etnis Batak Toba, di Desa Peadungdung Sumatera Utara, Indonesia. Journal of Natural Resources and Environmental Management, 8(2): 241-250.
Solichatun EA and W Mudyantini. 2005. Pengaruh ketersediaan air terhadap pertumbuhan dan kandungan bahan aktif saponin tanaman ginseng jawa (Talinum paniculatum Gaertn.). Biofarmasi, 3(2): 47-51.
Souto CGRG, BR Lorençone, AAM Marques, RAC Palozi, PVM Romão LP Guarnier, ... and AG Junior. 2021. Cardioprotective effects of Talinum paniculatum (Jacq.) Gaertn. in doxorubicin-induced cardiotoxicity in hypertensive rats. Journal of Ethnopharmacology, 281: 114568.
Zaetun S, LBK Dewi, IBR Wiadnya, and LS Gede. 2019. Profil kadar Mda (Malondialdehide) sebagai penanda kerusakan seluler akibat radikal bebas pada tikus yang diberikan air beroksigen. Jurnal Analis Medika Biosains (JAMBS), 4(2): 63-68.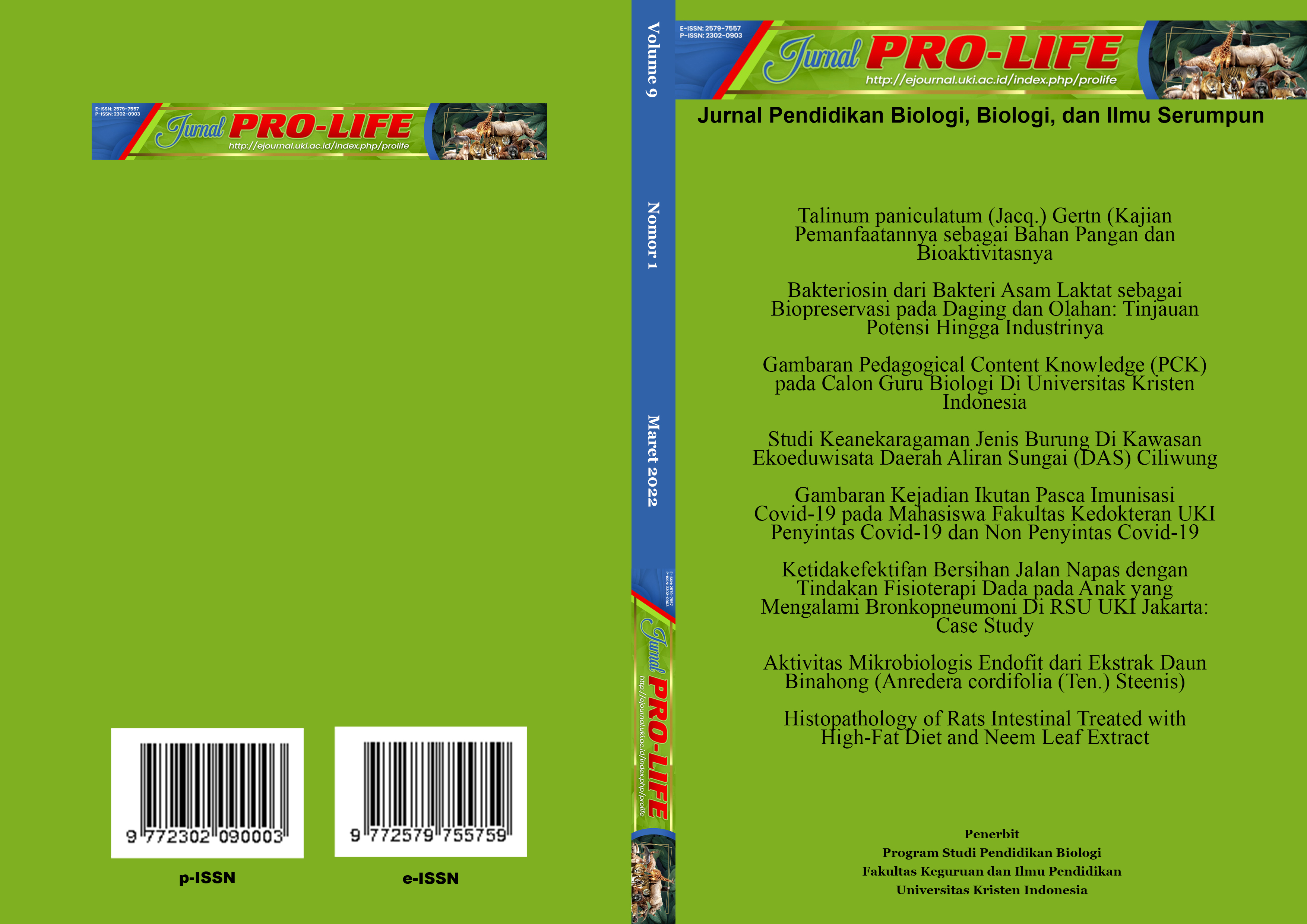 View 286 times Download 286 times PDF
How to Cite
Silalahi, M. (2022). Talinum paniculatum (Jacq.) Gertn (Kajian Pemanfaatannya sebagai Bahan Pangan dan Bioaktivitasnya. Jurnal Pro-Life, 9(1), 289-299. https://doi.org/10.33541/jpvol6Iss2pp102
Copyright (c) 2022 Marina Silalahi
This work is licensed under a Creative Commons Attribution-ShareAlike 4.0 International License.