PENGEMBANGAN BAHAN AJAR MORFOLOGI TUMBUHAN BERBASIS LINGKUNGAN DI STKIP PGRI LUBUKLINGGAU
Reny Dwi Riastuti

Program Studi Pendidikan Biologi, Jurusan Pendidikan MIPA, STKIP PGRI Lubuklinggau, Kota Lubuklinggau, Sumatera Selatan

Yuli Febrianti

Program Studi Pendidikan Biologi, Jurusan Pendidikan MIPA, STKIP PGRI Lubuklinggau, Kota Lubuklinggau, Sumatera Selatan
Keywords:
Environment Based, Plant Morphology, Teaching Materials
Abstract
The purpose of this study was to produce environmental-based plant morphology teaching materials at STKIP PGRI Lubuklinggau and describe student responses after using it as a result of development. The type of research carried out is the Research and Development (R&D) development model of Dick and Carey by developing teaching materials in the form of learning design books. The results of the study by three validators, namely content/material feasibility experts, obtained a percentage value of 91.4%, the results of validation data analysis from presentation and graphic experts, obtained a percentage value of 95.5%, the results of validation data analysis from linguistic experts, namely the percentage obtained a value of 80%, the results of the analysis of student response questionnaire data are obtained by a percentage value of 94% with the eligibility criteria, which means that the teaching materials are in the very good category and do not need to be revised. The validation results indicate that the product developed has a high validity value and can be declared eligible to be used as a source of independent learning. Student responses in the criteria assessed from teaching materials have received good and very good grades so that teaching materials are suitable for use as independent learning resources.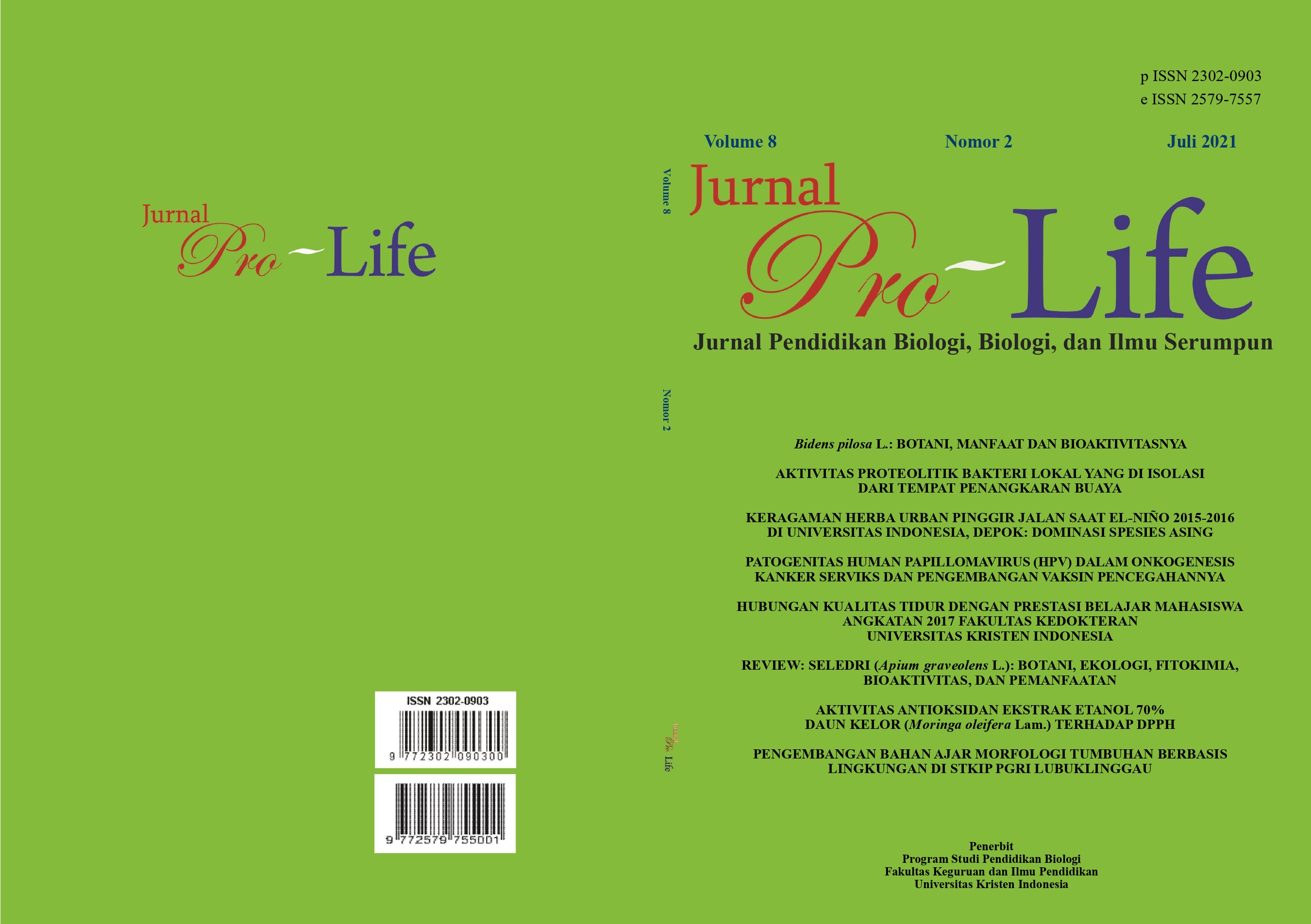 View 150 times Download 150 times PDF
Copyright (c) 2021 Jurnal Pro-Life: Jurnal Pendidikan Biologi, Biologi, dan Ilmu Serumpun
This work is licensed under a Creative Commons Attribution-NonCommercial-NoDerivatives 4.0 International License.