POTENSI REGENERASI SEL SERTOLI DAN SEL LEYDIG TIKUS (Rattus norvegicus) MODEL DIABETES PASCA PEMBERIAN EKSTRAK ETANOL KULIT BUAH JENGKOL (Archidendron pauciflorum)
Desak Made Malini

Departemen Biologi, FMIPA, Universitas Padjadjaran, Jatinangor

Nining Ratningsih

Departemen Biologi, FMIPA, Universitas Padjadjaran, Jatinangor

Nurullia Fitriani

Departemen Biologi, FMIPA, Universitas Padjadjaran, Jatinangor

Dwi Rahmi

Departemen Biologi, FMIPA, Universitas Padjadjaran, Jatinangor
Abstract
Diabetes mellitus (DM) is a metabolic disease that causes disruption of spermatogenesis due to decreased numbers of Sertoli cells and Leydig cells. The aim of this study was to determine the potency of ethanol extract of Jengkol fruit peel (JFPEE) on increasing the regeneration of Leydig cells and Sertoli cells in diabetic rat models. This type of research is experimental research using a completely randomized design (CRD)with 5 treatments and 5 replications. Treatment was given orally for 54 consecutive days consisting of negative control (NC), positive control (PC), comparison (Glibenclamide dose 10 mg/kg BW), P1 and P2 (JFPEE dose 385 and 770 mg/kg BW). Diabetic induction was performed with streptozotocin dose 65 mg/kg BW in male Wistar rat except for NC group. The parameters observed were the number of Sertoli cells and Leydig cells in 25 seminiferous tubules.The results of histological structured showed that the highest number of Sertoly cells and Leydig cells were obtained in group P2 (4.40±0.55; 9.80±0.84) and it was not significantly different from the NC group (5.00±1.41; 12.20±2.77). It can be concluded that 770 mg/kg BW was the effective dose of JFPEE that can increase the regeneration of Sertoli cells and Leydig cells in diabetic rat models.
Keywords: Jengkol Fruit Peel Ethanol Extract, Leydig Cells, Regeneration, Sertoli Cells.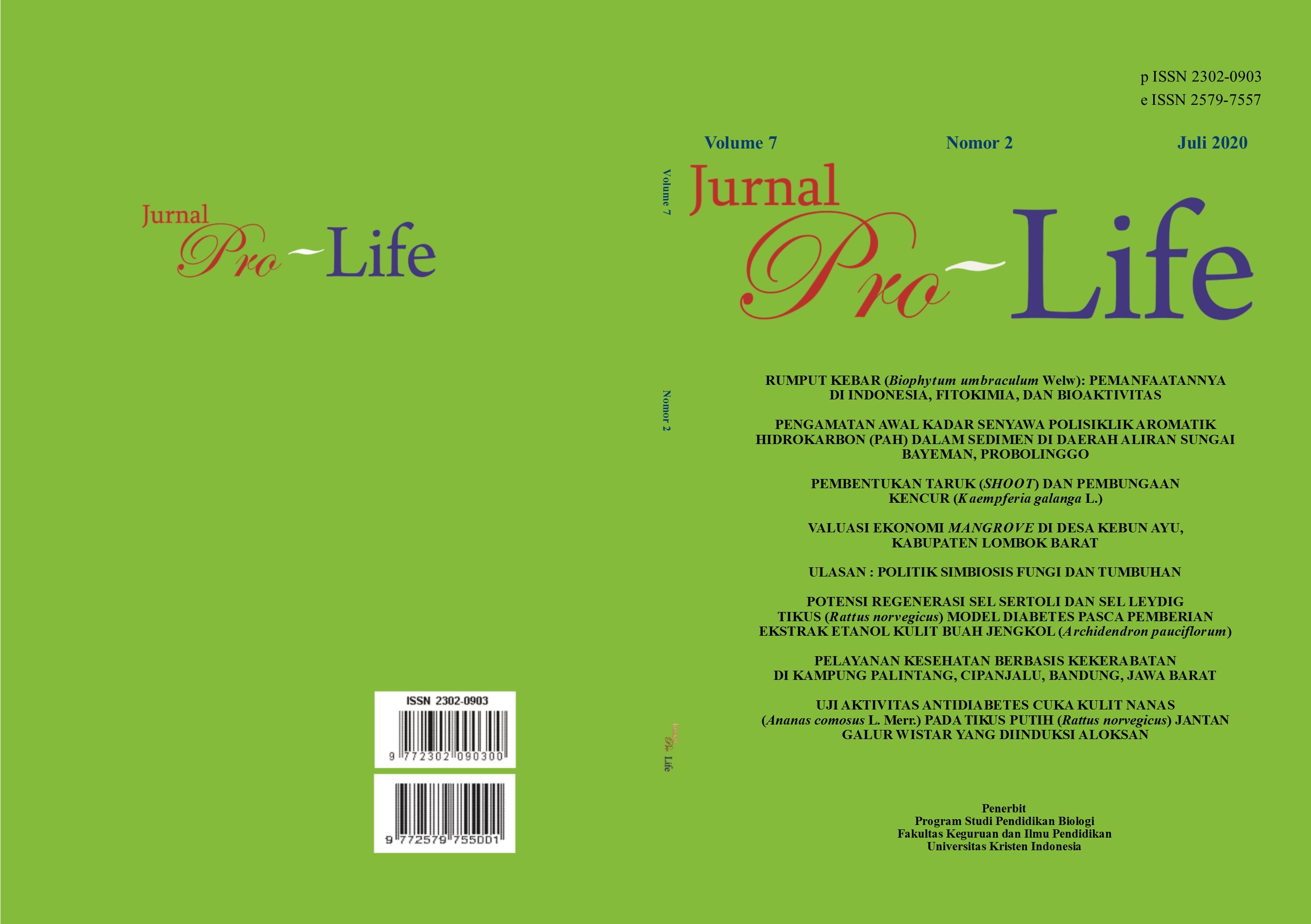 View 873 times Download 873 times PDF
Copyright (c) 2020 Pro-Life
This work is licensed under a Creative Commons Attribution-NonCommercial-NoDerivatives 4.0 International License.