PENGAMATAN AWAL KADAR SENYAWA POLISIKLIK AROMATIK HIDROKARBON (PAH) DALAM SEDIMEN DI DAERAH ALIRAN SUNGAI BAYEMAN, PROBOLINGGO
Edward Edward

Pusat Penelitian Oseanografi-LIPI Jakarta

Dede Falahuddin

Pusat Penelitian Oseanografi-LIPI Jakarta

Khosanah Munawi

Pusat Penelitian Oseanografi-LIPI Jakarta

Deny Yogaswara

Pusat Penelitian Oseanografi-LIPI Jakarta

Ita Wulandari

Pusat Penelitian Oseanografi-LIPI Jakarta

Rosmini R Pasilette

Pusat Penelitian Oseanografi-LIPI Jakarta

Rosmini R Pasilette

Pusat Penelitian Oseanografi-LIPI Jakarta
Abstract
Polycyclic aromatic hydrocarbons (PAHs) are organic compound that are very toxic and persistent environmental contaminants. The purpose of this research is to know the contamination level, concentration, and sources of PAHs compounds in watershed of Bayeman. This research were carried out in September 2014. Sediment samples were taken by using sediment sampler at 6 research stations. The concentration of PAH were determined by using Gas Chromatography-Mass Spectrometry (GC-MS) and the sources using individual ratio diagnose method. The results show that the concentration of PAHs in sediment still low and fixed with the safe threshold values​​ for aquatic organisms. Individual PAH dominated by high molecule weight PAHs. The results of PAHs ratio individual analysis showed that the PAHs sources in sediment derived from a variety of sources such as; oil spill, oil combustion and combustion of organic materials.
Keywords: Probolinggo, Bayeman Watershed, Water,  Sediment, PAHs, Concentration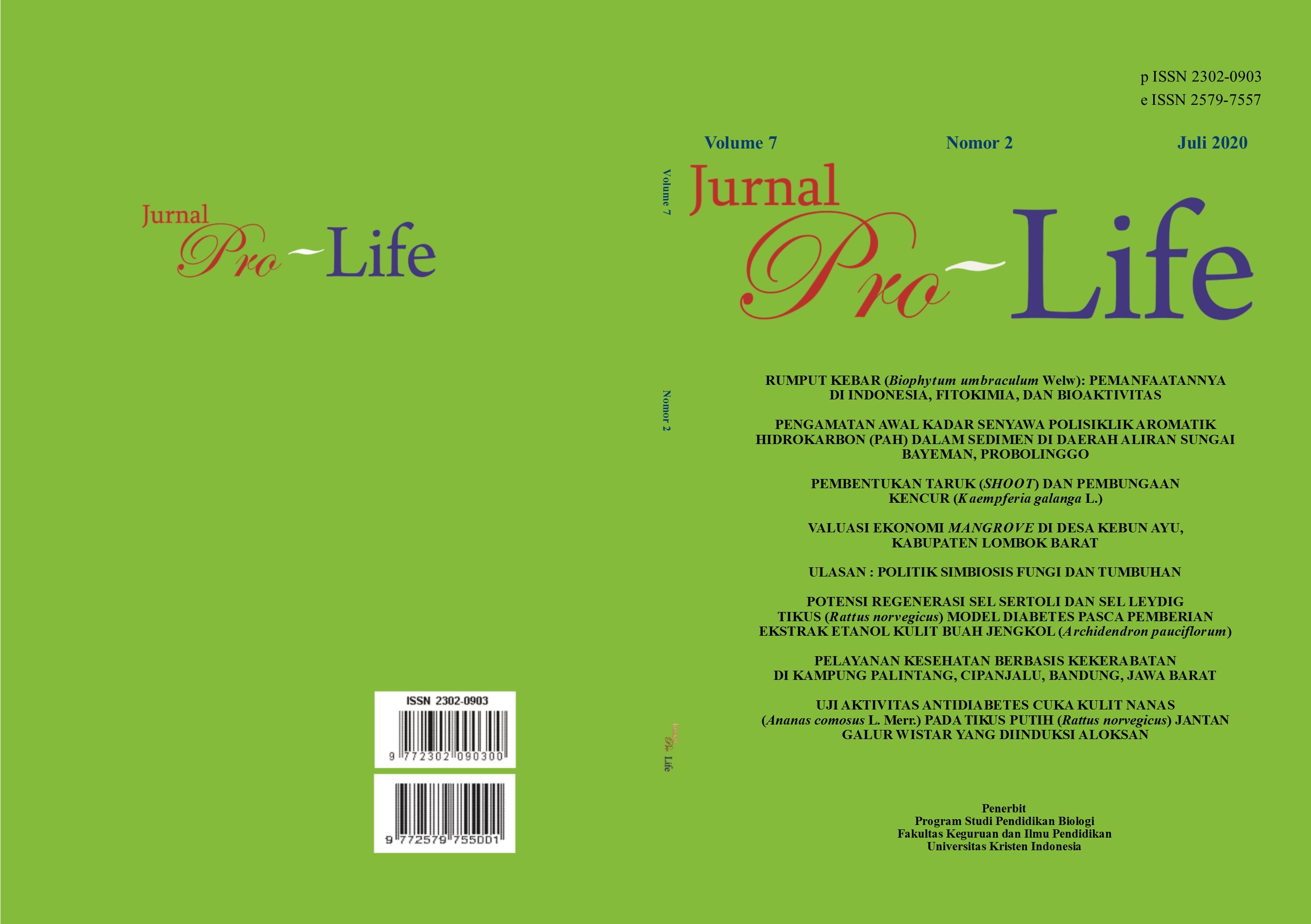 View 100 times Download 100 times PDF
Copyright (c) 2020 Pro-Life
This work is licensed under a Creative Commons Attribution-NonCommercial-NoDerivatives 4.0 International License.