WILD NATIVE PLANTS IN URBAN ECOSYSTEMS AROUND JAKARTA: A CHECKLIST OF THE WOODY SPECIES OF UNIVERSITAS INDONESIA
Wendy Achmmad Mustaqim

1OMPT Canopy, Department of Biology, Faculty of Mathematics and Natural Sciences, Universitas Indonesia, Depok, Jawa Barat, Indonesia

Nisyawati

Department of Biology, Faculty of Mathematics and Natural Sciences, Universitas Indonesia
Abstract
A study has been conducted on the diversity of woody plants which are wild and native in Universitas Indonesia,
an urban ecosystem in the area of Jakarta Capital Region. This work is part of the flora inventory in Universitas
Indonesia. A number of 118 species (34 families) were recorded, with three largest families are Fabaceae (14
species), Moraceae (12 species) and Phyllanthaceae (10 species). Among those numbers, 26 species are climbers,
which is considerably remarkable for urban ecosystem. Twenty four were considered as lowland species. Five
were exclusively distributed in Western Java. Twenty six species have been included in Flora van Batavia which
showed that Universitas Indonesia will be an important component for the conservation of plants diversity in
Jakarta and surroundings. An estimation on abundance also given for all species recorded, which resulting that
about 41.52% species were locally rare. Discussion in future conservation in local scales also briefly discussed.
Two species, namely Helicteres viscida and Phoebe declinata, are proposed for main conservation priorities of
wild and native woody plants species in Universitas Indonesia.

Keywords: checklist, Jakarta, native species, urban biodiversity, woody plants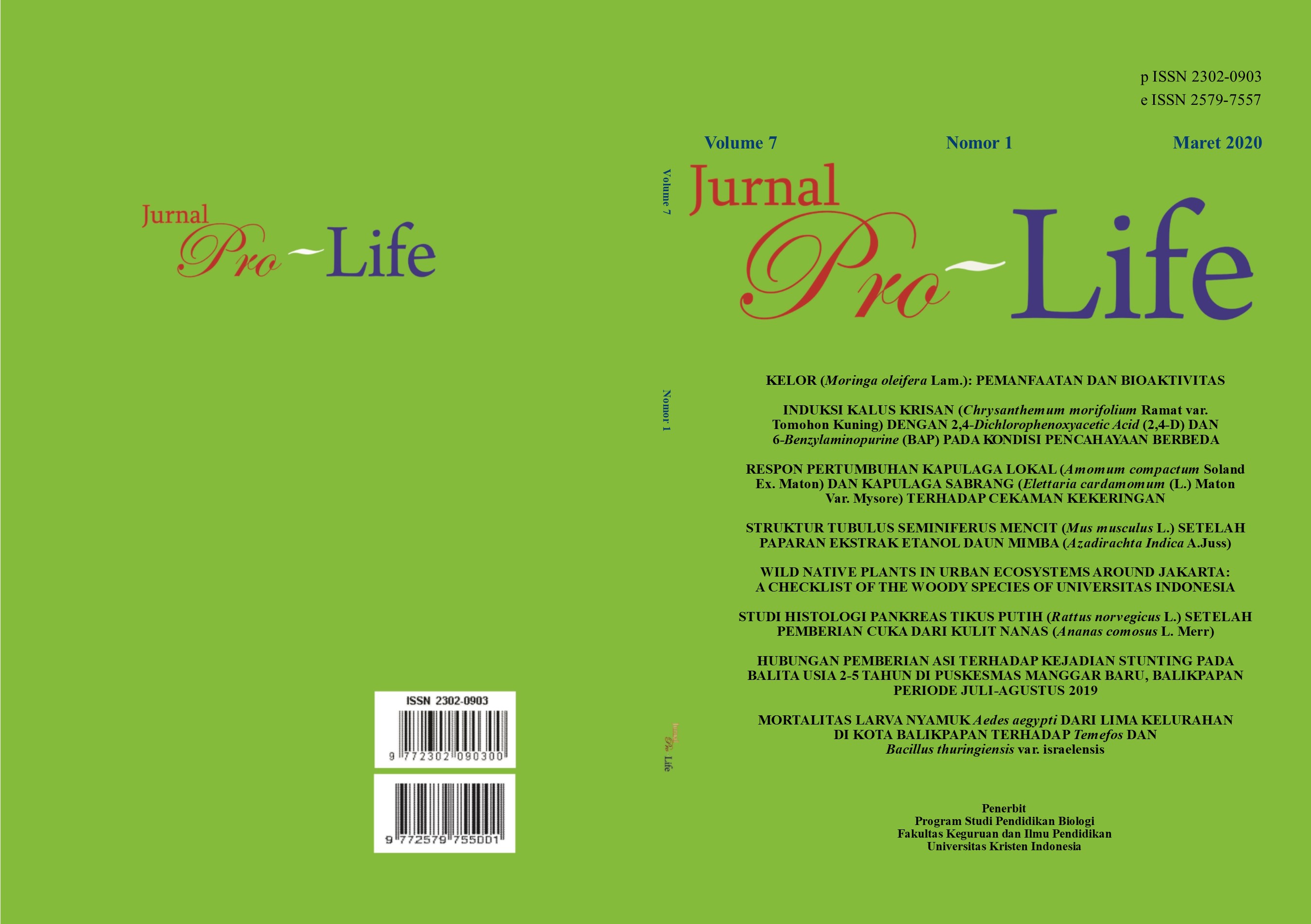 View 34 times Download 34 times PDF
Copyright (c) 2020 Pro-Life
This work is licensed under a Creative Commons Attribution-NonCommercial-NoDerivatives 4.0 International License.