Laporan Kasus: Pengaruh Perundungan terhadap Kesehatan Jiwa
Dwi Karlina

Departemen Ilmu Kesehatan Jiwa, Fakultas Kedokteran Universitas Kristen Indonesia
Abstract
Abstrak
Makalah ini berisi pengamatan perubahan kesehatan jiwa pada korban perundungan. Terdapat delapan kasus yang terdiri atasi empat lelaki dan empat perempuan. Empat orang mencari bantuan profesional berturut-turut satu minggu, dua minggu, satu bulan dan satu tahun setelah perundungan. Sisanya mencari bantuan bertahun-tahun kemudian. Dari keempat orang yang cepat ditangani ditemukan: satu orang berkembang wajar dan berprestasi baik; satu orang menderita skizofrenia, satu orang lagi mengidap depresi berat dan yang terakhir masih mengalami trauma. Sementara itu keempat korban yang tidak segera mendapat bantuan profesional berturut-turut menderita: gangguan cemas, depresi berat, skizofrenia dan disfungsi otonom somatoform. Ternyata banyak korban perundungan yang tidak mencari bantuan profesional. Cara korban menanggapi peristiwa yang dialaminya (stresor spesifik) dan ada tidaknya bantuan, memengaruhi kesehatan jiwanya.
Kata kunci: Perundungan, gangguan jiwa, stresor spesifik
Abstract
Eight cases of bullying consisted of four males and four females. Four of them got professional help within one week, two weeks, one month and one year after bullying. Currently, one of them has good mental health and performance at school, one remains traumatized, one has schizophrenia and one has major depression. Four persons who did not seek profesional help, suffered from anxiety disorder, schizophrenia, major depression and disfunction of autonomic somatoform. Many bullying victims do not seek professional aid. Having spesific stressor without professional aid could influence mental health.
Key words: bullying, mental disorder, specific stressor.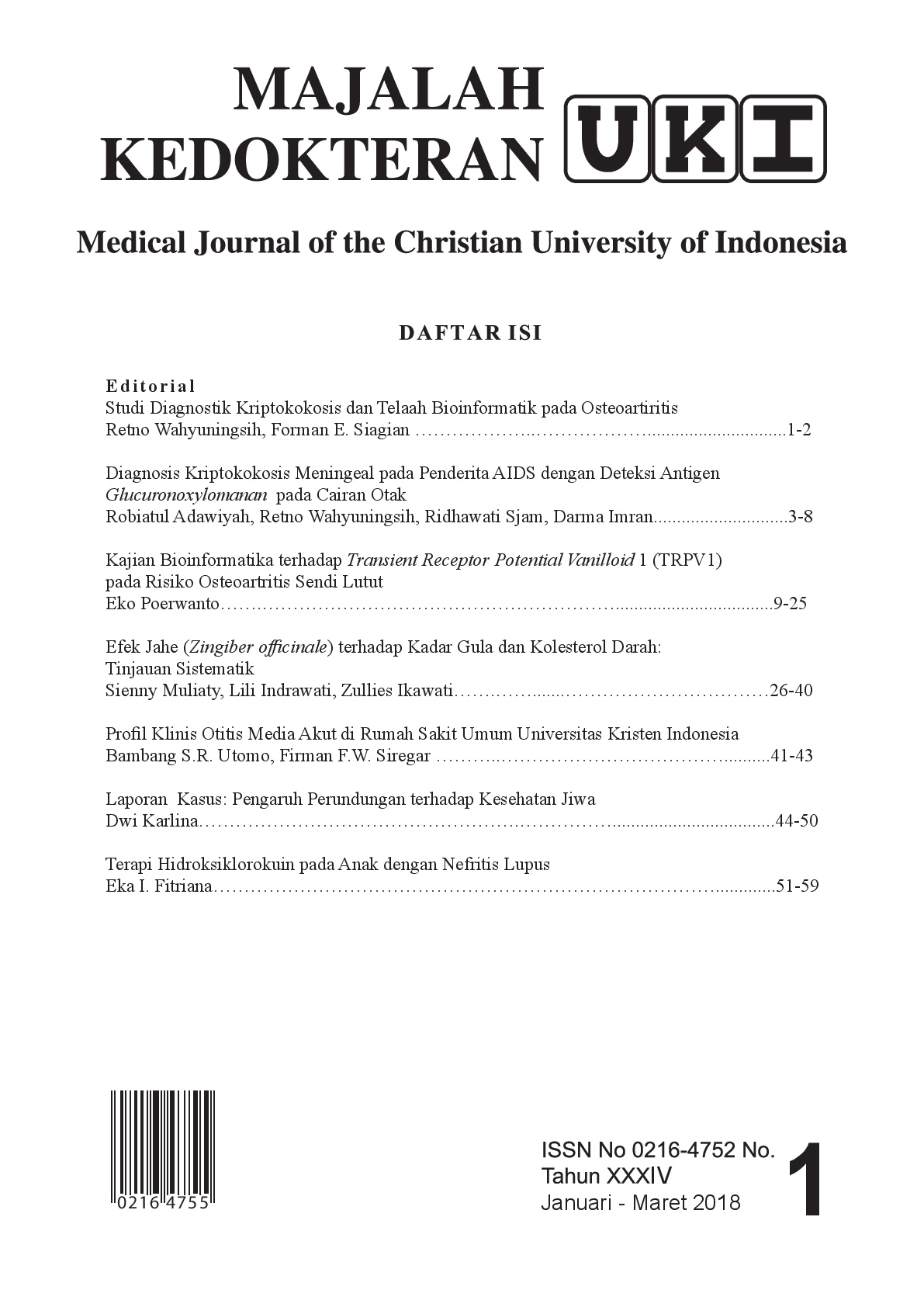 How to Cite
Karlina, D. (2018). Laporan Kasus: Pengaruh Perundungan terhadap Kesehatan Jiwa. Majalah Kedokteran UKI, 34(1), 44-50. Retrieved from http://ejournal.uki.ac.id/index.php/mk/article/view/861