Profil Klinis Otitis Media Akut di Rumah Sakit Umum Universitas Kristen Indonesia
Bambang S.R. Utomo

Departemen Ilmu Penyakit Telinga Hidung Tenggorok Kepala Leher Rumah Sakit Umum Universitas Kristen Indonesia Jakarta

Firman F.W. Siregar
Abstract
Abstrak
Otitis media akut (OMA) adalah radang akut telinga tengah yang sering di jumpai. Penelitian ini bertujuan untuk
mengetahui profil klinis OMA di poli klink THT-KL RSU Pendidikan-Universitas Kristen Indonesia dengan metode
penelitian deskriptif retrospektif menggunakan data sekunder status rawat jalan pasien yang berkunjung di tahun
2013. Dari 30 pasien OMA, frekuensi terbanyak didapatkan pada laki-laki (24 (80%) pasien) dan rentang usia
terbanyak 1-3 tahun 18 (60%) pasien). Sebanyak 17 (57%) pasien mempunyai riwayat infeksi saluran pernafasan
bagian atas. Penelitian ini menyimpulkan OMA terbanyak ditemukan pada laki-laki, dengan rentang usia 1-3 tahun,
dan pada keadaan infeksi saluran nafas akut.
Kata kunci: Otitis Media Akut, Profil Klinis OMA.
Abstract
Acute otitis media (AOM) is a common acute infection of the middle ear. This studi aims to determine clinical
profile of AOM at the Universitas Kristen Indonesia's general hospital during the year of 2013, using a retrospective
descriptive studi design with secondary outpatient medical record data. Of 30 patients with acute otitis media, 24
(80%) patients were males, 18 (60%) patient aged between 1-3 years old, and 17 (57%) patient had a history of
upper respiratory tract infection. AOM was mostly found among males aged between 1-3 years old and in patients
suffered from acute respiratory tract infection.
.
Keyword: Acute otitis media, clinical profile of AOM.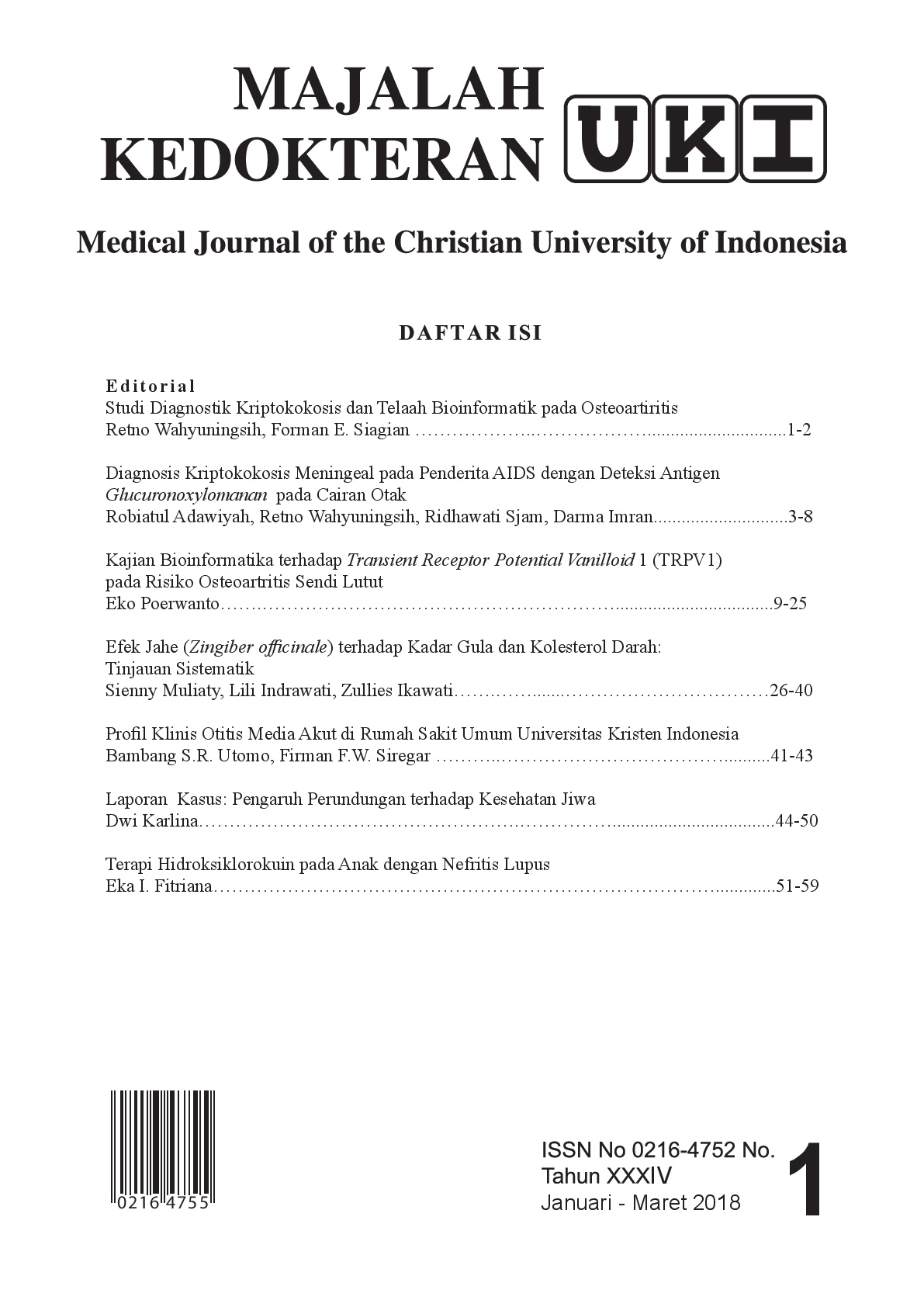 How to Cite
Utomo, B. S., & Siregar, F. F. (2018). Profil Klinis Otitis Media Akut di Rumah Sakit Umum Universitas Kristen Indonesia. Majalah Kedokteran UKI, 34(1), 41-43. Retrieved from http://ejournal.uki.ac.id/index.php/mk/article/view/860