Tatalaksana Trauma Wajah dengan Panfasial Fraktur
Lina Marlina

Departemen Ilmu KesehatanTelinga Hidung Tenggorok-Bedah Kepala Leher Fakultas Kedokteran Universitas Kristen Indonesia/Rumah Sakit Universitas Kristen Indonesia

Bambang S.R. Utomo

Departemen Ilmu KesehatanTelinga Hidung Tenggorok-Bedah Kepala Leher Fakultas Kedokteran Universitas Kristen Indonesia/Rumah Sakit Universitas Kristen Indonesia

Fransiskus H. Poluan

Departemen Ilmu KesehatanTelinga Hidung Tenggorok-Bedah Kepala Leher Fakultas Kedokteran Universitas Kristen Indonesia/Rumah Sakit Universitas Kristen Indonesia
Abstract
Abstrak
Fraktur pada wajah dapat menyebabkan defisit fungsional dan estetika jika tidak ditangani dengan baik. Tatalaksana
akut yang tepat dari fraktur wajah harus didasarkan pada evaluasi cepat dan menyeluruh. Keberhasilan rekontruksi
wajah merupakan keadaan darurat yang perlu dievaluasi dalam waktu 24 jam dari trauma. Berbagai jenis reduksi
dan fiksasi tergantung pada fungsi, lokasi, jenis fraktur, dan usia pasien. Kasus ini diajukan untuk memperlihatkan
keberhasilan tatalaksana trauma akut maksilofasial. Dilaporkan seorang laki-laki 37 tahun dengan panfasial
fraktur yang dilakukan reduksi dan fiksasi 3 hari setelah trauma dengan pemasangan plat dan sekrup, serta fiksasi
mukoginggival kombinasi antara arch bardan quickfix. Reduksi, reposisi dan fiksasi dilakukan setelah edema
mukosa hebat disertai kombinasi antara arch bar dan quickfix pada mukoginggival merupakan salah satu alternatif
untuk mengurangi risiko perdarahan dan memudahkan reposisi.
Kata kunci: fraktur wajah, panfasial fraktur,edema mukosa.
Management of Maxillofacial Traumawith Panfacial Fracture
Abstract
Facial fractures can cause functional and aesthetic deficits if not treated properly. Appropriate acute management of
facial fractures should be based on a rapid and thorough evaluation. Successful facial reconstruction is an emergency
that needs to be evaluated within 24 hours of trauma. Different types of reduction and fixation depend on the
function, location, type of fracture, and the age of the patient. This case is presented to demonstrate the success of
acute maxillofacial trauma management. Reported a 37-year-old man with a facial fracture who underwent reduction
and fixation 3 days after trauma with plate and screw installation, and combination mucogingival fixation between
arch bar and quickfix. Reduction, reposition and fixation performed after severe mucosal edema accompanied by
a combination of arch bar and quickfix on the mucogingival is an alternative to reduce the risk of bleeding and
facilitate repositioning.
Keywords: facial fracture, panfacial fracture, mucosal edema.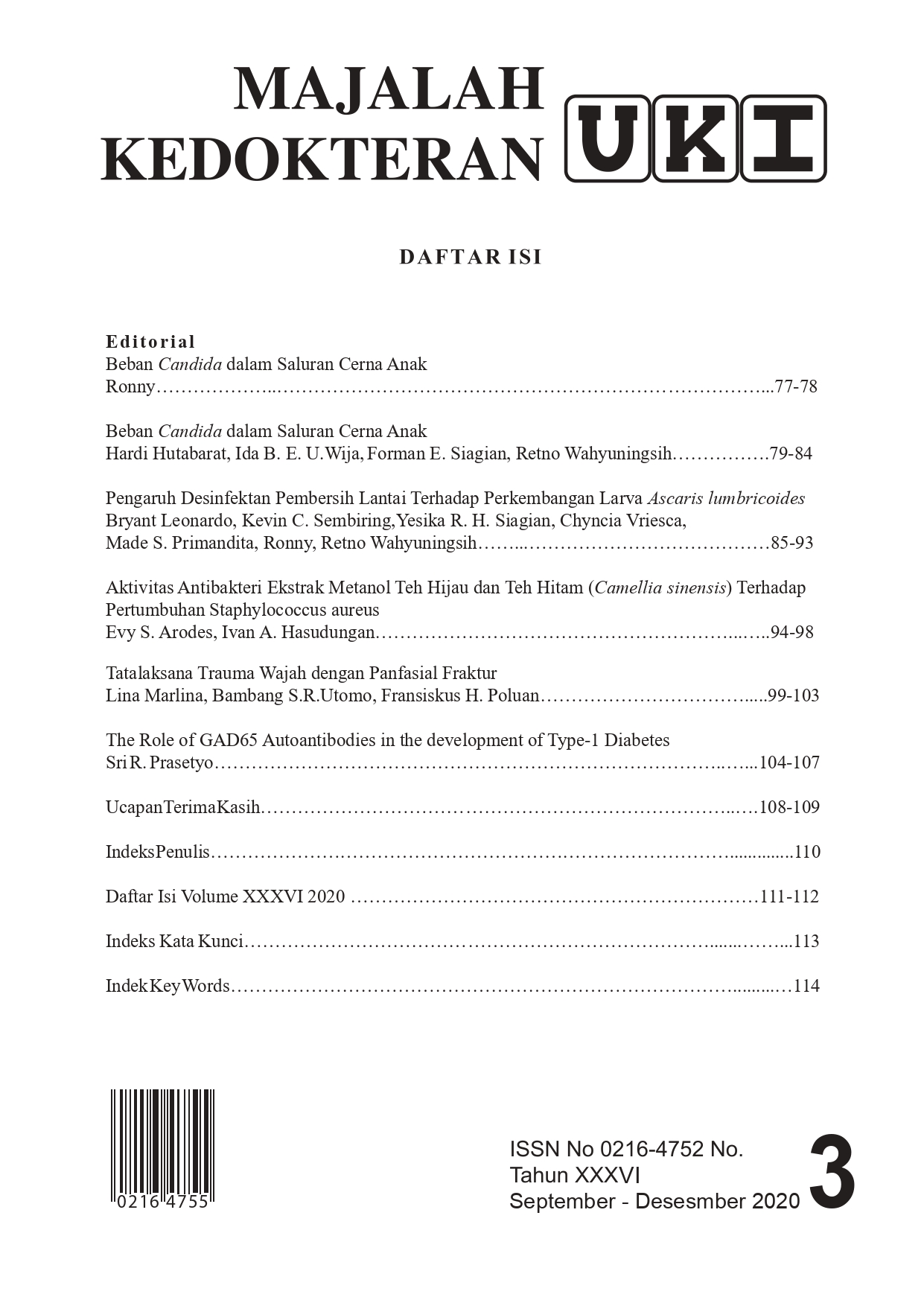 View 2088 times Download 2088 times pdf
How to Cite
Marlina, L., Utomo, B. S., & Poluan, F. H. (2021). Tatalaksana Trauma Wajah dengan Panfasial Fraktur. Majalah Kedokteran UKI, 36(3), 98 - 102. https://doi.org/10.33541/mk.v36i3.3362