Sindrom McCune Albright Dengan Manifestasi Fraktur Berulang
Ruth Nadya

Departemen Ilmu Kesehatan Anak FKUI-RSCM Jakarta

Frida Soesanti

Departemen Ilmu Kesehatan Anak FKUI-RSCM Jakarta
Abstract
Abstrak
Sindrom McCune-Albright (SMA) merupakan kelainan genetik kompleks yang ditandai dengan trias displasia fibrosa poliostotik, café-au-lait, dan hiperfungsi endokrin. Sindrom ini termasuk penyakit langka dengan prevalens sebesar 1 per 100.000 hingga 1.000.000 populasi. Mutasi somatik sporadik gen GNAS (Guanine Nucleotide binding protein Alpha Stimulating) pada kromosom 20q13, yang terjadi pada sindrom ini, mengakibatkan aktivasi G protein α-subunit (Gsα) berkepanjangan yang meningkatkan aktivitas dan fungsi sel terkait. Manifestasi tersering yang ditemukan pada pasien adalah displasia fibrosa (pada 98% kasus). Kasus adalah seorang anak lelaki, 10 tahun, dengan manifestasi fraktur berulang sejak usia 1 tahun dan deformitas tulang. Pemeriksaan bone survey menunjukkan gambaran ground glass dengan lesi litik-sklerotik pada hampir semua tulang yang sesuai dengan displasia fibrosa poliostotik. Pasien ditata laksana dengan pemberian sediaan fosfat, kalsium, serta vitamin D dalam bentuk aktif dan analog. Pemberian bisfosfonat bertujuan untuk mengurangi nyeri tulang dan risiko fraktur pada pasien. Pemantauan berkelanjutan diperlukan untuk mengevaluasi keterlibatan organ endokrin pada pasien dengan SMA.
 Kata kunci: displasia fibrosa, fraktur, sindrom McCune Albright
Abstract
McCune-Albright syndrome (MAS) is a rare complex genetic disorder marked by the triad of polyostotic fibrous dysplasia, café-au-lait and endocrine hyperfunction, affecting 1 in 100.000 to 1.000.000 population. The sporadic somatic mutation of Guanine Nucleotide Binding Protein Alpha Stimulating (GNAS) gene at chromosome 20q13 is the proposed cause of this syndrome, triggering the prolonged activation of  G protein α-subunit (Gsα), which increases the activity and function of cells. The most common clinical manifestation is fibrous dysplasia, occurring in 98% cases. This case occurred in a 10-year-old boy with recurrent fractures since the age of 1-year-old and skeletal deformities. The bone survey examination shows ground glass appearance with multiple sclerotic-lytic lesions on almost every bone, accordingly to the polyostotic fibrous dysplasia. The pasien has been treated with oral phosphate, calcium and vitamin D. Intravenous bisphosphonates was administered to relieve the associated bone pain and reduce the risk of recurring fractures. Longitudinal observation is necessary for a long term monitoring to evaluate the endocrinopathy associated with MAS.
 Keywords: fibrous dysplasia, fractures, McCune-Albright syndrome,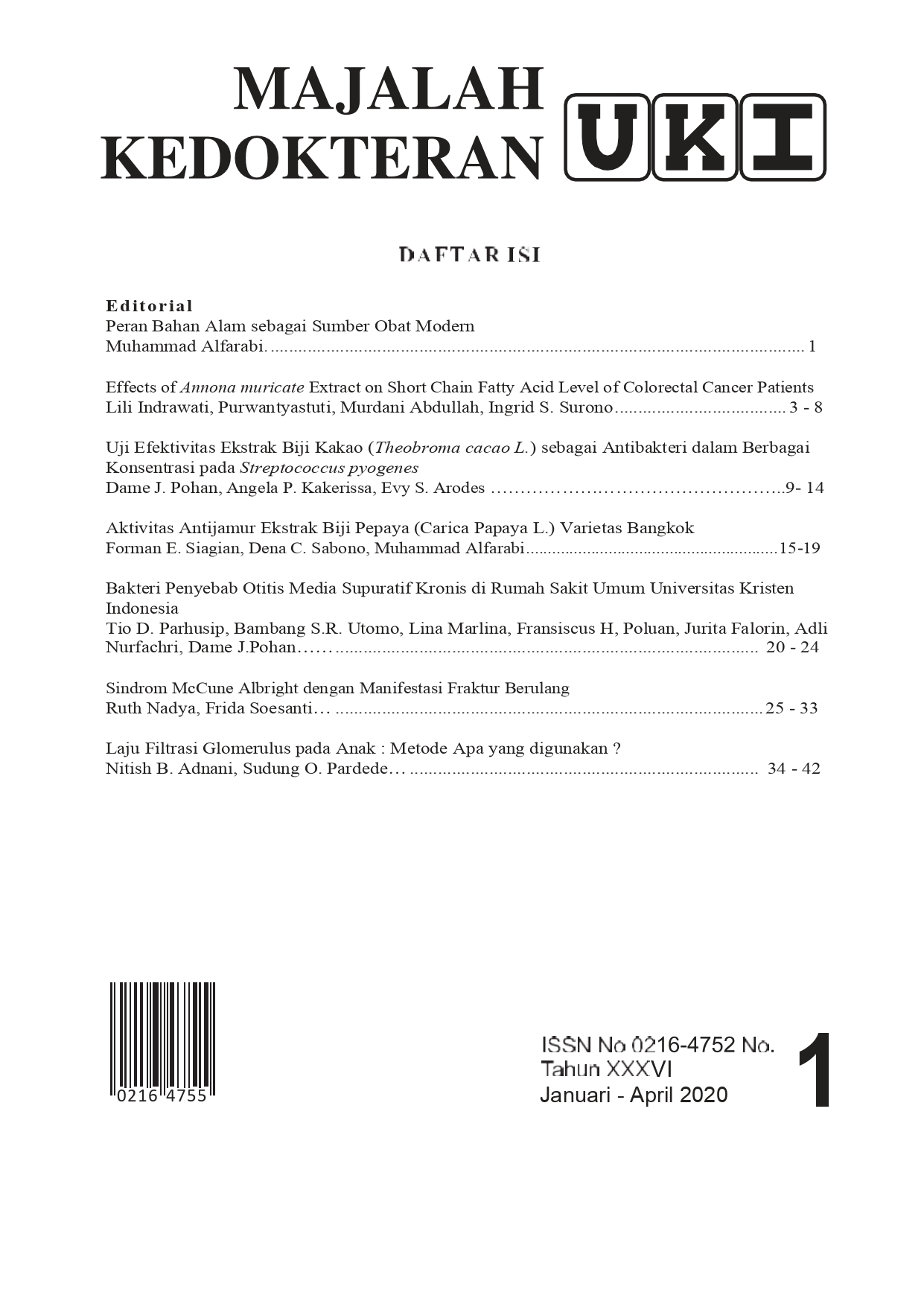 View 654 times Download 654 times pdf
How to Cite
Nadya, R., & Soesanti, F. (2021). Sindrom McCune Albright Dengan Manifestasi Fraktur Berulang. Majalah Kedokteran UKI, 36(1), 24 - 32. https://doi.org/10.33541/mk.v36i1.2989