Bakteri Penyebab Otitis Media Supuratif Kronis di Rumah Sakit Umum Universitas Kristen Indonesia
Tio Dora Parhusip

Departemen Ilmu Penyakit Telinga Hidung Tenggorok Kepala Leher Fakultas Kedokteran Universitas Kristen Indonesia Jakarta

Bambang Suprayogi Resi Utomo

Departemen Ilmu Penyakit Telinga Hidung Tenggorok Kepala Leher Fakultas Kedokteran Universitas Kristen Indonesia Jakarta

Lina Marlina

Departemen Ilmu Penyakit Telinga Hidung Tenggorok Kepala Leher Fakultas Kedokteran Universitas Kristen Indonesia Jakarta

Fransiscus Harp Poluan

Departemen Ilmu Penyakit Telinga Hidung Tenggorok Kepala Leher Fakultas Kedokteran Universitas Kristen Indonesia Jakarta

Jurita Falorin

Departemen Ilmu Penyakit Telinga Hidung Tenggorok Kepala Leher Fakultas Kedokteran Universitas Kristen Indonesia Jakarta

Adli Nurfachri

Departemen Ilmu Penyakit Telinga Hidung Tenggorok Kepala Leher Fakultas Kedokteran Universitas Kristen Indonesia Jakarta

Dame Joice Pohan

Departemen Mikrobiologi Fakultas Kedokteran Universitas Kristen Indonesia Jakarta
Abstract
Abstrak
Otitis media supuratif kronis (OMSK) merupakan inflamasi dari telinga tengah dan rongga mastoid kronis, ditandai dengan perforasi membran timpani serta cairan yang keluar dari telinga secara persisten. Gangguan pendengaran dan kecacatan umumnya disebabkan oleh OMSK. Komplikasi otitis media supuratif kronis lainnya dapat menyebabkan infeksi intrakranial yang fatal dan mastoiditis akut, terutama di Negara-negara berkembang. Penatalaksanaan yang efektif tergantung pada pengetahuan mengenai mikroorganisme penyebab dan sensitivitas mikroba. Penelitian ini bertujuan untuk mengetahui pola bakteri penyebab otitis media supuratif kronis di Rumah Sakit Umum Universitas Kristen Indonesia Tahun 2019. Metode penelitian yang digunakan adalah deskriptif dengan pendekatan secara clinical series yang dilakukan dari bulan Agustus 2019 sampai November 2019 di Poliklinik THT-KL RSU UKI dan Laboratorium Mikrobiologi FK UKI. Hasil dari 17 sampel menunjukkan bahwa Staphylococcus aureus merupakan bakteri terbanyak yang ditemukan pada penderita OMSK yaitu 6 (35,3%), diikuti Pseudomonas aerugenosa 5 (29,4%), Staphylococcus epidermidis 2 (11,8%), Klebsiella spp. 2 (11,8%), Proteus spp. 1 (5,9%), Escherichia coli 1 (5,9%).
 Kata kunci :otitis media supuratif kronis, pola bakteri.
Abstract
Chronic suppurative otitis media (CSOM) is a chronic inflammation of the middle ear and mastoid cavity, followed with recurrent ear discharges or otorrhoea through a tympanic perforation. Hearing impairment and disability are generally caused by CSOM. Other complications of chronic suppurative otitis media can lead to fatal intracranial infections and acute mastoiditis, especially in developing countries. Effectivity of the disease management depends on the knowledge of causative microorganisms and their antimicrobial sensitivity. The purpose of this study is to identify the bacterial pattern that cause chronic suppurative otitis media in Christian  University of Indonesia General Hospital in 2019. This study is using the descriptive method with a clinical series approach, this study was carried out from August 2019 to November 2019 at the polyclinic of ENT-HNS RSU UKI and Microbiology Laboratory FK UKI. The results of 17 samples showed Staphylococcus aureus was the most bacteria found in CSOM patient 6 samples (35,3%), followed Pseudomonas aerugenosa 5 (29,4%), Staphylococcus epidermidis 2 (11,8%), Klebsiella spp. 2 (11,8%), Proteus spp. 1 (5,9%), Escherichia coli 1 (5,9%).
Keywords: chronic suppurative otitis media, bacterial pattern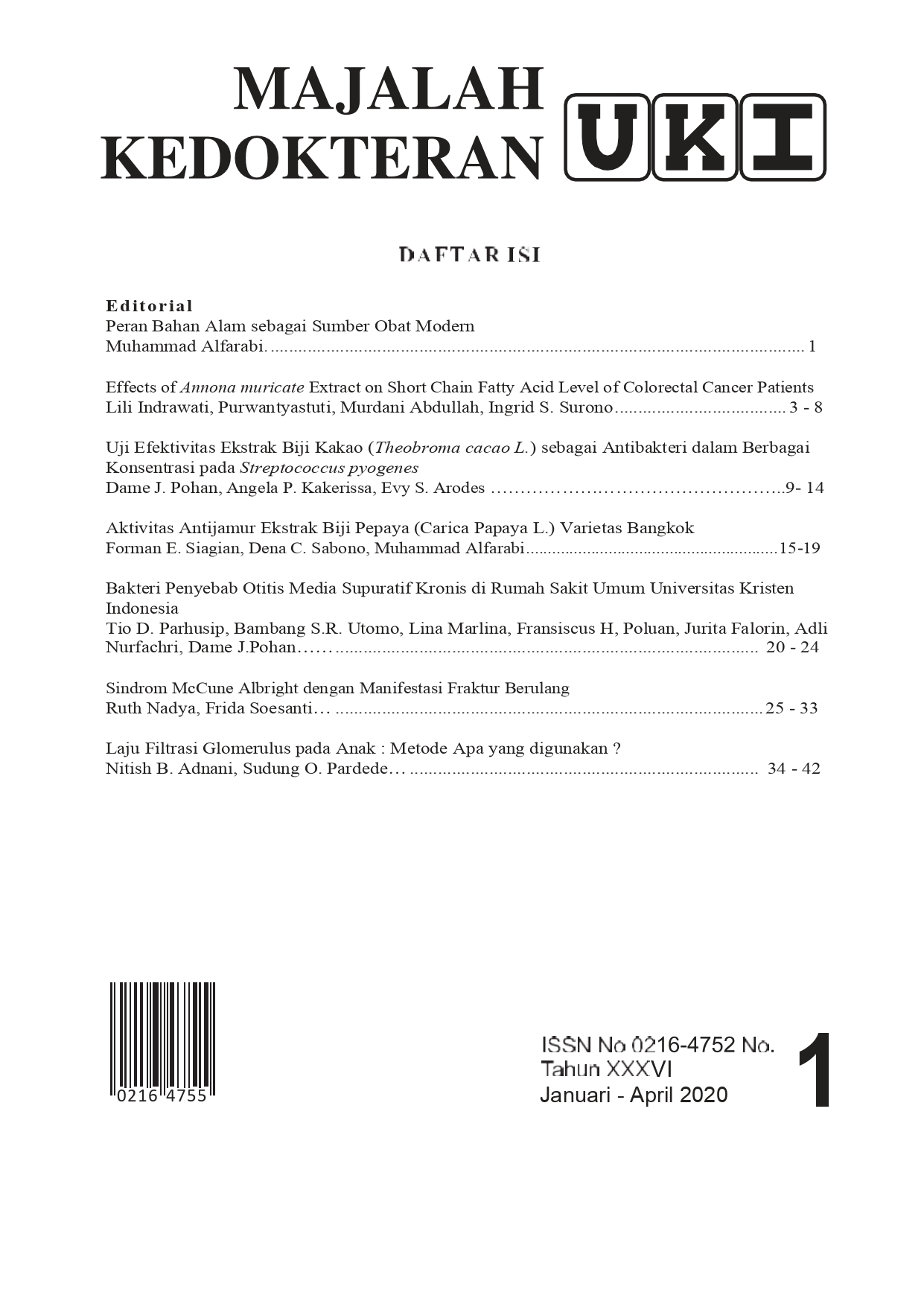 View 1200 times Download 1200 times pdf
How to Cite
Parhusip, T. D., Utomo, B. S. R., Marlina, L., Poluan, F. H., Falorin, J., Nurfachri, A., & Pohan, D. J. (2021). Bakteri Penyebab Otitis Media Supuratif Kronis di Rumah Sakit Umum Universitas Kristen Indonesia . Majalah Kedokteran UKI, 36(1). https://doi.org/10.33541/mk.v36i1.2988