Aktivitas Antijamur Ekstrak Biji Pepaya (Carica Papaya L.) Varietas Bangkok
Forman Erwin Siagian

Departemen Parasitologi, Fakultas Kedokteran Universitas Kristen Indonesia

Dena Carolina Sabono

Departemen Parasitologi, Fakultas Kedokteran Universitas Kristen Indonesia

Muhammad Alfarabi

Departemen Biokimia, Fakultas Kedokteran Universitas Kristen Indonesia
Abstract
Abstrak
Candida sp. dan Cryptococcus sp. merupakan jamur oportunistik yang dapat menyebabkan penyakit pada manusia dan dapat berakibat fatal jika tidak ditangani dengan cepat dan tepat. Saat ini terdapat permasalahan yaitu resistensi antijamur dan jenis terapi terhadap jamur yang terbatas. Terdapatnya bahan alam yang melimpah di Indonesia menjadi suatu potensi untuk mengembangkan obat anti jamur baru yang memiliki efektivitas tinggi, efek samping yang minimal, dan murah. Salah satu bahan alam yang belum tereksplorasi untuk antijamur adalah biji pepaya varietas bangkok. Biji pepaya selama ini lebih banyak menjadi limbah organik. Oleh karena hal tersebut, tujuan dari penelitian ini adalah untuk menguji aktivitas antijamur dari ekstrak biji pepaya bangkok (Carica papaya L.). Jamur yang digunakan pada penelitian ini adalah Candida albicans dan Cryptococcus neoformans. Metode yang digunakan adalah perhitungan zona hambat pada sumur di cawan petri. Hasil penelitian menunjukkan bahwa tidak terdapat zona hambat pada media yang terdapat C. albicans dan C. neoformans.  Dapat disimpulkan, ekstrak biji papaya tidak memiliki aktivitas antijamur terhadap kedua jamur tersebut.
Kata kunci: Pepaya bangkok, Antijamur, Bahan alam
Abstract
Candida sp. and Cryptococcus sp. are opportunistic fungi that can be fatal disease in humans if not treated properly. However, resistance of antifungal drugs have been emerged, therefore limit their benefit for therapy. Many natural products in Indonesia have potential to be established for new antifungal drugs that have high effectiveness, minimal side effects, and inexpensive. Papaya bangkok seed has not been explored for its antifungal activity. This seed become more organic waste. The aim of this study was to test antifungal activity of various papaya bangkok seed extract concentrations. We measured the inhibiton zone of papaya extract to Candida albicans and Cryptococcus neoformans. Result showed no inhibition zone for each seed extract concentrations. Papaya bangkok seed extract has not antifungal activity.
Keywords: Papaya bangkok, antifungal, natural product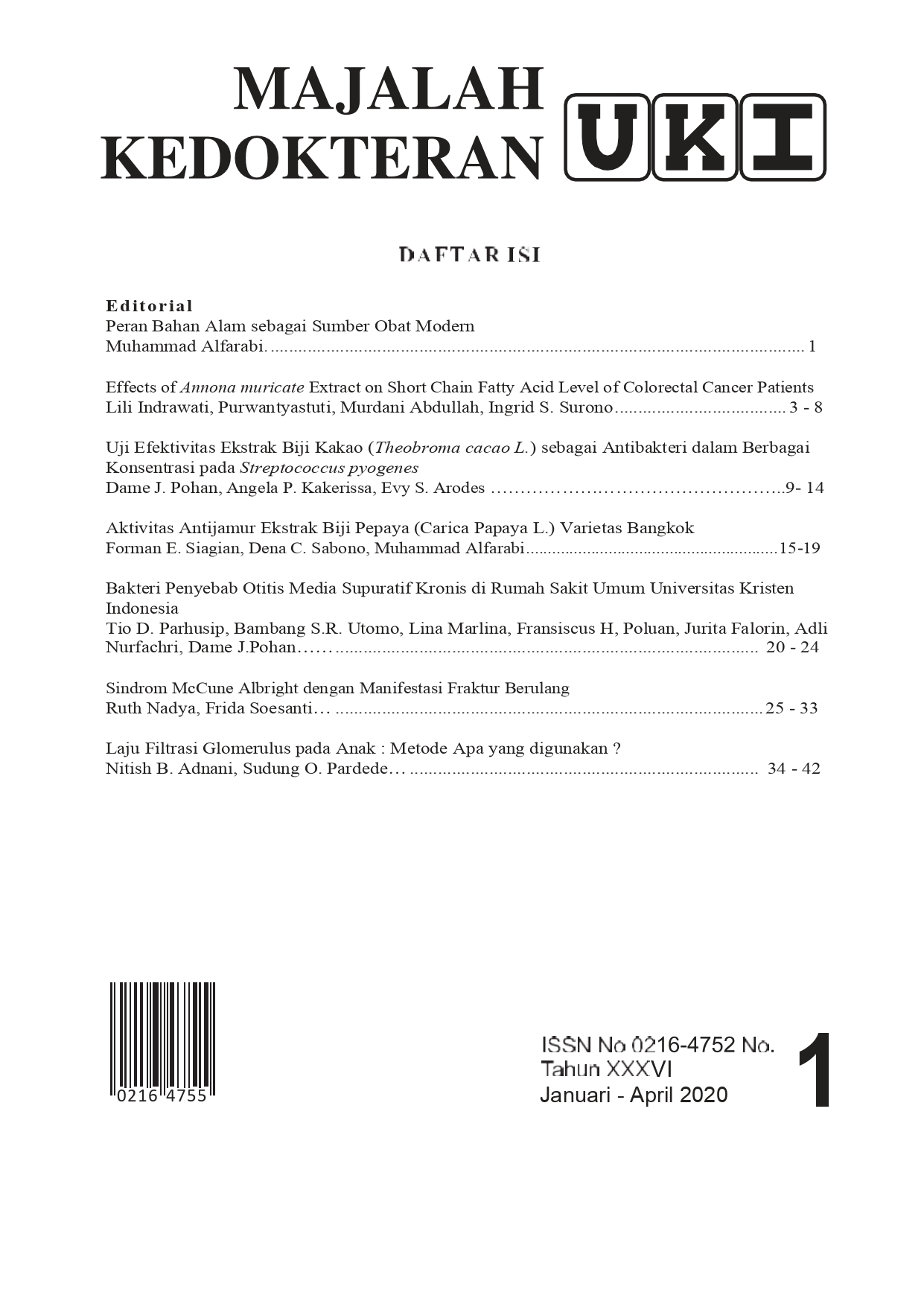 View 464 times Download 464 times pdf
How to Cite
Siagian, F. E., Sabono, D. C., & Alfarabi, M. (2021). Aktivitas Antijamur Ekstrak Biji Pepaya (Carica Papaya L.) Varietas Bangkok. Majalah Kedokteran UKI, 36(1), 14 - 18. https://doi.org/10.33541/mk.v36i1.2987