Pemeriksaan Histerosalpingografi pada Infertilitas Primer dan Sekunder
Mery Hutagalung

Bagian Radiologi FK UKI
Abstract
Abstrak
            Infertilitas primer dan sekunder pada wanita umumnya disebabkan oleh kesalahan perkembangan saat embriogenesis atau proses lain pada masa dewasa. Kelainan pada proses histerosalpingo grafi (HSG). Hyperosalpingogram adalah salah satu pemeriksaan pilihan untuk mendeteksi kelainan bentuk, ukuran serta massa pada lumen uterus. Selain itu juga mendeteksi kelainan bentuk ukuran dan patensi tuba falopii. Pemeriksaan ini hanya membutuhkan waktu kurang dari 11/2 jam dan cukup aman dilakukan dengan kemungkinan komplikasi hanya 1%, HSG dilakukan setelah menstruasi dan sebelum terjadinya ovulasi, yaitu pada hari ke 9-10 dihitung dari hari pertama haid. Hal itu untuk menghindari kemungkinan telah terjadi kehamilan yang merupakan kontra indikasi pemeriksaan tersebut.
Kata kunci : Histerosalpingografi, kelainan uterus, kelainan tuba.
Abstract
              Primary and secondary infertility may caused by the failure during embryogenesis. Embryogenesis abnormalities occurs in 1-2% of females and some are detected on physical examination while other identified using other methods such as hysterosapingography. Hysterosalpingografi (HSG) is used to examine and evaluate the shape and configuration of uterus and patency of fallopian tubes. This examination only takes less than one and half hour and the complication only occurred in less than 1%. The procedure usually conducted after the menstrual cycle and prior to the next ovulation i.e on the 9th-10th day of menstrual cycle. One of HSG contra indication is pregnancy that might be happened before 9th-10th day of the cycle.
Key word : Hysterosalphyngography, uterus anomaly, fallopian tube anomaly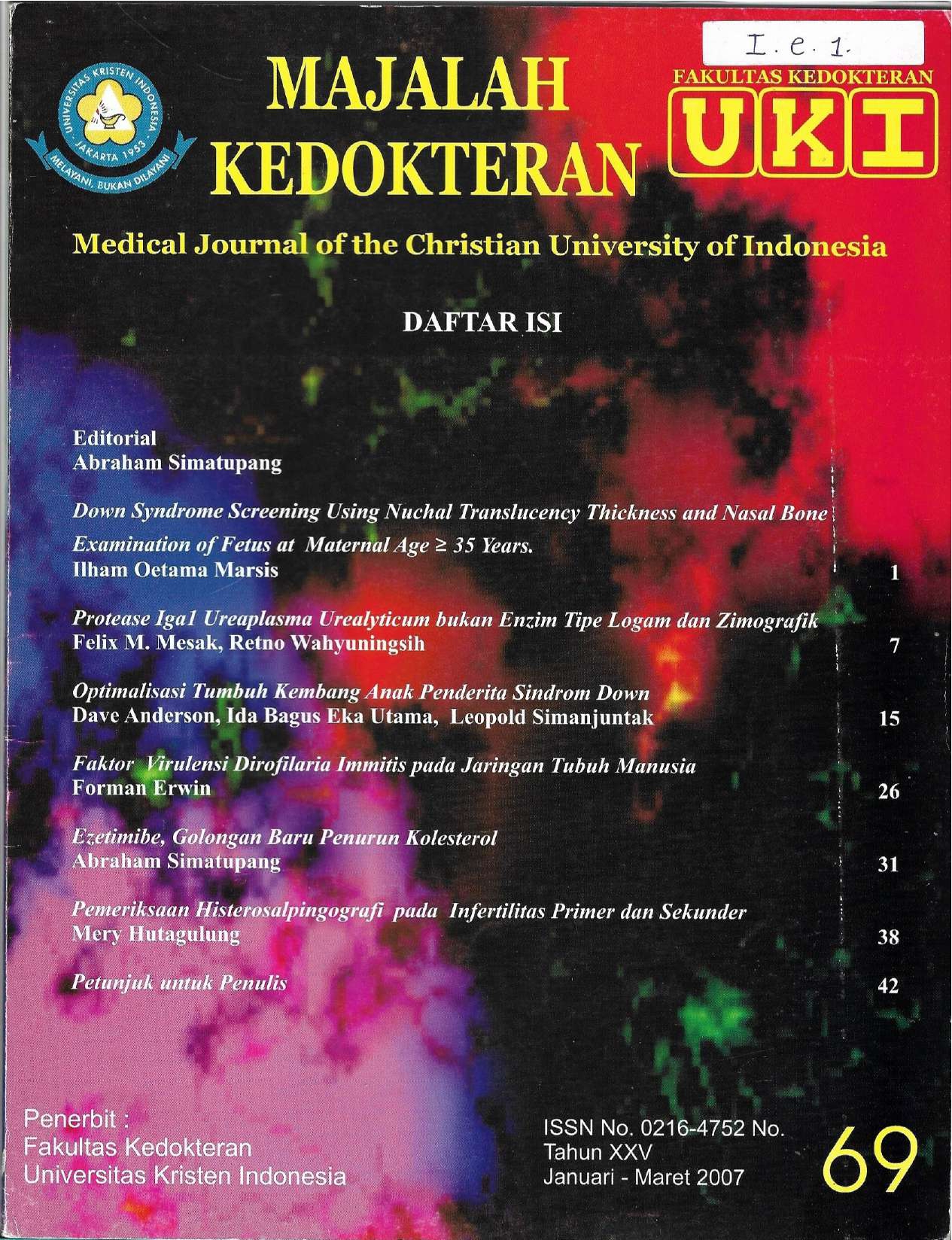 View 353 times Download 353 times pdf
How to Cite
Hutagalung, M. (2021). Pemeriksaan Histerosalpingografi pada Infertilitas Primer dan Sekunder. Majalah Kedokteran UKI, 25(1), 38-41. https://doi.org/10.33541/mkvol34iss2pp60