Tumor Neurogenik Orbita
Marjasa D. D. Newton

Departemen Patologi Anatomi Fakultas Kedokteran Universitas Kristen Indonesia Jakarta
Abstract
Abstrak
Tumor neurogenik orbita merupakan sekelompok tumor yang berasal dari sel-sel neuroektodermal dan non
mesenkim yang meliputi saraf optik, meningen dan saraf perifer. Masing-masing jaringan memiliki karakteristik sel
tersendiri yang membedakannya dengan jaringan yang lain. Tujuan penulisan ini adalah untuk mengetahui patologi
dan tatalaksana tumor neurogenik orbita yang sering ditemui. Metode yang digunakan adalah studi kepustakaan
yang bersifat objektif, analitis, sistematis dengan pendekatan deskriptif eksploratif. Dapat disimpulkan bahwa pada
umumnya tumor neurogenik orbita bersifat jinak dan jarang berkembang menjadi suatu keganasan. Manifestasi
oftalmologis yang dapat ditemukan berupa penonjolan bola mata, mata merah, kekeruhan pada lensa mata, gangguan
pada saraf mata hingga menyebabkan gangguan tajam penglihatan baik ringan maupun berat. Pemeriksaan yang
diperlukan untuk menegakkan diagnosis dapat mencakup biopsi tumor maupun pencitraan seperti CT-Scan dan
MRI. Penatalaksanaan tumor dapat berupa tindakan bedah, kemoterapi ataupun radioterapi.
Kata kunci: tumor, orbita, manifestasi oftalmologis, tatalaksana.
Abstract
Orbital neurogenic tumor is a group of tumor arising from neuroectodermal and mesencyhmal cells which include
optic nerve, meninges and peripheral nerves. Each cell tissues have different characteristics from the others. The
purpose of this paper is to provide information on the mechanisms and factors that affect damage to optic nerve
in glaucoma. The method used is a literature study with an explorative descriptive approach that are objective,
analytical, and systematic. It can be concluded that most of the orbital neurogenic tumors are benign and rarely
develop into malignancies. Ophthalmic manifestations include proptosis, red eyes, lens opacity, optic nerve
disorder which may lead to mild or severe visual acuity diminuition. Imaging examinations such as CT-Scan and
MRI or tumor biopsy need to be done to confirm the diagnosis. The management of the tumor includes surgery,
chemotherapy and radiotherapy.
Key words: tumor, orbit, ophthalmic manifestation, management.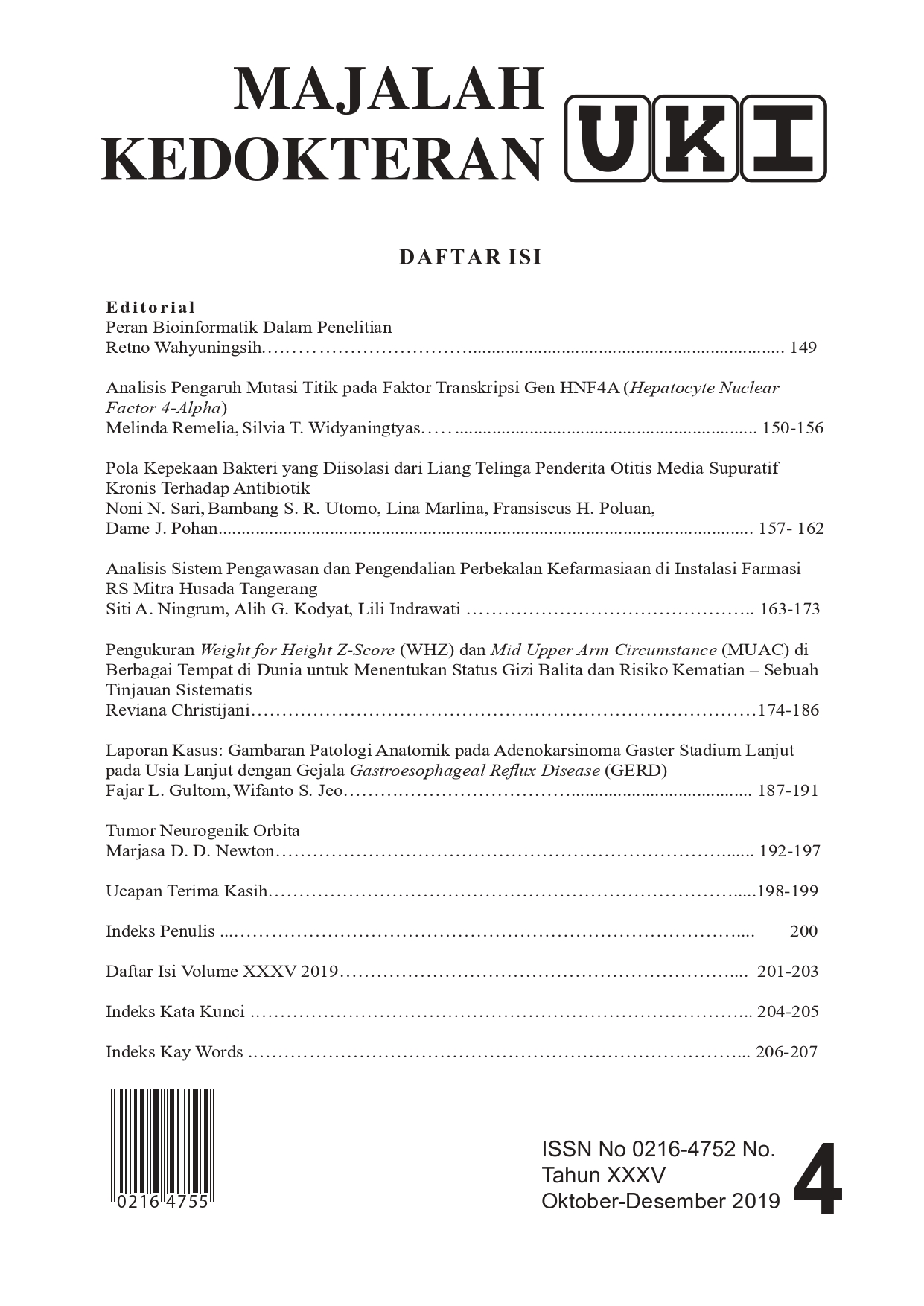 View 210 times Download 210 times pdf
How to Cite
D. D. Newton, M. (2021). Tumor Neurogenik Orbita. Majalah Kedokteran UKI, 35(4), 192 - 197. https://doi.org/10.33541/mkvol34iss2pp60