Laporan Kasus: Gambaran Patologi Anatomik pada Adenokarsinoma Gaster Stadium Lanjut pada Usia Lanjut dengan Gejala Gastroesophageal Reflux Disease (GERD)
Fajar L. Gultom

Departemen Patologi Anatomik Fakultas Kedokteran Universitas Kristen Indonesia

Wifanto S. Jeo

Departemen Bedah Rumah Sakit Khusus Kanker Siloam MRCCC
Abstract
Abstrak
Karsinoma gaster adalah neoplasma epitelial ganas terdiri atas grup tumor yang secara biologik dan genetik heterogen
dengan etiologi multifaktorial, umumnya ditemukan pada laki-laki, dekade ke-5 hingga ke-7 dengan keluhan nyeri
epigastrium, dispepsia, anemia dan penurunan berat badan. Seorang pasien laki-laki 65 tahun datang ke rumah
sakit dengan keluhan dada dan tenggorokan terasa sakit hilang timbul sejak enam bulan yang lalu. Hasil biopsi
menunjukkan adenokarsinoma intramukosa disertai metaplasia intestinal dan Helycobacter pylori. Reseksi gaster/
distal gastrektomi dilakukan tiga minggu kemudian dengan hasil histopatologik karsinoma gaster tipe tubular/
intestinal infiltratif hingga lapisan muskularis (pT2N0). Hasil histopatologik ini sesuai dengan kulminasi dari
inflamasi – metaplasia – displasia – karsinoma dikenal dengan correa cascade of multistep gastric carcinogenesis.
Kata kunci: karsinoma gaster, histopatologik, stadium lanjut, karsinogenesis.
Abstract
Gastric carcinoma is a malignant epithelial neoplasm consists of both biological and genetic heterogenous group
with multifactorial etiologies, men predominant (2:1) in fifth to seventh decade. Symptoms are epigastric pain,
dyspepsia, anemia and weight loss. Male 65 years old complaining of chest pain and heartburn with suspected GERD.
Gastroscopy and biopsy results showed intra mucosal adenocarcinoma. Intestinal metaplasia and Helycobacter
pylori both are positive. Partial distal gastrectomy was performed with histopathology reports showed tubular/
intestinal adenocarcinoma that invades muscularis propria (pT2N0). These histopathologic findings are suitable
with culmination of an inflammation – metaplasia – dysplasia – carcinoma sequence known as correa cascade of
multistep gastric carcinogenesis.
Key words: gastric carcinoma, histopathologic, advanced stage, carcinogenesis.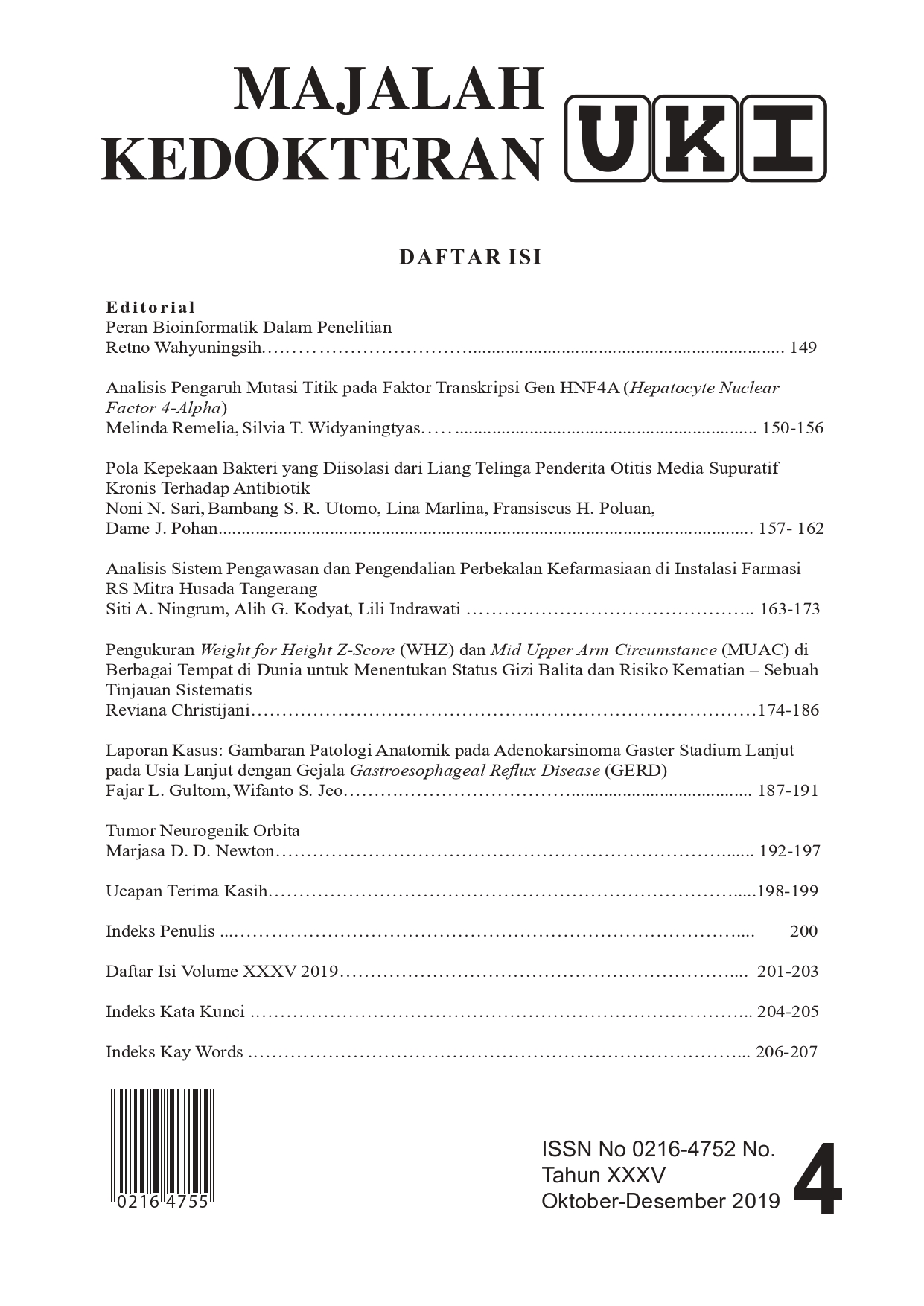 View 917 times Download 917 times pdf
How to Cite
L. Gultom, F., & S. Jeo, W. (2021). Laporan Kasus: Gambaran Patologi Anatomik pada Adenokarsinoma Gaster Stadium Lanjut pada Usia Lanjut dengan Gejala Gastroesophageal Reflux Disease (GERD). Majalah Kedokteran UKI, 35(4), 187 - 191. https://doi.org/10.33541/mkvol34iss2pp60