EVALUASI IMPLEMENTASI MANAJEMEN PELATIHAN BERBASIS MASYARAKAT BAGI TENAGA FASILITATOR (TFL) PROGRAM SANITASI KEMENTERIAN PEKERJAAN UMUM PERUMAHAN RAKYAT
Novita Merdriana Tantri

Mahasiswa Magister Administrasi Pendidikan, PPs-UKI, Jakarta, Indonesia

Tarcisius Sunaryo

Magister Administrasi Pendidikan, PPs-UKI, Jakarta, Indonesia

Amos Neolaka

Magister Administrasi Pendidikan, PPs-UKI, Jakarta, Indonesia
Keywords:
Field Facilitators, Key Performance Indicators, Training Evaluation, Training Management, Sanimas IDB
Abstract
This research contains an evaluation related to the implementation of training for Field Facilitators of the Community-Based Sanitation Program (Sanimas), which is carried out by the Ministry of Public Works, Public Housing, supported by IDB. This program aims to achieve community outreach to proper sanitation services. The Ministry of PUPR through the Community-Based Infrastructure Work Unit recruited Field Facilitators as personnel to assist the community in program implementation. Training has an important role to equip TFL before carrying out their duties. This qualitative research uses the Root Case Analysis approach. The data was obtained using purposive sampling technique by observing the location of the WWTP, in-depth interviews with program actors at the central, provincial, city/district, kelurahan levels and Focus Group Discussions with TFL.
The study shows that the training for TFL was carried out well when viewed from the administrative side but has not been carried out optimally. The stages in training management, such as Training Need Analysis, planning, preparation of training materials, training implementation, and training evaluation were not carried out properly. The impact that occurs is that TFL's performance is not maximized in achieving the Key Performance Indicators that have been set by the program.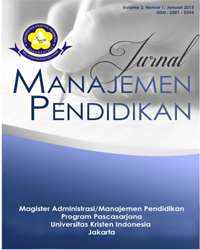 How to Cite
Tantri, N. M., Sunaryo , T., & Neolaka, A. (2022). EVALUASI IMPLEMENTASI MANAJEMEN PELATIHAN BERBASIS MASYARAKAT BAGI TENAGA FASILITATOR (TFL) PROGRAM SANITASI KEMENTERIAN PEKERJAAN UMUM PERUMAHAN RAKYAT. Jurnal Manajemen Pendidikan, 11(1), 52-62. https://doi.org/10.33541/jmp.v11i1.4162