UPAYA MENINGKATKAN KETERAMPILAN MEMECAHKAN SOAL CERITA MENGGUNAKAN MEDIA GAMBAR ANIMASI PADA PESERTA DIDIK KELAS IC SD PANGUDI LUHUR JAKARTA SELATAN
Bernadeta Hariyani

Program Pascasarjana Universitas Kristen Indonesia, Jakarta, Indonesia
Keywords:
Field Facilitators, Key Performance Indicators, Training Evaluation, field facilitators, key performance indicators, training evaluation
Abstract
Many of the first grade students have problems while working on mixed mathematics story problems that involve addition and subtraction, whether because they are not fluent readers or because the sentences are difficult to understand. This problem forms the foundation for researchers' observations. Additionally, the problem-solving skills developed in this assignment may be implemented in students' daily lives.
The researcher's topic in Classroom Action Research in Learning Mathematics is class IC at SD Pangudi Luhur Jakarta, which included 29 students. This research assesses how integrating animated visual media is more engaging for solving story difficulties for grade I students. Two cycles were applied in this research.
The research findings indicate an improvement in student learning outcomes in the math story questions. It could be evidenced by the zero students who already had scores less than the minimum completeness criteria in cycle II, students who scored very high scores improved from 75.86 percent in cycle I to 82.75 percent in cycle II; and students who could solve mathematical sentences increased.
Based on these findings, it is possible to conclude that using animated visual media can increase students' abilities to solve mathematical story problems. As a result, it is proposed that first grade teachers be creative in innovating learning to design and apply animated visual media in mathematics learning.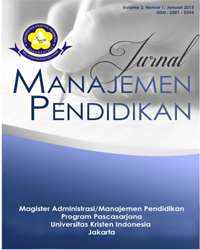 How to Cite
Hariyani, B. (2022). UPAYA MENINGKATKAN KETERAMPILAN MEMECAHKAN SOAL CERITA MENGGUNAKAN MEDIA GAMBAR ANIMASI PADA PESERTA DIDIK KELAS IC SD PANGUDI LUHUR JAKARTA SELATAN. Jurnal Manajemen Pendidikan, 11(1), 13-22. https://doi.org/10.33541/jmp.v11i1.4121