ANALISIS KINERJA GURU KIMIA SMA DKI JAKARTA DITINJAU DARI KECERDASAN EMOSIONAL
SUMIYATI -

Universitas Kristen Indonesia
Abstract
ABSTRACT
This study used an analysis of performance's teacher of chemistry teacher of DKI Jakarta High School  seen from Emotional Intelligence. The purpose of this study is to determine whether there is a relationship between the intelligence of teachers and high school teacher teachers in DKI Jakarta. The research method used in this study is a survey method with correlational design. Respondents involved in the study of information were 118 chemistry teachers from State High Schools in DKI Jakarta. The results showed that there was a significant positive relationship between emotional intelligence and the performance of chemistry teachers. There is no higher than the chemistry teacher who is higher than them. It can be concluded that to have a good teacher performance, the teacher must train or improve his emotional intelligence.
Keywords: Teacher Performance, Emotional Intelligence
ABSTRAK
Penelitian ini mengenai analisis kinerja guru kimia SMA DKI Jakarta dari Kecerdasan Emosional. Adapun tujuan penelitian ini untuk mengetahui ada tidaknya hubungan antara kecerdasan emosional guru dengan kinerja guru kimia SMA di DKI Jakarta. Adapun metode penelitian yang digunakan pada penelitian ini adalah metode survey dengan desain korelasional. Responden yang terlibat dalam penelitian melibatkan 118 orang guru kimia SMA Negeri di DKI Jakarta. Hasil penelitian menunjukkan bahwa terdapat hubungan positif yang siqnifikan  antara kecerdasan emosional dan kinerja guru kimia. Artinya semakin tinggi kecerdasan emosional guru kimia maka semakin tinggi  kinerja mereka. Dapat disimpulkan bahwa untuk memiliki kinerja guru yang baik, maka guru harus melatih atau meningkatkan kecerdasan emosionalnya.   
Kata Kunci: Kinerja Guru, Kecerdasan Emosional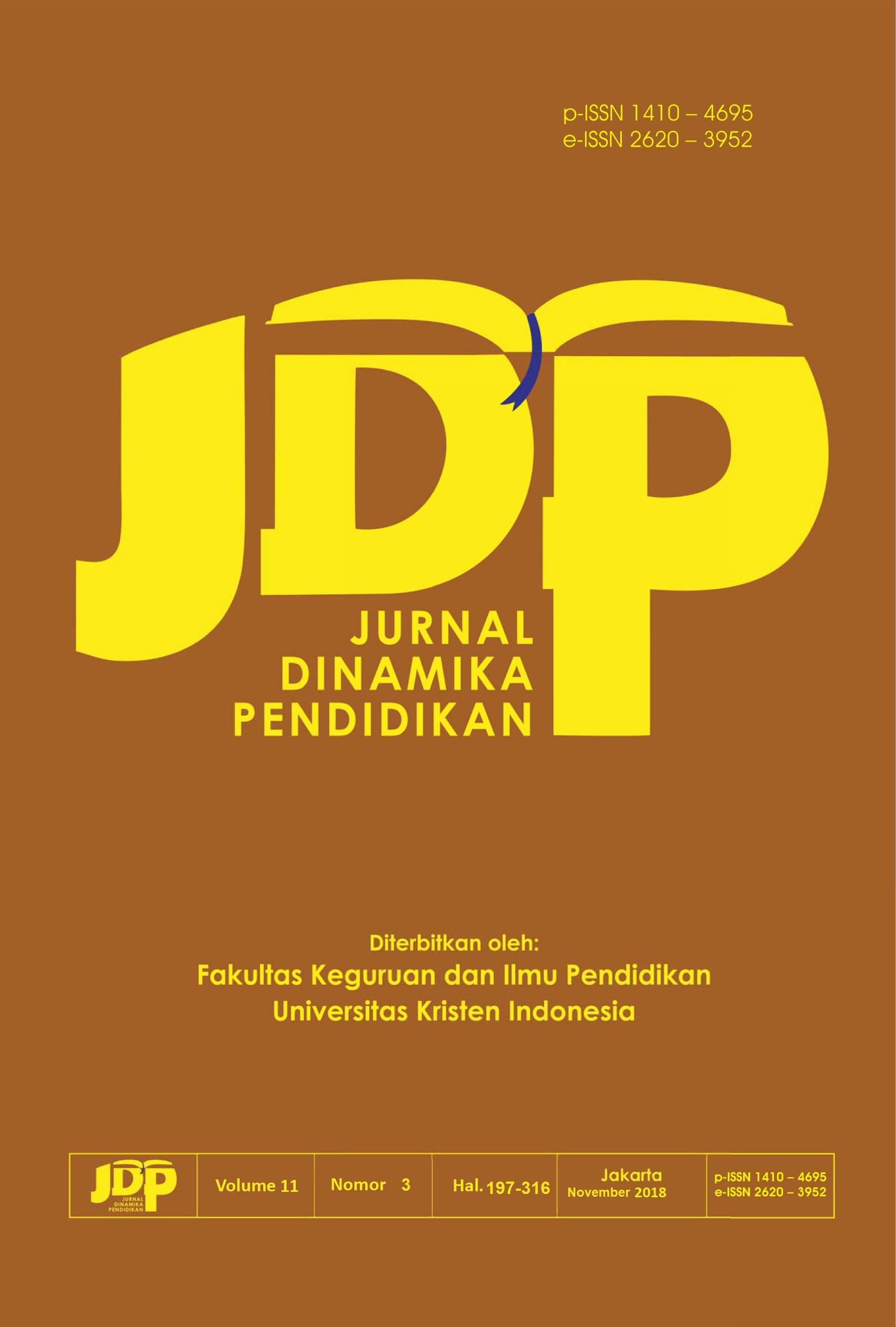 View 301 times Download 301 times PDF
How to Cite
-, S. (2019). ANALISIS KINERJA GURU KIMIA SMA DKI JAKARTA DITINJAU DARI KECERDASAN EMOSIONAL. Jurnal Dinamika Pendidikan, 11(3), 229-247. https://doi.org/10.51212/jdp.v11i3.893