Vol 1 No 12 (2018): JULI HIGHER EDUCATION TEACHING STRATEGIES: AN OVERVIEW OF ENGLISH CLASSES
L. Angelianawati, Universitas Kristen Indonesia
L. Angelianawati

Universitas Kristen Indonesia
Abstract
ABSTRAk
Salah satu komponen utama dalam perencanaan pendidikan tinggi adalah pengajaran. Berkaitan dengan pembelajaran bahasa Inggris, pengajaran berpengaruh terhadap keberhasilan siswa di kelas bahasa Inggris. Pemilihan strategi mengajar yang tepat, yang dilakukan oleh guru bahasa Inggris, membantu pembentukan proses pembelajaran Bahasa yang efektif dan tepat sasaran. Terdapat banyak strategi mengajar yang sesuai untuk pembelajaran bahasa Inggris di pendidikan tinggi. Dalam tulisan ini akan diuraikan beberapa strategi mengajar tersebut, termasuk persyaratan dan hambatannya. Pemahaman tentang strategi mengajar terbaik yang sesuai dengan kelas bahasa Inggris sangat penting bagi guru bahasa Inggris. Ulasan dalam tulisan ini diharapkan dapat menghasilkan perbaikan dalam praktik mengajar pendidikan bahasa Inggris di perguruan tinggi.
Kata Kunci: Pendidikan Tinggi, Metode Pengajaran, Pendidikan Bahasa Inggris
ABSTRACT
One of the main components in higher education planning is teaching. Regarding to English language learning, teaching distributes influences toward the learners' successfulness in English classes. The appropriate selection of teaching strategies conducted by the English teachers help shaping effective and on-target language learning processes. There are many teaching strategies applicable to English language learning in higher education. The present writing elaborates discussions about those teaching strategies, including its requirements and barriers. Understanding the best teaching strategies which fit the English classes is considerately important for English teachers. It is expected that the discussion will result in the betterment on English teaching practices in higher education.
Key Words: Higher Education, Teaching Strategies, English Education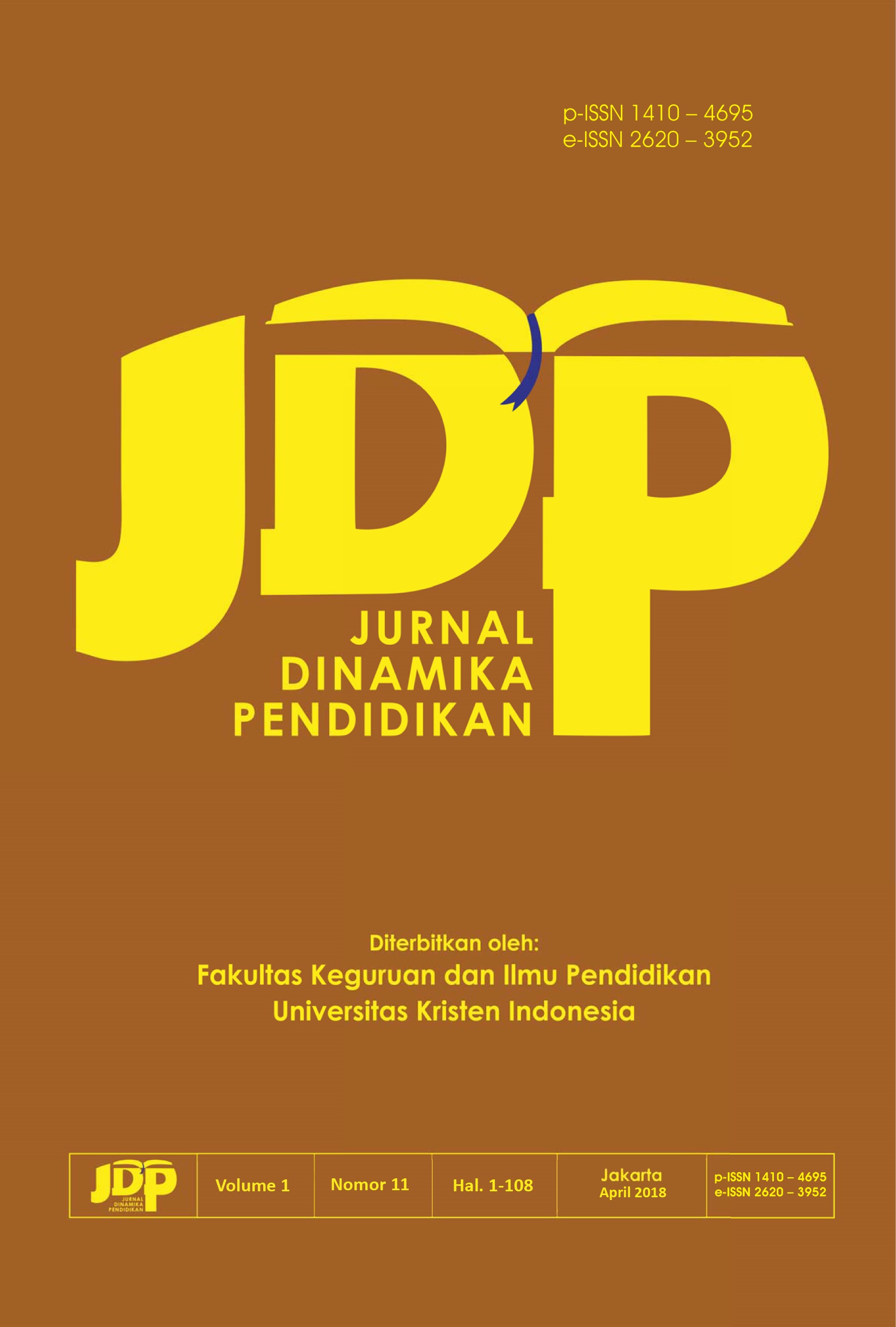 View 297 times Download 297 times PDF
How to Cite
Angelianawati, L. (2018). Vol 1 No 12 (2018): JULI HIGHER EDUCATION TEACHING STRATEGIES: AN OVERVIEW OF ENGLISH CLASSES: L. Angelianawati, Universitas Kristen Indonesia. Jurnal Dinamika Pendidikan, 11(2), 183-196. https://doi.org/10.51212/jdp.v11i2.814