Vol 1 No 12 (2018): JULI PENERAPAN METODE PEMBELAJARAN PROBLEM SOLVING UNTUK MENINGKATKAN HASIL BELAJAR SISWA PADA MATERI KONSEP MOL DI KELAS X MIPA DI SMA NEGERI 6 KOTA BEKASI
Andy Novitriastuti Rahmatjati, SMA Negeri 6 Bekasi,
Andy Novitriastuti Rahmatjati

SMA Negeri 6 Bekasi
Abstract
ABSTRAK
Penelitian Tindakan Kelas ini dilakukan oleh karena rendahnya hasil belajar siswa pada materi konsep mol dan masih belum terlaksana dengan baik penerapan metode pembelajaran terutama pada proses pembelajaran Kimia di kelas X MIPA Sma Negeri 6 Kota Bekasi. Hasil penelitian ini menunjukkan bahwa metode pembelajaran Problem Solving memiliki dampak positif dalam meningkatkan hasil belajar siswa. Berdasarkan analisis data, aktivitas guru dalam proses pembelajaran Problem Solving dalam setiap siklus juga mengalami peningkatan serta berdampak positif terhadap prestasi belajar siswa. Hal ini dapat ditunjukkan dengan nilai rata – rata siswa pada setiap siklus yang terus mengalami peningkatan. Dengan demikian hipotesis tindakan dalam penelitian ini terbukti bahwa penerapan metode pembelajaran problem Solving dalam proses belajar mengajar dapat meningkatkan hasil belajar siswa pada materi konsep mol.
Kata kunci: Hasil Belajar , Kimia, Konsep Mol, Metode Pembelajaran Problem Solving
ABSTRACT
The Classroom Action Research was conducted because of the low learning achievements of MOL concept and still has not done well the use of  learning methods, especially in the learning process in Chemistry class of X MIPA SMAN 6 Bekasi . This research outputs indicated that Problem Solving has a positive impact in improving learning achievements of students. Based on data analysis the activity of the teacher in the learning process using Problem Solving method in each cycle also increased as well as the positive impact on the student achievement. This can be shown by the average value of student in each cycle which is constantly increasing. Thus the hypothesis of action in the study proved that the application of the problem solving method in the teaching and learning can enhance learning achievement student to learn Chemistry with the material theory of Mol concept.
Keywords: achievement, Chemistry, Concept Mol, Problem Solving Method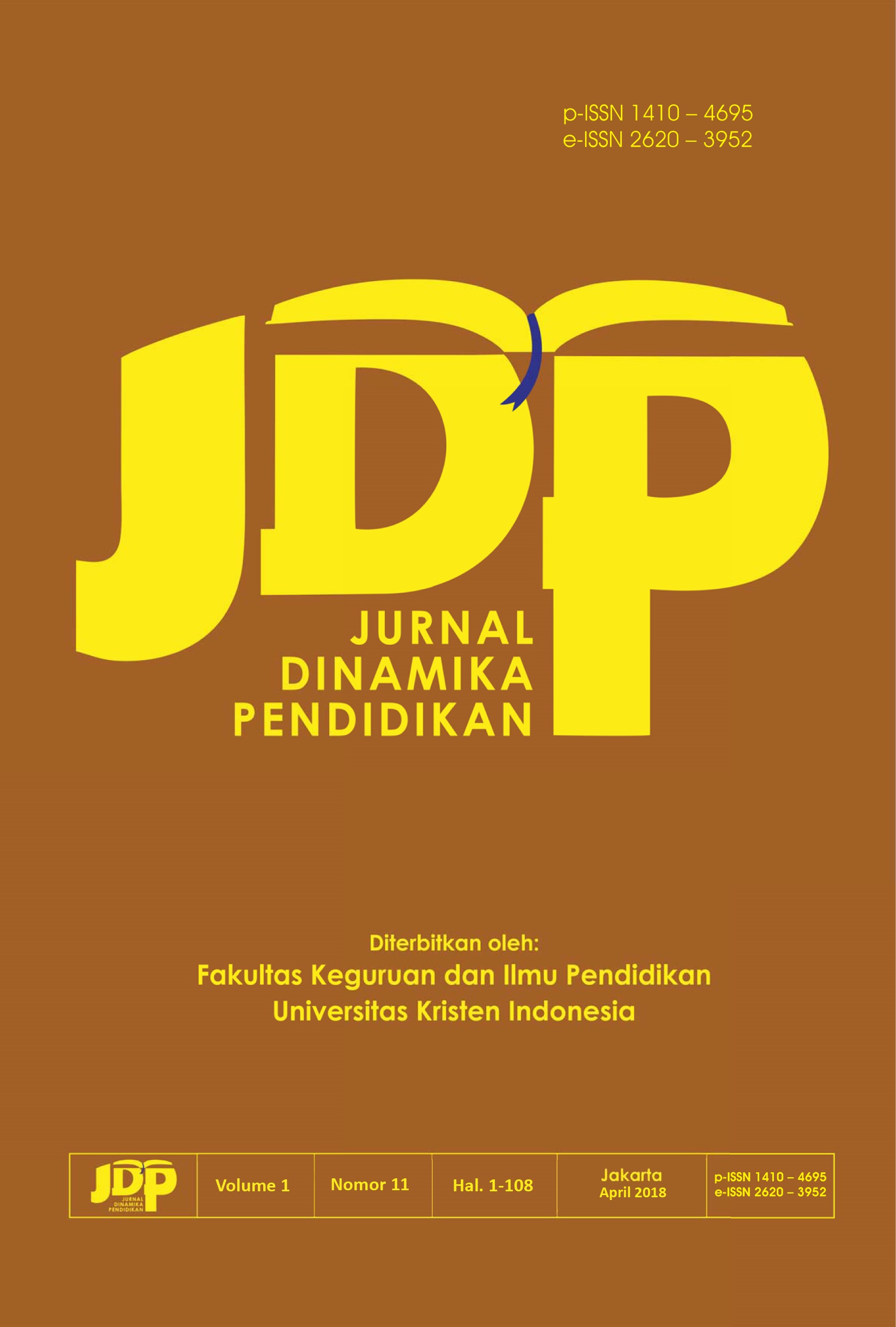 View 1315 times Download 1315 times PDF
How to Cite
Rahmatjati, A. N. (2018). Vol 1 No 12 (2018): JULI PENERAPAN METODE PEMBELAJARAN PROBLEM SOLVING UNTUK MENINGKATKAN HASIL BELAJAR SISWA PADA MATERI KONSEP MOL DI KELAS X MIPA DI SMA NEGERI 6 KOTA BEKASI: Andy Novitriastuti Rahmatjati, SMA Negeri 6 Bekasi,. Jurnal Dinamika Pendidikan, 11(2), 109-122. https://doi.org/10.51212/jdp.v11i2.808