CREATIVE COUNSELING (PROOPS) MELALUI PENDEKATAN SFBC (SOLUTION-FOCUSED BRIEF COUNSELING) UNTUK MENINGKATKAN HARGA DIRI (SELF-ESTEEM) SISWA
Andreas Rian Nugroho

Universitas Kristen Indonesia, Jakarta, Indonesia

Taat Guswantoro

Universitas Kristen Indonesia, Jakarta, Indonesia
Abstract
Self-esteem is the whole method used to evaluate ourselves, where there is a comparison between ideal-self and real-self. Researchers have carried out strategies for developing self-esteem, but research on increasing self-esteem through creative counseling has not been found. The purpose of this study was to find (1) the profile level of students' self-esteem; (2) Description of the effectiveness of Creative Counseling (Proops) through the SFBC (Solution-Focused Brief Counseling) Approach to Increase Students' Self-Esteem. 
Keywords: creative counseling, self-esteem, sfbc, student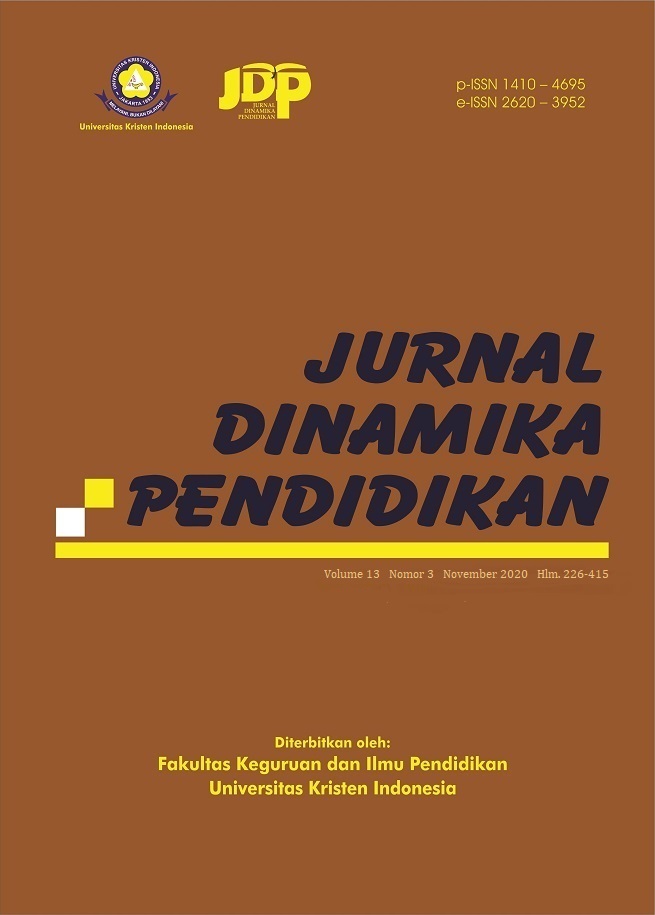 How to Cite
Andreas Rian Nugroho, & Taat Guswantoro. (2020). CREATIVE COUNSELING (PROOPS) MELALUI PENDEKATAN SFBC (SOLUTION-FOCUSED BRIEF COUNSELING) UNTUK MENINGKATKAN HARGA DIRI (SELF-ESTEEM) SISWA. Jurnal Dinamika Pendidikan, 13(3), 385-392. https://doi.org/10.51212/jdp.v13i3.2401
Copyright (c) 2020 Andreas Rian Nugroho, Taat Guswantoro
This work is licensed under a Creative Commons Attribution-NonCommercial 4.0 International License.