KERJASAMA GURU DAN ORANGTUA DALAM MENGELOLA STRATEGI PEMBELAJARAN HOME LEARNING MASA PANDEMI COVID 19 DI PAUD KASIH EFRATA JATIASIH BEKASI
Julinda Siregar

Universitas Indraprasta, Jakarta, Indonesia
Abstract
Abstract briefly contains a description of the problems and objectives of research, methods used, and research results. Abstract followed keywords. Keywords contain basic ideas or concepts that the Learning strategy is a set of views, establishments, principles and norms set out to carry out the continuity of learning.  During this pandemic, learning is carried out online, including in Early Childhood Education (PAUD). Online learning, called home learning, has been done for more than 8 months. This research method is a desktiptif kualitaif conducted on students of PAUD Kasih Efrata Jatiasih Bekasi. Childhood PAUD students of the age range of 2-4 years are called play groups and ages 4-6 years are called kindergarten. Home learning opportunities that occur during the corona virus pandemic (covid 19) parents play an active role in managing learning strategies at home, so that students do not get bored, not just sleep around, not just play handpone.  Parents need to manage and get around the home learning situation in order to continue to train children to learn, create and do various learning activities. Among them are playing, singing, storytelling and integrated learning to achieve the planned learning goals. Pro parents actively communicate with the class teacher about the materials provided to the learners. Managing learning strategies carried out by parents works with teachers to overcome the saturation of home learning.
Keywords: Cooperation, Managing Learning Strategies, Home Learning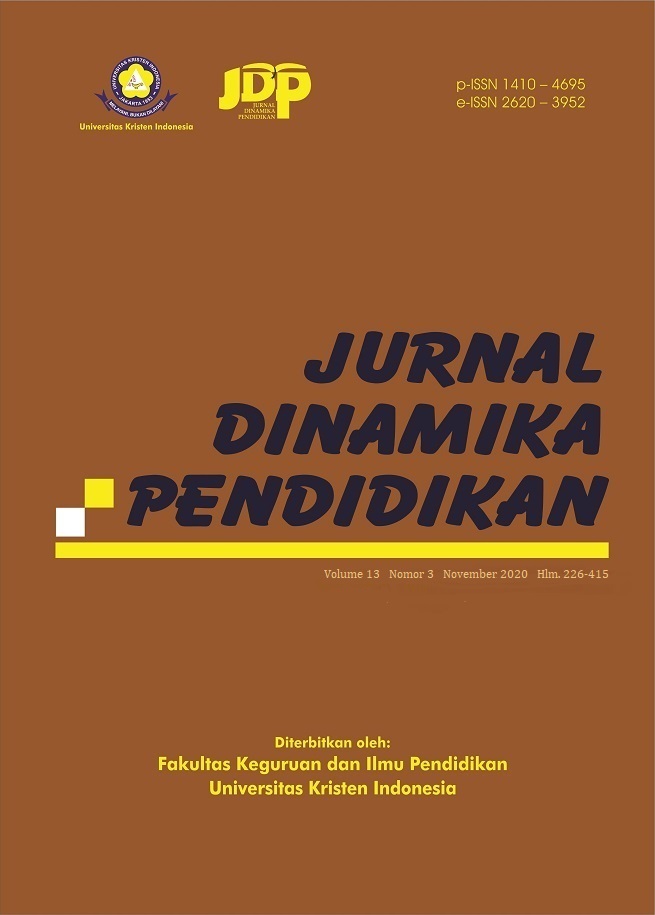 How to Cite
Julinda Siregar. (2020). KERJASAMA GURU DAN ORANGTUA DALAM MENGELOLA STRATEGI PEMBELAJARAN HOME LEARNING MASA PANDEMI COVID 19 DI PAUD KASIH EFRATA JATIASIH BEKASI. Jurnal Dinamika Pendidikan, 13(3), 245-254. https://doi.org/10.51212/jdp.v13i3.2383
Copyright (c) 2020 Julinda Siregar , Erni Murniarti
This work is licensed under a Creative Commons Attribution-NonCommercial 4.0 International License.