PERSEPSI GURU DAN SISWA TERHADAP PENGGUNAAN TIK DALAM PEMBELAJARAN DI SEKOLAH MENENGAH DI JAKARTA DAN SEKITARNYA
Parlindungan Pardede

English Education Department, Universitas Kristen Indonesia, Indonesia

http://orcid.org/0000-0003-3078-6596

Sunarto

Universitas Kristen Indonesia, Jakarta, Indonesia
Abstract
Its huge potential to facilitate learning has been making information and communication technology (ICT) use grow as one of the main advancements in the education sector in the 21st Century. This study aims at exploring teachers' and students' perceptions of  ICT use in learning. To achieve the objective, using a teacher questionnaire and a student questionnaire, 34 teachers and 424 students in 15 secondary schools located in Jakarta, Depok, and Bekasi were surveyed to collect data. The data obtained were analyzed employing the descriptive analysis technique. The results showed that teachers' and students' perceptions were similar in some aspects of ICT integration into learning but different in some other aspects. Teachers and students had positive perceptions with a high level of agreement in (1) the potential of ICT use to increase student's interest and motivation; (2) the benefits of using ICT in learning; (3) the educational benefits of ICT; (4) and the level of confidence in ICT competencies mastery. They both viewed their intensity of using ICT for learning as 'low' but perceived their intensity of using ICT for entertainment as 'high'. Additionally, while teachers viewed their ability to use ICT for learning as 'low', the students perceived theirs 'high'.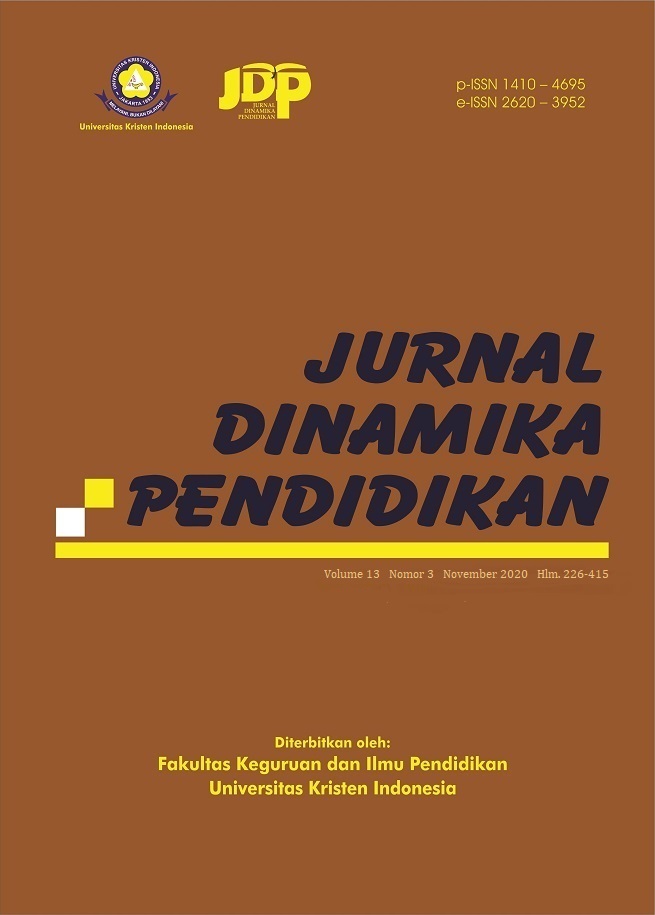 How to Cite
Pardede, P., & Sunarto. (2020). PERSEPSI GURU DAN SISWA TERHADAP PENGGUNAAN TIK DALAM PEMBELAJARAN DI SEKOLAH MENENGAH DI JAKARTA DAN SEKITARNYA. Jurnal Dinamika Pendidikan, 13(3), 226-237. https://doi.org/10.51212/jdp.v13i3.2199
Copyright (c) 2020 Parlindungan Pardede, Sunarto
This work is licensed under a Creative Commons Attribution-NonCommercial 4.0 International License.