PENGEMBANGAN MODUL PEMBELAJARAN PENDIDIKAN AGAMA KATOLIK UNTUK MENINGKATKAN KOMPETENSI MENGAJAR GURU DI TKK SANTO YUSUP BEKASI BARAT
Modesta

Universitas Kristen Indonesia, Jakarta, Indonesia

Hotmaulina Sihotang

Universitas Kristen Indonesia

Witarsa Witarsa Tambunan
Abstract
This study aims to provide an overview of teacher teaching competencies in implementing Catholic religious learning in Santo Yusup Kindergarten, North Bekasi. The application of Catholic religious education learning, which is developed through the Research and Development (R&D) method. The resulting product is a module of teaching materials. Based on the results of the module expert validation that has been developed, the proportion is 85.5% in the very feasible category. The results of limited trials were 87.5%, and were at an interval of 3.25 <X ≤ 4.00 = very good. Furthermore, the results of expert validation and limited trial results averaged a proportion of 86.5% in the category very worthy. From the results, it can be seen that the Catholic religious education learning module to improve teacher teaching competence is declared very feasible, the Catholic religious education learning module.
Keywords: module development, teaching competence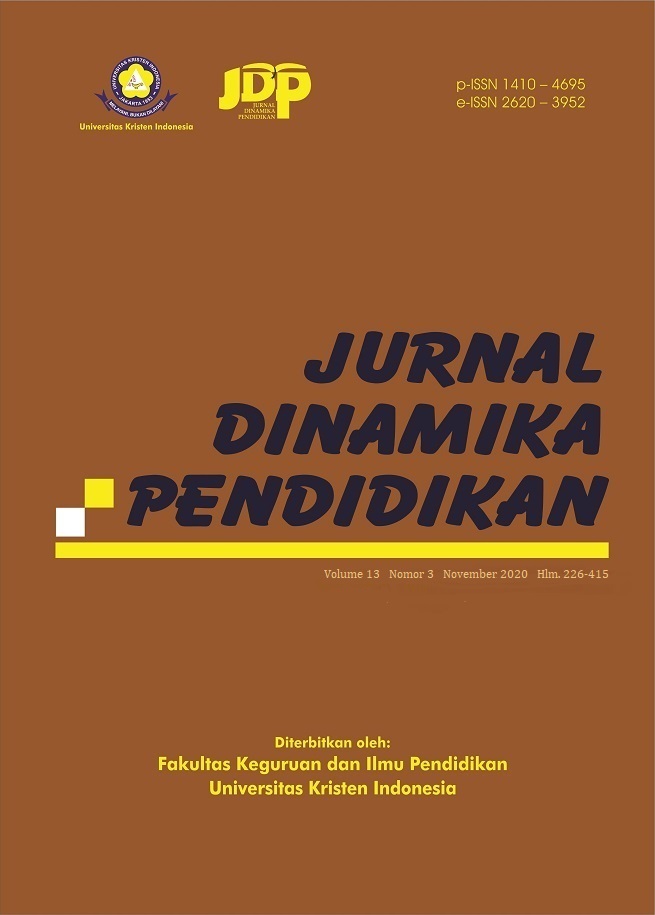 How to Cite
Modesta, Sihotang, H., & Witarsa Tambunan, W. (2020). PENGEMBANGAN MODUL PEMBELAJARAN PENDIDIKAN AGAMA KATOLIK UNTUK MENINGKATKAN KOMPETENSI MENGAJAR GURU DI TKK SANTO YUSUP BEKASI BARAT. Jurnal Dinamika Pendidikan, 13(3), 361-368. https://doi.org/10.51212/jdp.v13i3.2031
Copyright (c) 2020 Modesta, Hotmaulina Sihotang, Witarsa Witarsa Tambunan
This work is licensed under a Creative Commons Attribution-NonCommercial 4.0 International License.