IMPLEMENTASI HUKUM DAN KALIMAT HUKUM DALAM PENDIDIKAN KRISTEN
Esther Rela Intarti

UKI

Kaleb Samalinggai

Universitas Kristen Indonesia

Devi W. Setiawati

Universitas Kristen Indonesia

Noh I. Boiliu

Universitas Kristen Indonesia
Abstract
ABSTRACT
God never inherited religion to mankind, but God gave His laws to mankind to obey and do them in everyday life. God's laws are designed to bring blessings to humans. God's law determines attitudes that produce peace, order, security, respect, courtesy and welfare for humanity. So, God's laws are the laws of human life. The law in the Bible consists of commands and prohibitions. God gave the law to His people Israel through Moses which is 10 laws of God or Decalogue. In addition, there are still hundreds of other regulations and orders governing the moral, spiritual, and social life of God's people (Israel) and then these laws were perfected by Christ for the salvation and spiritual life of humans. Understanding the laws in the Bible certainly cannot be separated from the understanding of legal language as a medium of delivery as what is ordered and desired by God. Referring to this, the clarity of meaning and method in legal language plays a very important role. Clarity of meaning conveyed will have an effect in understanding the accuracy of the purpose of the law which is not interpreted in any other sense. In this paper discusses the role of legal language as stated in verses relating to law in the Bible based on the legal method and aspects.
Key Words: Law, Law Language, Old Testament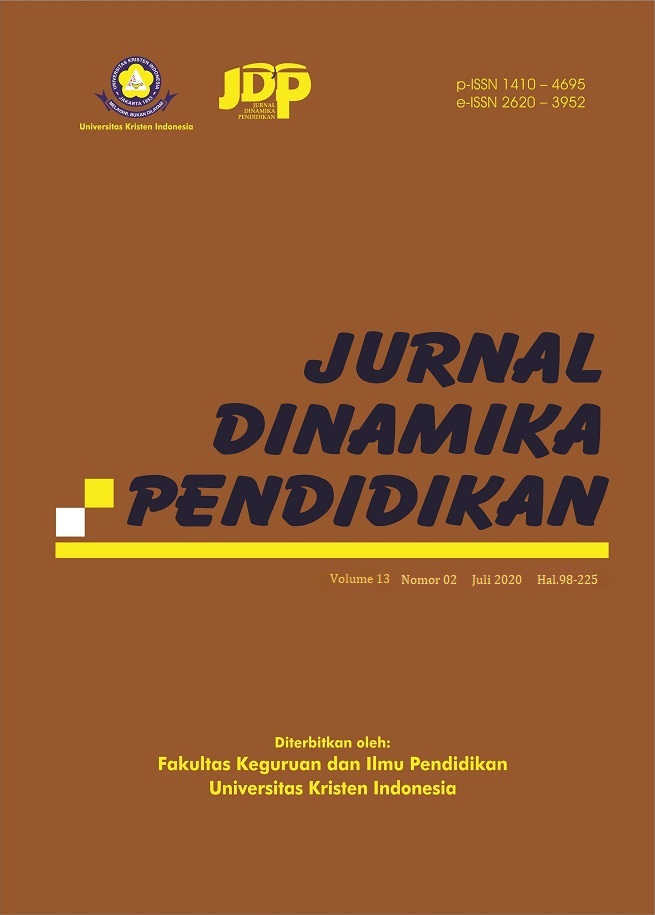 How to Cite
Rela Intarti, E., Kaleb Samalinggai, Devi W. Setiawati, & Boiliu, N. I. (2020). IMPLEMENTASI HUKUM DAN KALIMAT HUKUM DALAM PENDIDIKAN KRISTEN. Jurnal Dinamika Pendidikan, 13(2), 185-196. https://doi.org/10.51212/jdp.v13i2.1725
Copyright (c) 2020 Esther Rela Intarti, Kaleb Samalinggai, Devi W. Setiawati, Noh I. Boiliu
This work is licensed under a Creative Commons Attribution-NonCommercial 4.0 International License.