PENDEKATAN GURU DALAM MENANGANI KASUS KORBAN BULLYING SISWA KELAS IV SD NEGERI KALIERANG 01 KECAMATAN BUMIAYU
Ujang Khiyarusoleh

PGSD, FKIP, Universitas Peradaban, Brebes, Indonesia

Anwar Ardani

PGSD, FKIP, Universitas Peradaban, Brebes, Indonesia
Abstract
ABSTRACT
The study aims to find out how the strategy of teacher to improve the awareness of learness about bullying victims in the 4th grade SD Negeri Kalierang 01 Kecamatan Bumiayu. This type of this research is qualitative research with case study approach. The source of this research is the teacher of 4th grade SD Negeri Kalierang 01    Kecamatan Bumiayu. Technique of data collection using interviews, observation and documentation. Data analysis techniques use data reduction, data presentation and verification. The results of the study indicate that the teacher's strategy to improve students' awareness of the 4th grade bullying victims SD Negeri Kalierang 01 Kecamatan Bumiayu Kabupaten Brebes TA 2016/2017 as follows: motivating, counseling, grup and individual guidance, taking surveillance, giving warning and punishment, beaing a role model, working with parents, groups, rewarding, show of slogans and order in the classroom.
Keywords: bullying, handling cases, student, teacher's approach
ABSTRAK
Penelitian ini bertujuan untuk mengetahui Bagaimana Strategi Guru Meningkatkan Kepedulian Peserta Didik Terhadap Korban Bullying Kelas IV SD Negeri Kalierang 01 Kecamatan Bumiayu Kabupaten Brebes Tahun Pelajaran 2016/2017. Jenis penelitian ini adalah penelitian kualitatif dengan pendekatan studi kasus. Sumber penelitian ini adalah guru kelas IV SD Negeri Kalierang 01 Kecamatan Bumiayu. Teknik pengumpulan data menggunakan wawancara, observasi dan dokumentasi. Teknik analisis data menggunakan reduksi data, penyajian data, dan verifikasi. Hasil penelitian menunjukan bahwa strategi guru meningkatkan kepedulian peserta didik terhadap korban bullying kelas IV SD Negeri Kalierang 01 Kecamatan Bumiayu adalah sebagai berikut: memotivasi, menasehati, bimbingan secara kelompok dan individu, melakukan tindakan pengawasan, memberi peringatan dan hukuman, menjadi tokoh teladan atau panutan, kerjasama dengan orangtua, kerja kelompok, memberikan penghargaan, memasang slogan dan tata tertib di kelas.
Kata kunci: bullying, menangani kasus, siswa, pendekatan guru.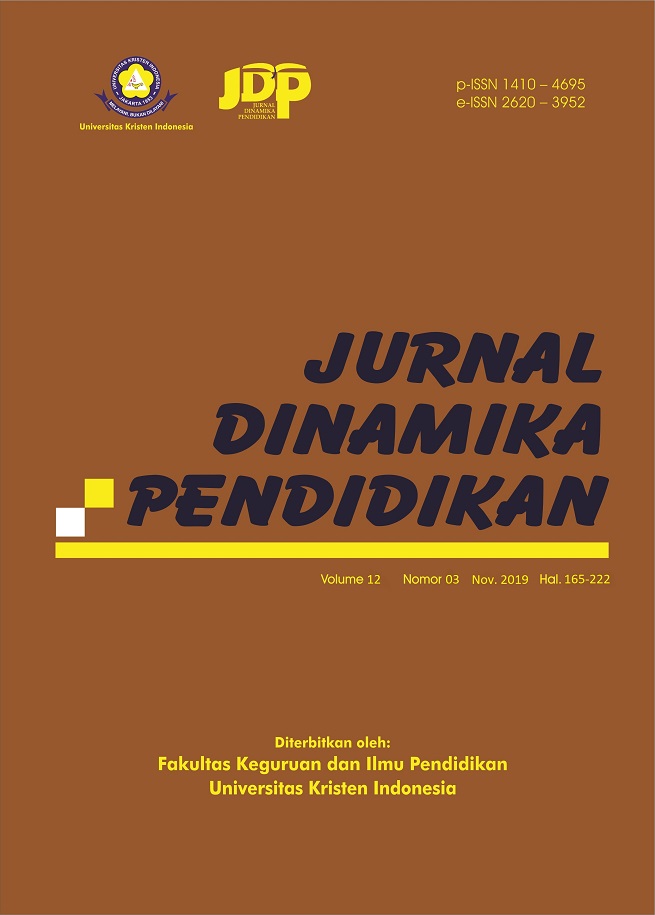 View 1837 times Download 1837 times PDF
How to Cite
Khiyarusoleh, U., & Ardani, A. (2019). PENDEKATAN GURU DALAM MENANGANI KASUS KORBAN BULLYING SISWA KELAS IV SD NEGERI KALIERANG 01 KECAMATAN BUMIAYU. Jurnal Dinamika Pendidikan, 12(3), 212-222. https://doi.org/10.51212/jdp.v12i3.1301
Copyright (c) 2019 Ujang Khiyarusoleh, Anwar Ardani
This work is licensed under a Creative Commons Attribution-NonCommercial 4.0 International License.