PENGARUH KOMUNIKASI INTERPERSONAL TERHADAP KEPUASAN PELANGGAN DEPARTMENT STORE MATAHARI CABANG RAWAMANGUN JAKARTA
Eden Benedica

Corporate Communication, Postgraduate Program LSPR Intiland, Jakarta, Indonesia
Abstract
ABSTRACT
This research is distributed by many businesses who can not well developed due to the communication that is not well established. Communication is indispensable in a line of business for the better. With good communication then it will be good for relationships that are created in an enterprise with a sense of satisfaction from customers elicited the interest of a company.This research intend to be able to improve the quality of communication intepersonal on the company, especially in Matahari Department Store Rawamangun. The theory used in this research is a social exchange theory, theory x and Theory Y.The theory is attributed to influence interpersonal communication to customer satisfaction.The research was carried out in February to June 2014 at Matahari Department Store Rawamangun. The research method used was quantitatively using a questionnaire. Types of data are from primary data of questionnaire that is filled directly by Matahari Department Store customers. Test Validity, reliability, normality, linearity, and regression is performed in this study by using program SPSS (Statistical Product's Service Solution) version 16.0. Conclusion of this research is the influence of interpersonal communication towards customer satisfaction, with value of 79,9% compared to the influence of other factors of 20.1%.
Keywords: communication, interpersonal communication, and customer satisfaction
ABSTRAK
Penelitian ini dilatarbelakangi oleh banyaknya bidang usaha yang tidak dapat berkembang dengan baik diakibatkan komunikasi yang ada tidak terjalin dengan baik. Komunikasi sangat diperlukan dalam suatu suatu bidang usaha untuk menjadi lebih baik. Dengan adanya komunikasi yang baik maka akan tercipta hubungan yang baik untuk suatu perusahaan dengan menimbulkan rasa kepuasan dari pelanggan untuk kepentingan suatu perusahaan. Penelitian ini bertujuan untuk dapat meningkatkan kualitas komunikasi intepersonal pada perusahaan, khususnya Matahari Department Store Rawamangun. Teori yang digunakan dalam penelitian ini adalah teori pertukaran sosial, teori x, dan teori Y. Teori- teori tersebut dikaitkan dengan pengaruh komunikasi interpersonal terhadap kepuasan pelanggan. Penelitian dilaksanakan pada Februari – Juni 2014 bertempat di Matahari Department Store Rawamangun. Metode penelitian yang digunakan adalah kuantitatif dengan menggunakan kuesioner. Jenis data yang diperoleh berasal dari data primer yaitu kuesioner yang diisi langsung oleh pelanggan Matahari Department Store. Uji Validitas, realibilitas, normalitas, linearitas, dan regresi dilakukan dalam penelitian ini dengan menggunakan program SPSS (Statistical Product an Service Solution) versi 16.0. Kesimpulan dari penelitian ini adalah adanya pengaruh komunikasi interpersonal terhadap kepuasan pelanggan, dengan nilai sebesar 79,9% dibandingkan dengan pengaruh dari faktor lain sebesar 20,1%.
Kata kunci: komunikasi, komunikasi interpersonal, dan kepuasan pelanggan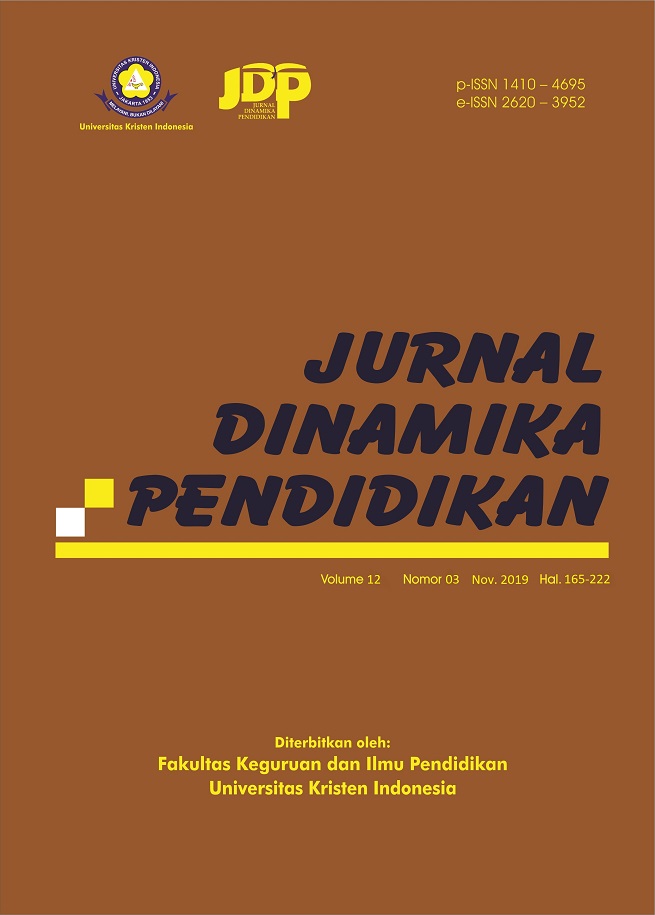 View 1623 times Download 1623 times PDF
How to Cite
Benedica, E. (2019). PENGARUH KOMUNIKASI INTERPERSONAL TERHADAP KEPUASAN PELANGGAN DEPARTMENT STORE MATAHARI CABANG RAWAMANGUN JAKARTA. Jurnal Dinamika Pendidikan, 12(3), 198-204. https://doi.org/10.51212/jdp.v12i3.1298
Copyright (c) 2019 Eden Benedica
This work is licensed under a Creative Commons Attribution-NonCommercial 4.0 International License.