MANUSIA SEBAGAI MAKHLUK MORAL DALAM PERSPEKTIF TEOLOGIA PENDIDIKAN JOHANN HEINRICH PESTALOZZI
Noh Ibrahim Boiliu

Prodi Pendidikan Agama Kristen, FKIP, UKI, Jakarta, Indonesia

Christina Metallica Samosir

Prodi Pendidikan Agama Kristen, FKIP, UKI, Jakarta, Indonesia
Abstract
ABSTRACT
This paper aims to look at Johann Heinrich Pestalozzi's concept of humans as moral beings. Morality is an achievement of human will, a result of good character that wins over feelings of selfish importance. To grow morally, we must feel deeply. The concept of humanity as a moralist creature became the rationale for Pestalozzi in developing his theological-philosophical educational theory. Morality is seen as an element of value referred to by Pestalozzi because in essence man was created by God and inherited moral elements, and family (parents) are the first and best school to become social teachers who teach humans to gain the natural experience needed to expand the moral, intellectual strength , and technicality in human beings themselves.
Keywords: johann heinrich pestalozzi, human, morality, education, theology
ABSTRAK
Tulisan ini bertujuan untuk melihat konsep Johann Heinrich Pestalozzi tentang manusia sebagai makhluk moral. Moralitas merupakan suatu prestasi dari kehendak manusia, suatu hasil watak yang baik yang menang atas perasaan yang mementingkan kepentingan sendiri. Untuk bertumbuh secara moral, kita harus merasa secara dalam. Konsep manusia sebagai makhluk moralis menjadi dasar pemikiran bagi Pestalozzi dalam membangun teori pendidikannya yang teologis-filosofis. Moralitas dipandang sebagai nilai yang unsur yang diacu Pestalozzi sebab pada hakikatnya manusia diciptakan oleh Allah dan mewarisi unsur moral, dan keluarga (orang tua) adalah sekolah pertama dan terbaik menjadi guru sosial yang mengajarkan manusia untuk memperoleh pengalaman alami yang diperlukan untuk memperluas kekuatan moral, intelektual, dan teknis dalam diri manusia itu sendiri.   
Kata Kunci: johann heinrich pestalozzi, manusia, moralitas, pendidikan, teologia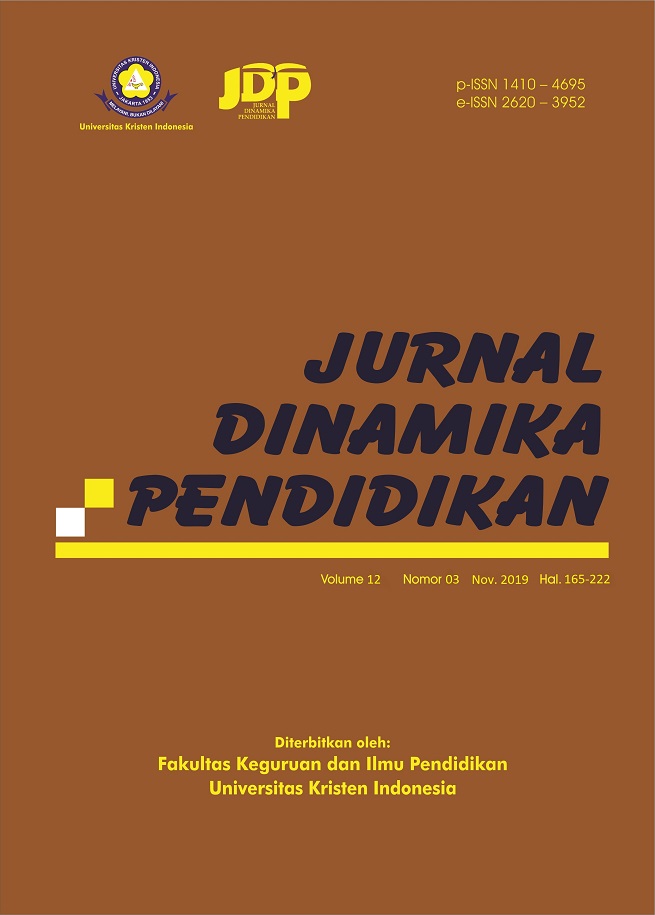 View 2478 times Download 2478 times PDF
How to Cite
Boiliu, N. I., & Samosir, C. M. (2019). MANUSIA SEBAGAI MAKHLUK MORAL DALAM PERSPEKTIF TEOLOGIA PENDIDIKAN JOHANN HEINRICH PESTALOZZI. Jurnal Dinamika Pendidikan, 12(3), 187-197. https://doi.org/10.51212/jdp.v12i3.1297
Copyright (c) 2019 Noh Ibrahim Boiliu, Christina Metallica Samosir
This work is licensed under a Creative Commons Attribution-NonCommercial 4.0 International License.