PERSEPSI SISWA SEKOLAH MENENGAH PERTAMA SANTO MARKUS 1 KRAMATJATI TERHADAP ALAT PERAGA SEDERHANA TEROPONG BINTANG PADA MATERI ALAT OPTIK
Taat Guswantoro

Program Studi Pendidikan Fisika, Universitas Kristen Indonesia
Abstract
ABSTRACT
Physics learning in junior high school is not only emphasizing mastery of material, concepts or principles but is a very good process in discovering new phenomena so that students can bring real situations or conditions close to everyday life that can be observed and proven directly by students. The right approach is a demonstration method for studying physical phenomena with the aim of providing understanding to students to recognize, understand the material of physics and science, so that information obtained from various media can be useful. The demonstration method instills confidence in students and is a natural or natural way according to the development process of students to learn to understand the lesson. This research was conducted at SMP Santo Markus I in the even semester of the 2017/2018 academic year by demonstrating the making and use of simple star binocular props to 31 students of 9th grade. After the demonstration a questionnaire was given to students to find out the students' responses. From this research, it was found that students liked physics subjects with a response of 77%, liked and understood teaching aids which were demonstrated with a response of 87%, liked the demonstration method demonstrating teaching aids with a response of 88%, better understanding and understanding physics lessons using teaching aids with a response of 89%, having motivation to develop simple teaching aids was 74%.
Keywords: Binoculars, Demonstrations, Props
ABSTRAK
Pembelajaran fisika di sekolah menengah pertama tidak hanya sekedar menekankan pada penguasaan materi, konsep atau prinsip tetapi merupakan suatu proses yang sangat baik dalam penemuan fenomena baru sehingga dapat membawa peserta didik dalam situasi atau kondisi nyata dekat dengan kehidupan sehari-hari yang dapat diamati dan dibuktikan secara langsung oleh peserta didik. Pendekatan yang tepat adalah metode demonstrasi untuk mempelajari fenomena fisika dengan tujuan memberikan pemahaman kepada peserta didik untuk mengenal, memahami materi fisika dan sains, sehingga informasi yang diperoleh dari berbagai media dapat bermanfaat. Metode demonstrasi menanamkan keyakinan pada peserta didik serta merupakan cara yang wajar atau alamiah sesuai proses perkembangan peserta didik untuk belajar memahami pelajaran. Penelitian ini dilakukan di SMP Santo Markus I pada semester genap tahun ajaran 2017/2018 dengan melakukan demonstrasi pembuatan dan penggunaan alat peraga teropong bintang sederhana kepada 31 siswa kelas 9. Setelah melakukan demonstrasi diberikan kuisioner kepada para siswa  untuk mengetahui respon siswa. Dari penelitian ini diperoleh siswa menyukai mata pelajaran fisika dengan respon sebesar 77%, menyukai dan 
memahami alat peraga yang didemonstrasikan dengan respon sebesar 87%, menyukai cara demontrator memperagakan alat peraga dengan respon sebesar 88%, lebih mengerti dan memahami pelajaran fisika dengan menggunakan alat peraga dengan respon sebesar 89%, memiliki motivasi untuk mengembangkan alat peraga sederhana sebesar 74%.
Kata kunci: Teropong Bintang, Demonstrasi, Alat peraga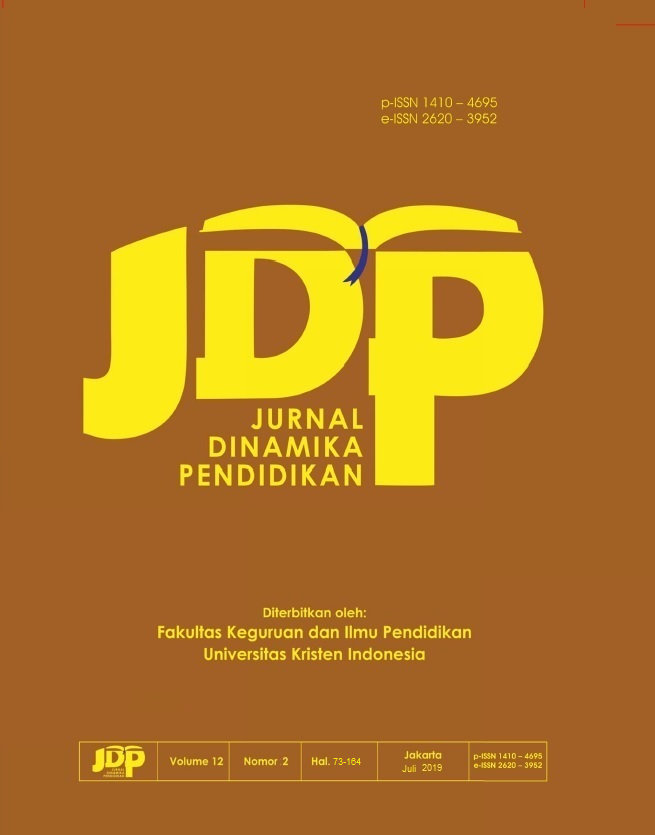 View 479 times Download 479 times PDF
How to Cite
Guswantoro, T. (2019). PERSEPSI SISWA SEKOLAH MENENGAH PERTAMA SANTO MARKUS 1 KRAMATJATI TERHADAP ALAT PERAGA SEDERHANA TEROPONG BINTANG PADA MATERI ALAT OPTIK. Jurnal Dinamika Pendidikan, 12(2), 113-124. https://doi.org/10.51212/jdp.v12i2.1086