Bimbingan dan Konseling Bagi Orangtua Anak Usia Dini Berkebutuhan Khusus (ABK)
Melda Rumia Rosmery Simorangkir

Universitas Kristen Indonesia
Abstract
ABSTRACT

A happiness when a woman in a family gives birth. Moreover, the baby who was
born has been waiting long enough. However, sometimes what is expected by
humans is not always the same as what was presented by the creator. Then
what if it turns out that children who are present in the family are special
children? These children need special attention due to physical and mental
disorders. Not a few parents must have children with special needs (ABK)
confused, shocked or even blame each other. This is certainly not something that
is expected from children. ABK requires education, attention, assistance, special
learning methods. Thus ABK parents must get special assistance so that they
can accept their child and educate the child with great attention and love. ABK
parents must be assisted from early childhood, so that education and care are
more optimal. Counseling for ABK parents is done so parents do not feel alone,
not ashamed, willing to accept and have a great readiness to accompany their
children in the future. The counselor is expected to be able to help ABK's parents
by providing counseling services specifically to guide parents. The guidance also
serves to help parents provide alternative education and therapy that can be
given to children with special needs from an early age.

Keywords: children with special needs, counselling, and guidance

ABSTRAK

Sebuah kebahagian ketika seorang perempuan dalam sebuah keluarga
melahirkan. Apalagi buah hati yang dilahirkan telah ditunggu cukup lama.
Namun, terkadang apa yang diharapkan manusia tidak selalu sama dengan apa
yang dihadirkan oleh pencipta. Lalu bagaimana apabila ternyata anak yang hadir
dalam keluarga adalah anak yang special?. Anak tersebut memerlukan perhatian
khusus baik disebabkan kelainan fisik maupun mental. Tidak sedikit Orangtua
harus anak berkebutuhan khusus (ABK) mengalami kebingungan, kaget atau
bahkan saling menyalahkan. Hal ini tentu bukan hal yang diharapkan dari anak.
ABK memerlukan pendidikan, perhatian, bantuan, metode belajar khusus.
Demikian orangtua ABK harus mendapatkan pendampingan khusus agar
mereka bisa menerima anak mereka dan mendidik anak tersebut dengan penuh
perhatian dan cinta yang besar. Orangtua ABK harus dibantu sejak anak usia
dini, agar pendidikan dan pengasuhan lebih optimal. Konseling bagi orangtua
ABK dilakukan agar orang tua tidak merasa sendiri, tidak malu, mau menerima
dan memiliki kesiapan hati yang besar untuk mendampingi anak mereka di
kemudian hari. Konselor di harapkan mampu menolong orang tua ABK dengan
memberikan layanan-layan konseling khususnya membimbing orangtua.
Bimbingan tersebut juga berfungsi untuk membantu orangtua memberikan
alternatif pendidikan dan terapi yang dapat diberikan pada anak berkebutuhan
khusus sejak usia dini.

Kata kunci: anak berkebutuhan khusus konseling, dan bimbingan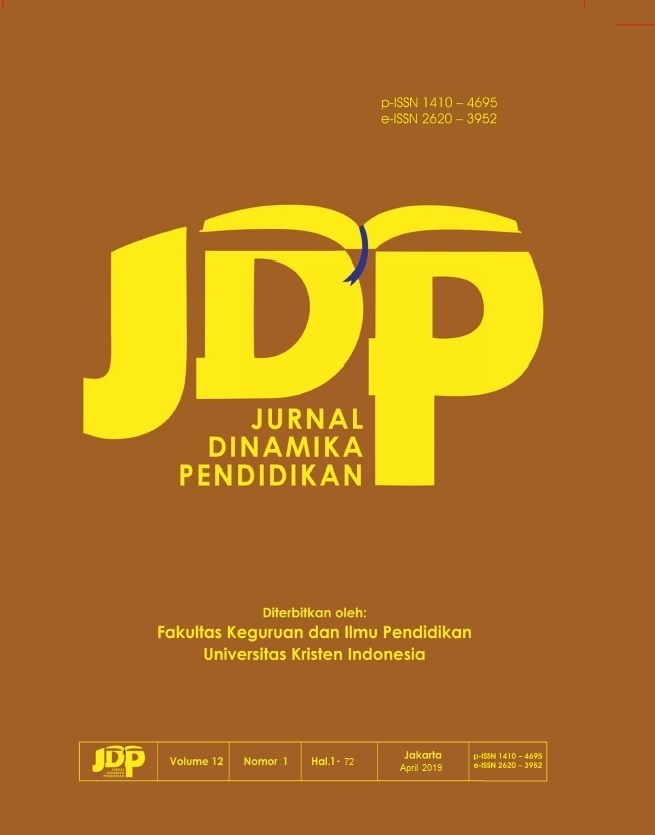 View 1465 times Download 1465 times PDF
How to Cite
Simorangkir, M. R. R. (2019). Bimbingan dan Konseling Bagi Orangtua Anak Usia Dini Berkebutuhan Khusus (ABK). Jurnal Dinamika Pendidikan, 12(1), 55-60. https://doi.org/10.51212/jdp.v12i1.1030