PENINGKATAN KONSENTRASI BELAJAR MAHASISWA MELALUI PEMANFAATAN EVALUASI PEMBELAJARAN QUIZIZZ PADA MATA KULIAH KIMIA FISIKA I
Leony Sanga Lamsari Purba

Universitas Kristen Indonesia
Abstract
ABSTRACT
This research is a descriptive qualitative study to determine the increase in
student learning concentration through the use of quizizz learning evaluations in
Physics Chemistry I. The population in this study were all Chemistry Education
Students FKIP-UKI, with student sampling in the 3rd semester of the 2018/2019
academic year. Questionnaires that are used as instruments in research are
validated by two validators who are experts in the field of learning evaluation.
The results of data analysis obtained from the pre-test and post-test showed an
increase in the concentration of student learning through the utilization of quizizz
learning evaluations in Chemistry Physics I courses of 0.45, with a moderate
increase in interpretation. Of the five indicators of learning concentration, the
indicator of accuracy experienced the highest increase of 0.53 and the
understanding indicator experienced the lowest increase of 0.36. Based on indepth
interviews with students used as sampling, accuracy increases due to time
constraints and students 'fear of the response of answers inputted by students to
quizizz. Evaluation of learning using quizizz helps improve students' learning
concentration. The use of quizizz can be done by other lecturers, teachers and
students who will implement PKM to support the 4.0 industrial revolution.

Keywords: concentration, education, industry 4.0, physical chemistry, dan
quizizz

ABSTRAK
Penelitian ini merupakan penelitian kualitatif deskriptif untuk mengetahui
peningkatan konsentrasi belajar mahasiswa melalui pemanfaatan evaluasi
pembelajaran quizizz pada mata kuliah Kimia Fisika I. Populasi dalam Penelitian
ini adalah seluruh mahasiswa Pendidikan Kimia FKIP-UKI, dengan sampling
mahasiswa Semester 3 tahun ajaran 2018/2019. Angket yang digunakan
sebagai instrument dalam penelitian di validasi oleh dua orang validator yang ahli
dibidang evaluasi pembelajaran. Hasil analisis data yang diperoleh dari pre-test
dan post-test menunjukkan terjadi peningkatan pada konsentrasi belajar
mahasiswa melalui pemanfaatan evaluasi pembelajaran quizizz pada mata
kuliah Kimia Fisika I sebesar 0,45, dengan interpretasi peningkatan sedang. Dari
lima indikator konsentrasi belajar, indikator ketelitian mengalami peningkatan
tertinggi yaitu sebesar 0,53 dan indikator pemahaman mengalami peningkatan
paling rendah yaitu 0,36. Berdasarkan wawancara mendalam terhadap
mahasiswa yang digunakan sebagai sampling, ketelitian meningkat akibat
adanya batasan waktu dan ketakutan mahasiswa terhadap respon jawaban yang
diinput mahasiswa pada quizizz. Evaluasi pembelajaran dengan menggunakan
quizizz membantu meningkatkan konsentrasi belajar peserta didik. Penggunaan
quizizz dapat dilakukan oleh dosen pengampu matakuliah lain, guru dan
mahasiswa yang akan melaksanakan PKM untuk mendukung revolusi industri
4.0.
Kata Kunci: konsentrasi, pendidikan, industri 4.0, kimia fisik, dan quizizz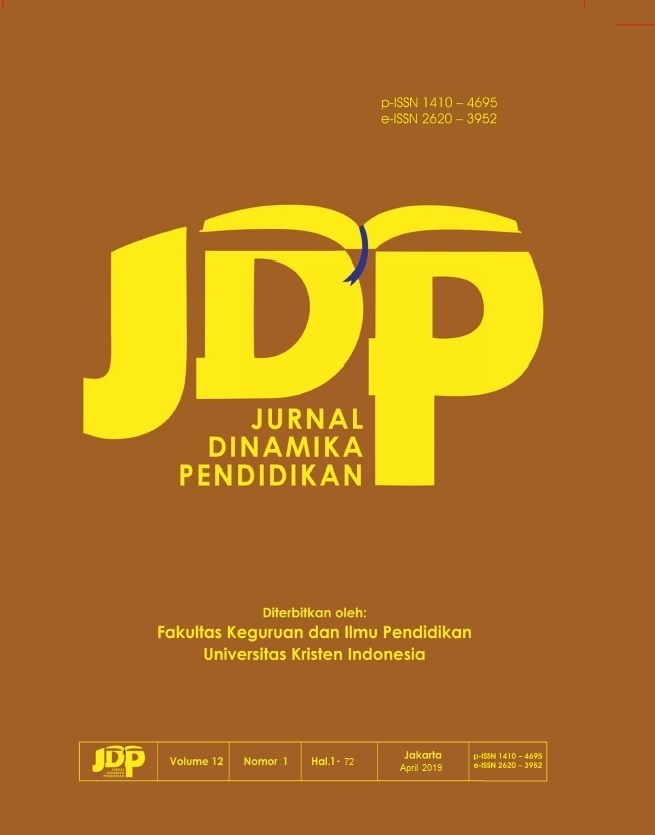 View 5495 times Download 5495 times PDF
How to Cite
Purba, L. S. L. (2019). PENINGKATAN KONSENTRASI BELAJAR MAHASISWA MELALUI PEMANFAATAN EVALUASI PEMBELAJARAN QUIZIZZ PADA MATA KULIAH KIMIA FISIKA I. Jurnal Dinamika Pendidikan, 12(1), 29-39. https://doi.org/10.51212/jdp.v12i1.1028