Transformasi Berkelanjutan Berbasis Sumber Daya Lokal: Sebuah Refleksi Penelitian Aksi Partisipatif terhadap Perempuan di Akar Rumput, Papua dan Papua Barat
Abstract
Abstrak: Tulisan ini adalah refleksi atas penelitian aksi partisipatif bersama perempuan Papua dan Papua Barat. Melihat kembali dan mengakui sejarah bangsa Papua merupakan langkah penting untuk rekonsiliasi dan pemulihan kolektif di Papua. Karenanya, tulisan diawali dengan ulasan ringkas tentang latar belakang sejarah dan situasi konflik di Papua. Keluasan dan menyejarahnya kekerasan yang dialami perempuan Papua memberi gambaran akan pentingnya metode penelitian yang dapat memulihkan dan memberdayakan perempuan korban kekerasan di Papua dan Papua Barat. Akhirnya, pendekatan yang berasal dari akar rumput beserta catatan-catatan kritis dan rekomendasi dari riset aksi partisipatif sangat perlu diperhatikan oleh para penyusun kebijakan dan berbagai stakeholder yang terkait dalam perencanaan dan inisiatif pembangunan di Papua.
Kata Kunci: Perempuan, Papua, Papua Barat, Penelitian Aksi Partisipatif, refleksi
Abstract: The article is a reflection on the Participative Action Research done with the Papuan and West Papuan women. Looking back and acknowledging the history of Papuans is an important step for reconciliation and collective healing in Papua. Because of that, this article starts with a brief review about the historical background and conflict situation in Papua. The breadth and history of violence experienced by Papuan women show how important is a research method which is able to heal and empower women victims of violence in Papua and West Papua. Finally, an approach coming from the grass-root along with critical notes and recommendations from the research is very much needed to be considered by policy makers and various related stakeholders in the planning and development initiative in Papua.
Key Words: Women, Papua, West Papua, Participative Action Research, reflection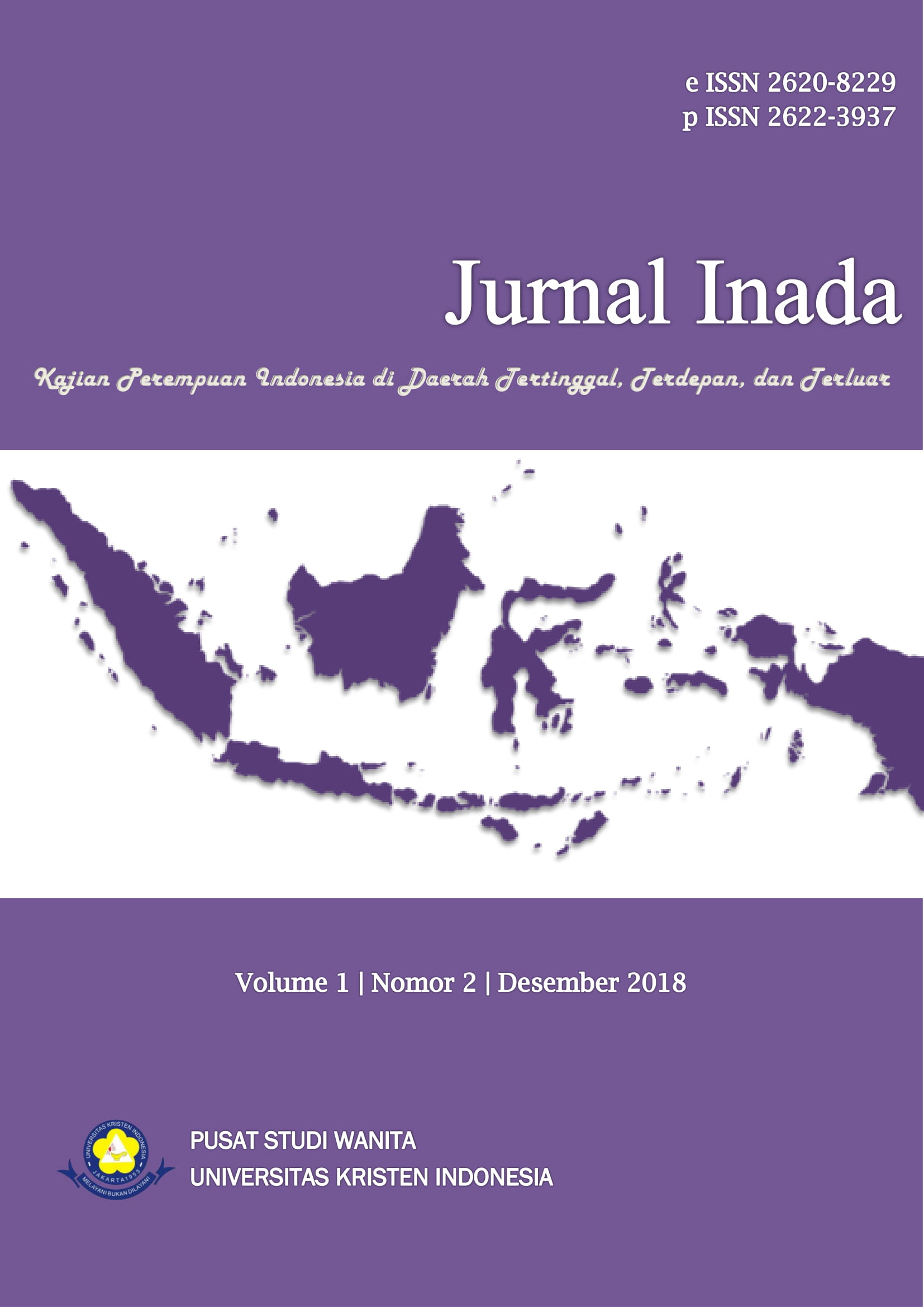 View 1450 times Download 1450 times PDF
How to Cite
Yolanda, S. (2019). Transformasi Berkelanjutan Berbasis Sumber Daya Lokal: Sebuah Refleksi Penelitian Aksi Partisipatif terhadap Perempuan di Akar Rumput, Papua dan Papua Barat. Jurnal Inada: Kajian Perempuan Indonesia Di Daerah Tertinggal, Terdepan, Dan Terluar, 1(2), 157-190. https://doi.org/10.33541/ji.v1i2.899