Potret Keterwakilan Politik Perempuan Anggota Legislatif di DPRD NTT pada Pemilu 2014
Audra Jovani

Program Studi Ilmu Politik, Universitas Kristen Indonesia Jl. Mayjen Sutoyo No. 2, Cawang, Jakarta Timur
Abstract
Abstrak: Artikel ini mendeskripsikan mengenai potret perempuan anggota legislatif di DPRD Provinsi Nusa Tenggara Timur (NTT) yang terpilih dalam pemilihan umum legislatif tahun 2014. Dalam kerangka implementasi afirmative action (kuota 30 persen) mengenai keterwakilan perempuan di parlemen sudah dilakukan sejak tahun 2004, dan artikel ini ingin menjelaskan bagaimana keterwakilan perempuan NTT di lembaga legislatif dilihat dari latar belakang dan motivasi perempuan dalam mengikuti pemilu. Dengan menggunakan metode studi kasus dan analisis melacak proses, artikel ini berpendapat bahwa perempuan NTT yang berpartisipasi dalam pemilu 2014 mampu berkontribusi dalam mewujudkan keterwakilan perempuan di dalam partai politik dan parlemen, walaupun dalam perjalanannya, banyak menghadapi tantangan, baik internal maupun eksternal.
Kata Kunci: Keterwakilan, Legislatif, Partai Politik, Nusa Tenggara Timur
Abstract: This article describes about women legislative member in Provincial Parliament in Nusa Tenggara Timur, who elected in legislative election in 2014. On the frame of the implementation of women's representation in parliament that has been started since 2004 election, this article explains representation of NTT's women in parliament based on back ground and the motivation to participate in election. Using case study method and analysis with process tracing, this article argues that NTT's women who participated in election, have contributed to consummate women's representation into their political party and parliament. Even thought, NTT's women has been faced internal and external challenges.
Key Words: representation, legislative, political party, Nusa Tenggara Timur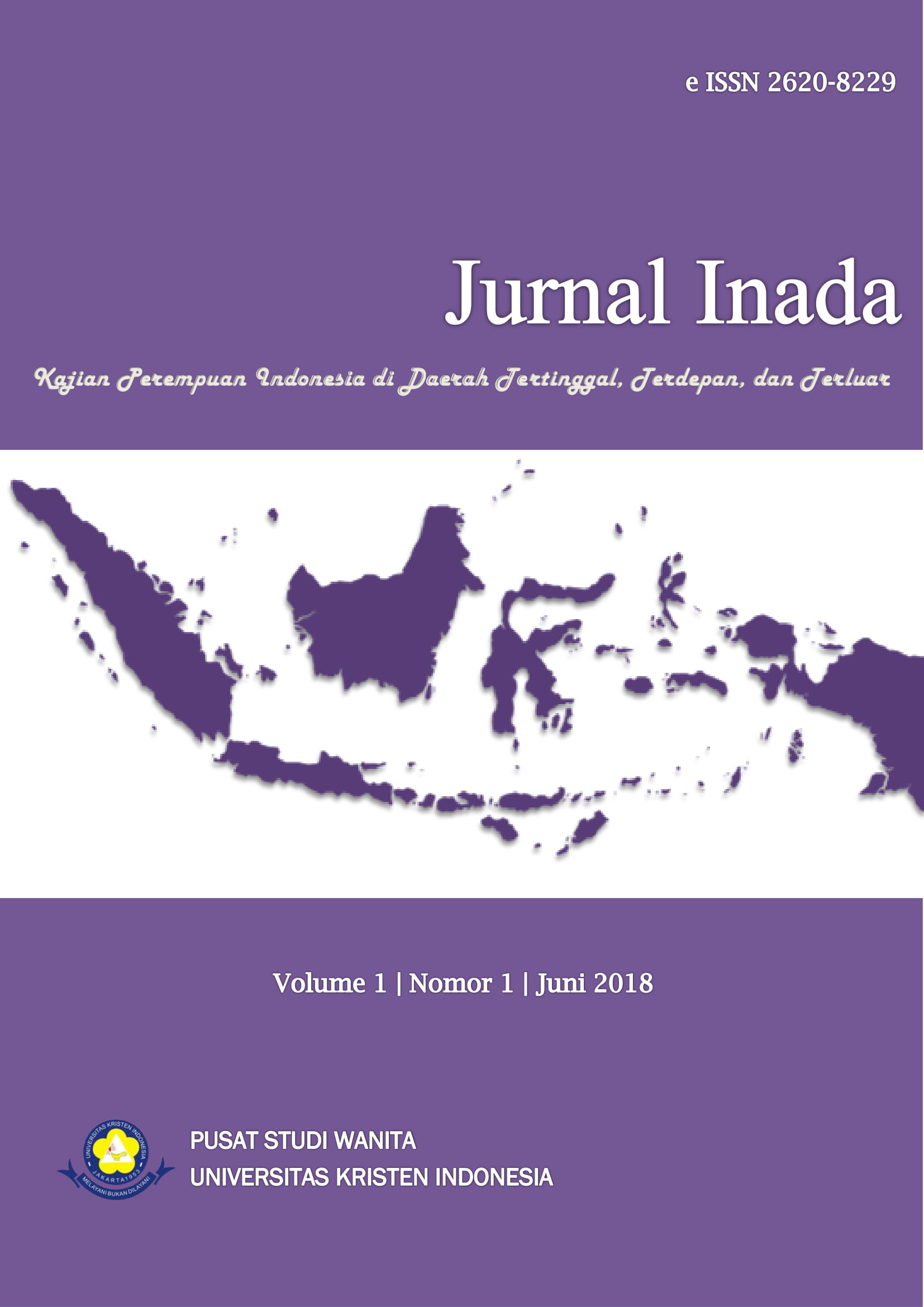 View 1744 times Download 1744 times PDF
How to Cite
Jovani, A. (2018). Potret Keterwakilan Politik Perempuan Anggota Legislatif di DPRD NTT pada Pemilu 2014. Jurnal Inada: Kajian Perempuan Indonesia Di Daerah Tertinggal, Terdepan, Dan Terluar, 1(1), 75-93. https://doi.org/10.33541/ji.v1i1.829