Mereka yang Keluar dari Rumahnya: Pengalaman Perempuan Madura di Bekasi
Khaerul Umam Noer

Pusat Kajian Wanita dan Gender, Universitas Indonesia, Jl. Salemba Raya No. 4, Jakarta Pusat.
Abstract
Abstrak; Sebagai salah satu kelompok etnis yang paling banyak dipelajari di Indonesia terkait dengan mobilitas penduduknya, perempuan sering terabaikan ketika membahas perilaku migrasi Oreng Madura. Tulisan ini akan mencoba untuk menangkap perilaku migrasi perempuan Madura. Secara khusus, migrasi individu oleh perempuan Madura tanpa anggota keluarga mereka dan/atau orang-orang dengan kelompok etnis yang sama di Kabupaten Bekasi. Studi ini mengambil sepuluh orang sebagai subjek, dan berfokus pada mereka yang bekerja sebagai pekerja rumah tangga, pedagang dan pekerja pabrik di beberapa tempat sebagai informan. Secara umum migrasi perempuan Madura di Bekasi mengikuti tiga pola umum: (1) bermigrasi ke tempat di mana ada anggota keluarga, (2) bermigrasi ke tempat di mana tidak ada anggota keluarga namun tetap dalam kelompok etnis yang sama, atau (3) bermigrasi ke tempat yang benar-benar baru. Dalam upaya untuk mengeksplorasi fenomena migrasi individu, tulisan ini berfokus pada poin ketiga. Alasan utama perempuan bermigrasi dari Madura adalah mencari kehidupan yang lebih baik dan mencari kesempatan kerja yang lebih terbuka daripada di daerah asal mereka. Masalahnya adalah, banyak yang tidak memiliki kemampuan yang memadai, sehingga pekerjaan yang tersedia sebagai pekerja rumah tangga dan buruh, namun demikian, pekerjaan tersebut masih diambil sebagai peluang untuk memperoleh penghasilan, baik untuk dirinya sendiri maupun sebagai remitan. Dalam beberapa kasus, mereka tidak lagi kembali ke Madura tetapi memilih untuk tinggal di Bekasi. Tulisan ini berusaha untuk mengeksplorasi alasan bagi perempuan untuk bermigrasi, bagaimana mereka beradaptasi dengan daerah migrasi baru, dan khususnya menjelaskan bahwa perempuan juga sangat kalkulatif dan rasional ketika dihadapkan dengan kondisi ekonomi dan lingkungan yang terbatas.
Kata Kunci: Perempuan, Migrasi, Ekonomi, Madura
Abstract: As one of the most studied ethnic groups in Indonesia related to population mobility, women are often overlooked when discussing the migration behavior of Oreng Madura. This paper will try to capture the migration behavior of Madurese women. Specifically, individual migration by Madurese women without their family members nor people with the same ethnic group in the District of Bekasi. This study takes ten peoples as the subject, and focuses on those who work as household workers, merchants and factory workers in several places as informants. In general it can be said that migration by Madurese women in Bekasi follows three general patterns: (1)
migrating to a place where there are family members, (2) migrating to places where no family members yet have the same ethnic group, or (3) migrate to a completely new place. In an attempt to explore the phenomenon of individual migration, this paper focuses on the third point. The main reason women migrate to Madurese is to seek a better life and look for more open employment opportunities than in their home regions. The problem is, many do not have adequate capability, so they actually work more as domestic workers and laborers. Nevertheless, the work is still taken as an opportunity to earn income, either for himself or as a remittance. In some cases, they no longer return to Madura but choose to stay in Bekasi. This paper seeks to explore reasons for women to migrate, how they adapt to new migration areas, and in particular is to explain that women are calculative beings when confronted with limited economic and environmental conditions.
Key Words: Women, Migration, Economy, Madura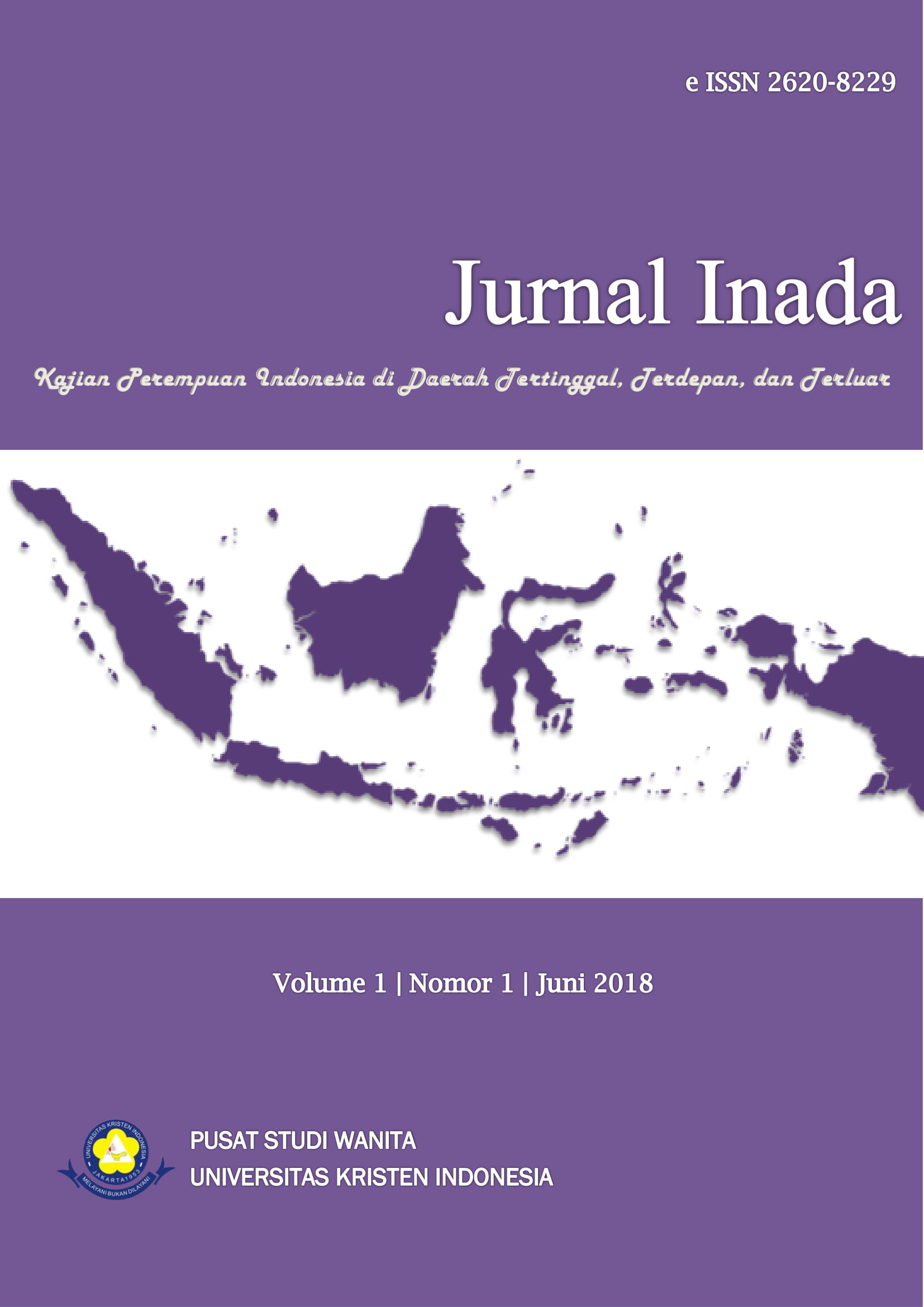 View 558 times Download 558 times PDF
How to Cite
Noer, K. U. (2018). Mereka yang Keluar dari Rumahnya: Pengalaman Perempuan Madura di Bekasi. Jurnal Inada: Kajian Perempuan Indonesia Di Daerah Tertinggal, Terdepan, Dan Terluar, 1(1), 55-74. https://doi.org/10.33541/ji.v1i1.826