Percepatan Pembangunan di Empat Daerah Tertinggal di Jawa Timur: Perspektif Feminis
Mita Yesyca

Program Studi Hubungan Internasional, Universitas Kristen Indonesia Jl. Mayjen Sutoyo No. 2, Cawang, Jakarta Timur.
Abstract
Abstrak: Di tingkat global, nasional dan daerah, perempuan dipandang sebagai agen pembangunan. Ibarat 'sekali mendayung, dua-tiga pulau terlampaui,' program pemberdayaan ekonomi perempuan khususnya di pedesaan atau daerah-daerah tertinggal diyakini mampu membawa dampak positif terhadap perempuan itu sendiri, keluarga atau rumah tangganya, perekonomian daerah setempat hingga perekonomian nasional. Studi pustaka ini hendak meninjau kembali keyakinan tersebut. Dengan menunjukkan interaksi antara gender dan ketimpangan ekonomi dalam hidup laki-laki dan perempuan di daerah-daerah tertinggal, khususnya di Jawa Timur, simpulan dari tulisan ini adalah bahwa program-program yang menitikberatkan pada pelibatan perempuan pedesaan agar dapat membuka akses mereka terhadap pasar belum tentu memberdayakan perempuan pedesaan dalam artian mentransformasi posisi mereka yang timpang terhadap keutamaan laki-laki dalam ekonomi. Pemberdayaan yang transformatif inilah yang sudah seharusnya tetap menjadi agenda pembangunan daerah-sensitif gender.
Kata Kunci: Perempuan, Daerah Tertinggal, Jawa Timur, Pembangunan, Pemberdayaan
Abstract: At the global, national and local levels, women are seen as the development agent. It's like 'once rowing, two or three islands are passed,' women's economic empowerment programs, especially in rural or underdeveloped areas are believed to be able to bring positive impact on women themselves, their families or households, local economies and national economies. This literature study wants to take a further look at the notion. By showing the interaction between gender and economic inequality in men and women's lives in underdeveloped areas, especially in East Java, the conclusion of this paper is that programs that focus on rural women's involvement in order to enable their access to the markets are not necessarily empowering women in the sense of transforming their unequal position against men's preeminence in the economy. Such transformative empowerment should become an agenda for local development—a gender sensitive one.
Key Words: Women, Underdeveloped Area, East Java, Development, Empowerment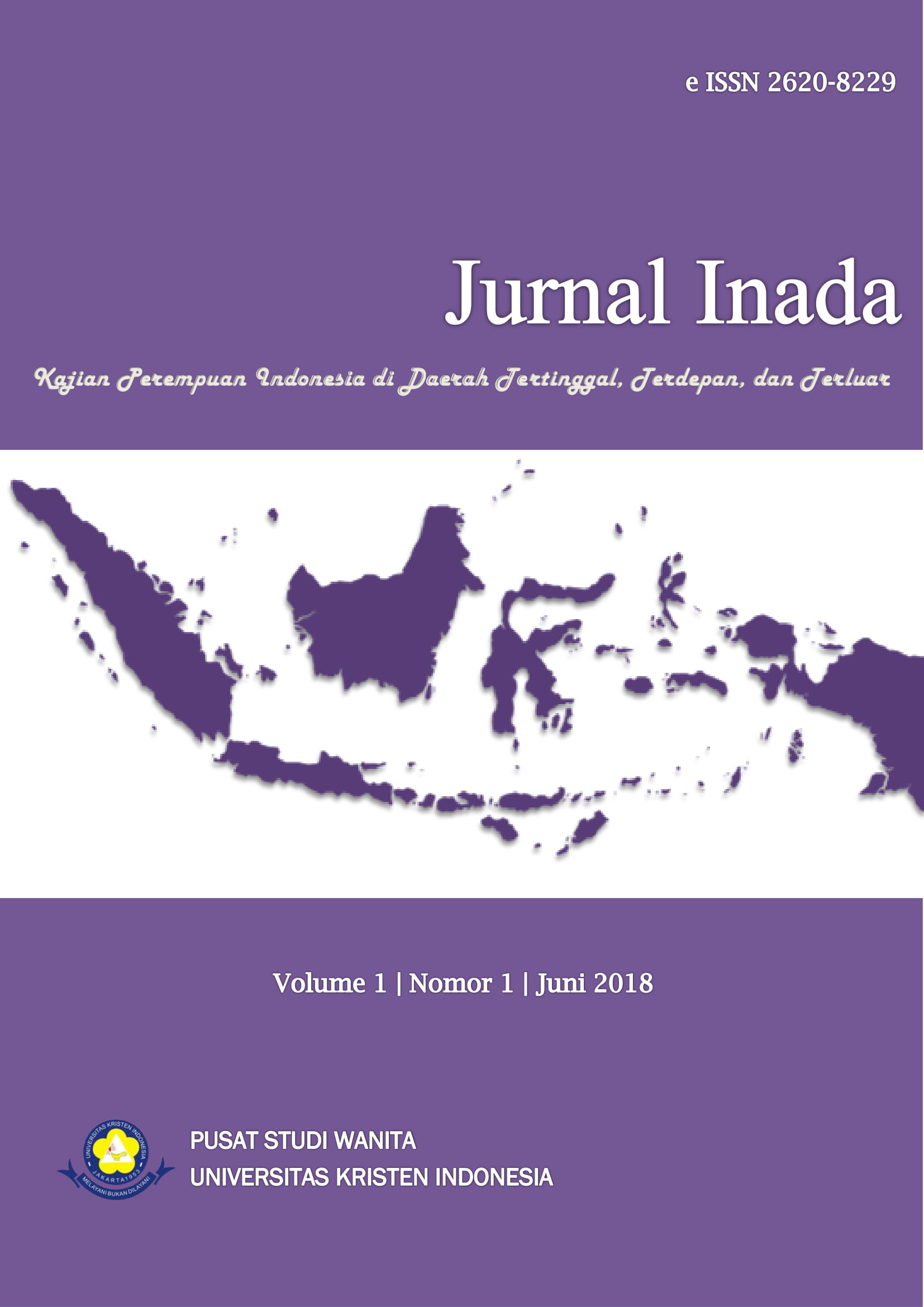 View 1464 times Download 1464 times PDF
How to Cite
Yesyca, M. (2018). Percepatan Pembangunan di Empat Daerah Tertinggal di Jawa Timur: Perspektif Feminis. Jurnal Inada: Kajian Perempuan Indonesia Di Daerah Tertinggal, Terdepan, Dan Terluar, 1(1), 26-54. https://doi.org/10.33541/ji.v1i1.825