Analisis Pelaksanaan Keterwakilan Perempuan di Badan Permusyawaratan Desa (BPD) Klapanunggal
Definitif Mendrofa

Universitas Kristen Indonesia
Keywords:
Representation, Women, BPD, Village
Abstract
This study aims to analyze women's participation in the management of the Village Consultative Body. In terms of filling BPD members, one of which is carried out based on women's representation. In this study, researchers will use a qualitative research method with a case study type used as a way to analyze research findings with data collection techniques through literature study and field research in the form of interviews. Research Results Implementation of women's involvement in the Klapanunggal Village Consultative Body has met the requirements for one of the BPD members based on women's representation, namely that of the nine management members of the Klapanunggal BPD there is one woman with a position as a member of the Village Administration and Community Development Sector. However, counseling or outreach to the community needs to be maximized regarding the meaning of gender equality and about women's representation in politics and government.
References
Arikunto, S. (2002). Prosedur Penelitian Suatu Pendekatan Praktek. Jakarta: Rineka Cipta.
Cahasta, L. A. (2017). Politik Representasi Rumah Aspirasi: Studi Tentang Rumah Aspirasi Budiman Di Kabupaten Banyumas-Cilacap. Journal of Governance, Volume 2, No. 2 Desember 2017, hal. 256. Diakses tanggal 24 November, 2022, dari https://jurnal.untirta.ac.id/index.php/jog/article/view/2679/2094
Hasan, M. I. (2002). Pokok-Pokok Metodelogi Penelitian dan Aplikasinya. Bogor: Ghalia Indonesia.
https://jurnal.unsil.ac.id/index.php/jipp/article/view/WESEA/1072
Hubeis, A. V. S. (2010). Pemberdayaan Perempuan Dari Masa Ke Masa. Bogor: IPB Press.
Nazir, M. (2003). Metode Penelitian. Jakarta: Ghalia Indonesia.
Nurcahyo, A. (2016). Relevansi Budaya Patriaki Dengan Partisipasi Politik Dan Keterwakilan Perempuan Di Parlemen. Jurnal Agatsya, Vol. 6, No. 1, Januari 2016, hal. 32. Diakses tanggal 24 November, 2022, dari http://e-journal.unipma.ac.id/index.php/JA/article/view/878/791
Peraturan Menteri Dalam Negeri Nomor 110 tahun 2016 tentang Badan Permusyawaratan Desa
Peraturan Menteri Dalam Negeri Nomor 84 Tahun 2015 tentang Susunan Organisasi dan Tata Kerja Pemerintah Desa
Profil Desa Klapnunggal dan Surat Keputusan Pengesahan Peresmian dan Penetapan Anggota BPD Klapanunggal Masa Bhakti 2019 – 2025. Diakses tanggal 23 November, 2022, dari Pemerintah Desa dan BPD Klapanunggal
Purnomo, J. (2016). Penyelenggaraan Pemerintahan Desa. Yogyakarta: Infest.
Rauf, R. dan Sri, M. (2015). Pemerintahan Desa. Pekan Baru: Zanafa Publishing.
Septina, W. E & Erisandi, A. (2018). Meningkatkan Partisipasi Politik Perempuan dalam PILGUB Jawa Tengah 2018. JIPP: Jurnal Ilmu Politik dan Ilmu Pemerintahan, Vol. 4, No. 2, 2018, hal. 136. Diakses tanggal 24 November, 2022, dari
Undang-Undang No. 6 Tahun 2014 tentang Desa.
Wasistiono, S dan M. Irwan, T. (2006). Prospek Pengembangan Desa. Bandung: Fokusmedia.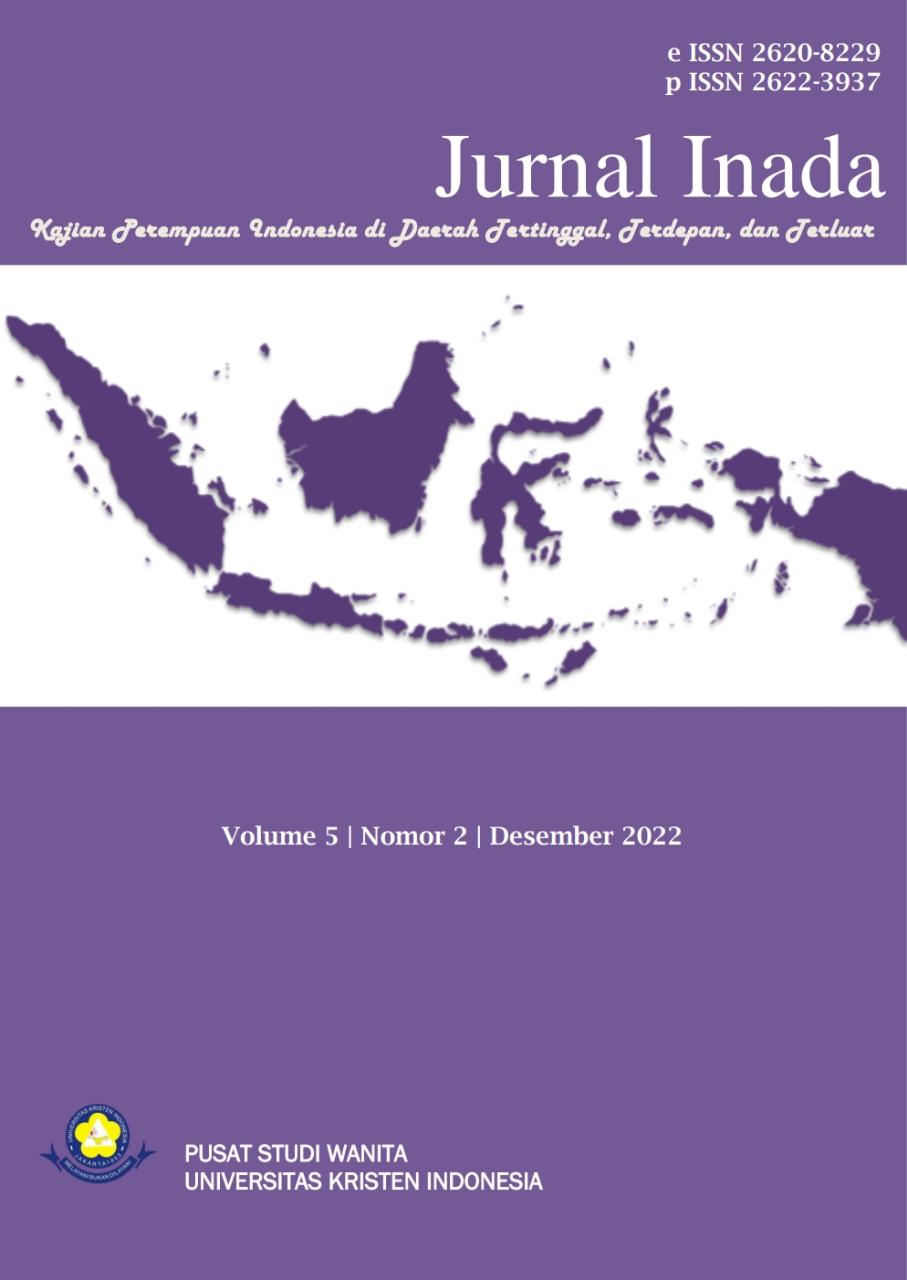 How to Cite
Mendrofa, D. (2023). Analisis Pelaksanaan Keterwakilan Perempuan di Badan Permusyawaratan Desa (BPD) Klapanunggal . Jurnal Inada: Kajian Perempuan Indonesia Di Daerah Tertinggal, Terdepan, Dan Terluar, 5(2), 134-151. https://doi.org/10.33541/ji.v5i2.4550