Profil Komunikasi dan Profil Kerjasama Lulusan Program Studi Pendidikan Biologi Universitas Terbuka
Dyah Aniza Kismiati

Universitas Terbuka

Leonard R. Hutasoit

Universitas Terbuka

Anna Ratnaningsih

Universitas Terbuka
Keywords:
Communication, Cooperation, Graduates, Profile
Abstract
The success of a study program in a university can be seen from the quality of the graduates. If the quality and performance of graduates are good, the study program can be said to be successful. This is also true in remote collegesuch as the Universitas Terbuka. In order to know this, this study was conducted which aimed to determine the performance of graduates of the Biology Education Study Program, especially on the profile of communication ability and the ability to work with graduates. The sample of this study was 35 graduate users. This sample was obtained from a random sampling technique. Data is obtained through questionnaires and interviews conducted with graduates and graduate users. Next, the data are analyzed descriptively. The results showed that the profile of communication ability and cooperation of graduates was considered very good both of from the self-reflection of graduates and from graduate users. This is based on descriptive data analysis where graduates and graduate users strongly agree and agree with all statements in the profile of communication and cooperation skills.
References
Anjani, D. (2017). Profil Keterampilan Kerjasama Dalam Kelompok Siswa Kelas XI Seminar Nasional Pendidikan Sains II UKSW 2017 Seminar Nasional Pendidikan Sains II UKSW 2017. Seminar Nasional Pendidikan Sains, 94–98.
Depdikbud. (2010). 2003 - 2010. In Strategi Pendidikan Tinggi Jangka Panjang.
Juniartika, R. dan M. S. (2022). Pelatihan komunikasi untuk meningkatkan kerjasama antar tim pada osim man 1 pessel. Journal of Social Outreach, 1(1), 30–42.
Kuen, F. . (2019). Peranan Komunikasi Antarpribadi Terhadap Hubungan Masyarakat Kecamatan Tamalate Kelurahan Mangsa Kota Makassar. Jurnal Ilmiah Pranata Edu, 1(1), 39–47.
Lakoy, A. C. (2015). Pengaruh komunikasi, kerjasama kelompok, dan kreativitas terhadap kinerja karyawan pada hotel aryaduta manado. Jurnal EMBA, 3(3), 981–991.
Lasswell, H. D. (1971). The structure and function of communication in society 1.
Nurhadi, Z. F., Kurniawan, A. W., Studi, P., Komunikasi, I., & Garut, U. (2017). Kajian Tentang Efektivitas Pesan Dalam Komunikasi. Jurnal Komunikasi Hasil Pemikiran Dan Penelitian, 3(1), 90–95.
Prakash, G. (2018). Quality in higher education institutions : insights from the literature. The TQM Journal, 30(6). https://doi.org/10.1108/TQM-04-2017-0043
Putri, Amalia, M. dan D. (2018). Kerjasama dan Kekompakan Siswa dalam Pembelajaran Fisika Di Kelas XII MIPA SMAN 3 Kota Jambi. Edu Fisika, 3(2).
Ridley, Dennis R., Boone, M. M. (2001). Alumni Loyalty: A Survey Investigation.
Rudi, M. S., Purba, A., Rudi, M. S., Informatika, T., & Elektro, T. (2019). Komunikasi Guru dalam Pengajaran di Era Milenial. TEDC, 13(3), 239–247.
Setyaningsih, I. dan M. A. (2013). Analisis Kualitas Lulusan Berdasarkan Tingkat Kepuasan Pengguna Lulusan. Jurnal Ilniah Teknik Industri, 12(01), 73–82.
Sianipar, M. R., Pakpahan, E., & Manalu, P. (2022). The Role of Quality of Academic Information Systems and Facilities on Student Loyalty. Jurnal Manajemen Bisnis, 13(2). https://doi.org/10.18196/mb.v13i2.13641
Sulvinajayanti. (2019). Analisis Kepuasan Pengguna Lulusan Terhadap Alumni Komunikasi dan Penyiaran Islam. Jurnal Penelitian, 13(2), 279–304.
Wati, E. K. A. K., Maruti, E. S. R. I., & Budiarti, M. (2020). Kelas IV Sekolah Dasar Aspek Kerjasama Dalam Keterampilan Sosial Siswa Kelas IV Sekolah Dasar. Jurnal Ilmiah Pendidikan Guru Sekolah Dasar, 4(2).
Zuwirna. (2016). Komunikasi yang efektif. E-TECH: Jurnal Ilmiah Teknologi Pendidikan, 1(1), 1–8.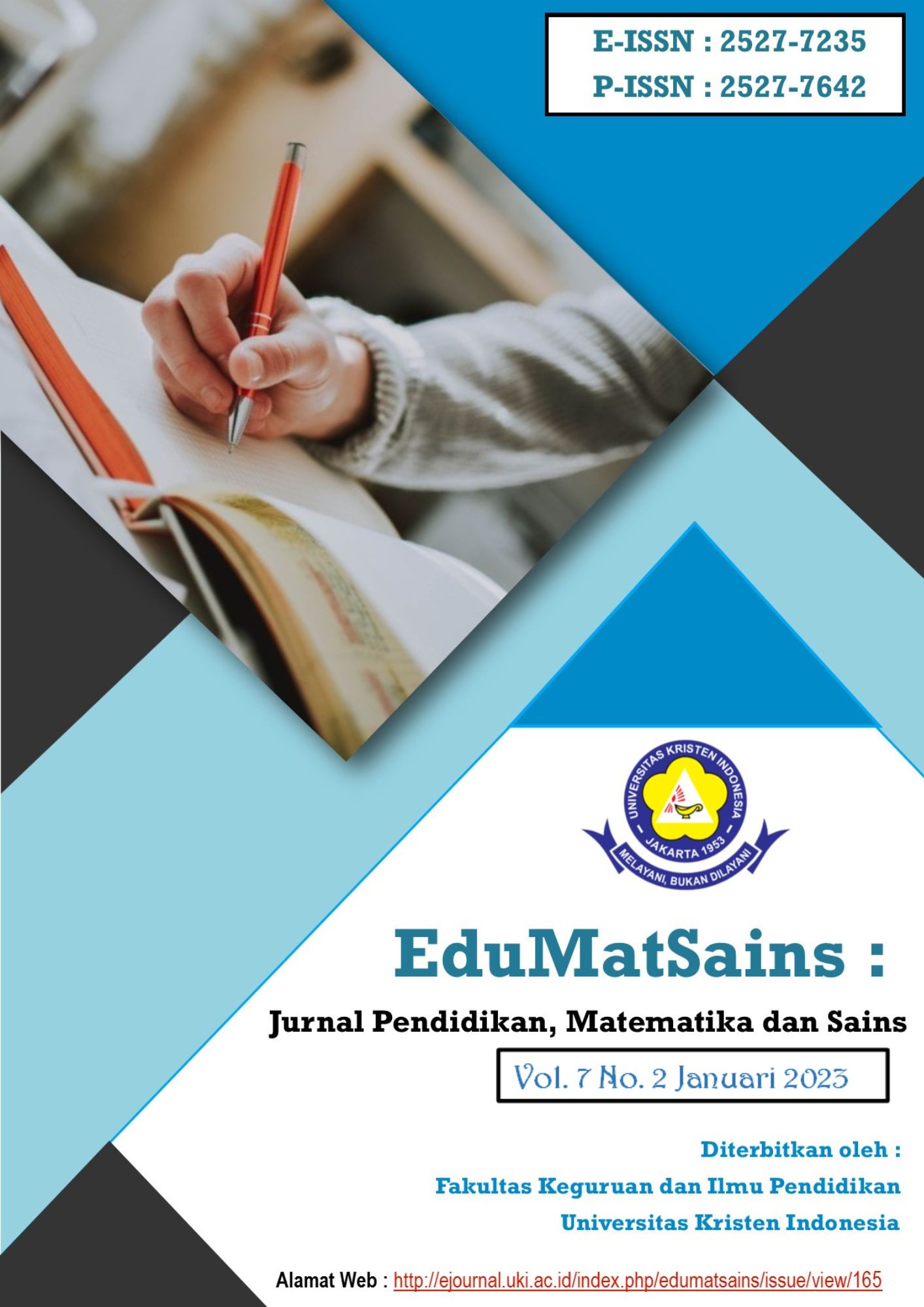 View 19 times Download 19 times PDF
How to Cite
Kismiati, D. A., Hutasoit, L. R., & Ratnaningsih, A. (2023). Profil Komunikasi dan Profil Kerjasama Lulusan Program Studi Pendidikan Biologi Universitas Terbuka. EduMatSains : Jurnal Pendidikan, Matematika Dan Sains, 7(2), 394-404. https://doi.org/10.33541/edumatsains.v7i2.4453
Copyright (c) 2023 Dyah Aniza Kismiati, Leonard R. Hutasoit, Anna Ratnaningsih
This work is licensed under a Creative Commons Attribution 4.0 International License.