PENGARUH MOTIVASI BELAJAR TERHADAP HASIL BELAJAR MATEMATIKA SISWA DI SMPN 2 TIRTAMULYA
Risky Nugroho

Program Studi Pendidikan Matematika, Universitas Singaperbangsa Karawang

Attin Warmi

Program Studi Pendidikan Matematika, Universitas Singaperbangsa Karawang
Abstract
Purpose of this study was to determine the effect of learning motivation to student mathematics learning outcomes at SMPN 2 Tirtamulya. The method used is a quantitative method. The population in this study were all students of SMP Negeri 2 Tirtamulya for the academic year 2021/2022, with 18 students of class VIII being the research sample. Data learning motivation and mathematics learning outcomes were obtained using questionnaires and documentation. The independent variable in this study is learning motivation, while the dependent variable is the result of learning mathematics. The data obtained were then analyzed using descriptive statistics and inferential statistics. The results showed that learning motivation had a significant positive effect to student mathematics learning outcomes at SMP Negeri 2 Tirtamulya. The level of closeness of the relationship between learning motivation and student mathematics learning outcomes is in the very strong category. The magnitude of the influence of learning motivation on students' mathematics learning outcomes is 95.84%. Meanwhile, the influence of other factors on the mathematics learning outcomes of SMP Negeri 2 Tirtamulya students is 4.16%.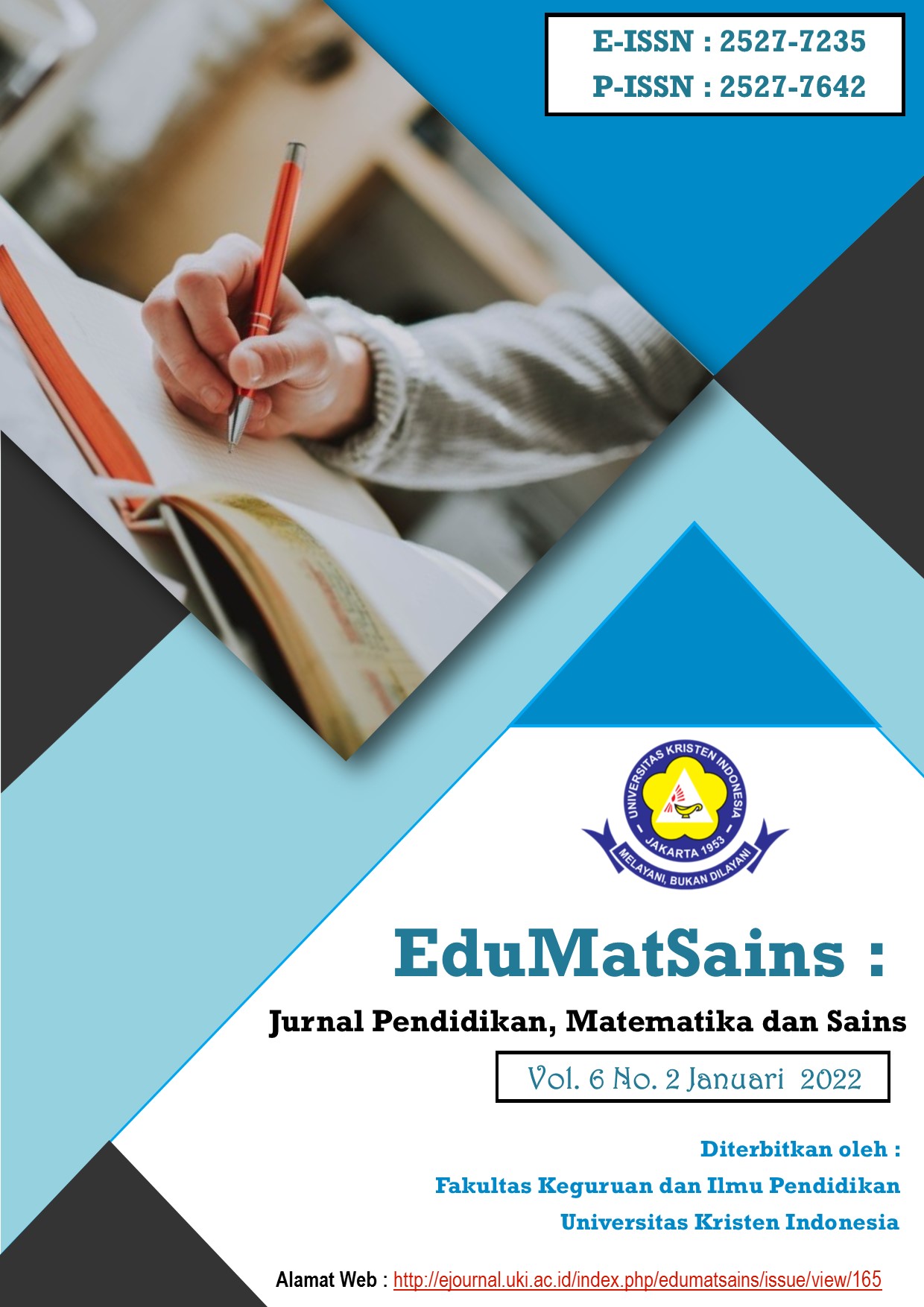 View 1095 times Download 1095 times PDF
How to Cite
Nugroho, R., & Attin Warmi. (2022). PENGARUH MOTIVASI BELAJAR TERHADAP HASIL BELAJAR MATEMATIKA SISWA DI SMPN 2 TIRTAMULYA. EduMatSains : Jurnal Pendidikan, Matematika Dan Sains, 6(2), 407-418. https://doi.org/10.33541/edumatsains.v6i2.3627
Copyright (c) 2022 Risky Nugroho
This work is licensed under a Creative Commons Attribution 4.0 International License.