MISKONSEPSI SISWA DALAM MENYEDERHANAKAN OPERASI PERKALIAN DAN PEMBAGIAN PADA BENTUK ALJABAR MENURUT TEORI BRUNER
Annisa Kurniawati

Program Studi Pendidikan Matematika, Universitas Singaperbangsa Karawang

Hanifah Nurus Sopiany

Program Studi Pendidikan Matematika, Universitas Singaperbangsa Karawang
Abstract
This study aims to determine the types of student misconceptions in simplifying multiplications and division operations algebraic form. The  research method used is a qualitative method with a descriptive approach, subject in this research were students VIIK at SMPN 1 west Karawang for the 2020/2021 academic year with a  total of 20 students in early stages of data collection using test and non test instruments is questionnaires. Then the data are proceed to the second stages, that is taking 4 selected objects by purposive sampling where each objects represents highest,middle,lowest class categories based on test and non-tes result. 4 objects were taken to analyze related to the types of students misconceptions that arise in solving problems by referring to Bruner's cognitive processes. The result of this study indicates types of misconceptions experienced by students due ti incompability with Bruner's cognitive processes including; (a) misconceptions of notation due to an error in the transformation stage ; (b) generalization misconceptions due to errors in the information stage ; (c) misconceptions about the application of the rules due to an error in the information stage; (d)  Misconceptions about the meaning of letters due to errors in the information stage.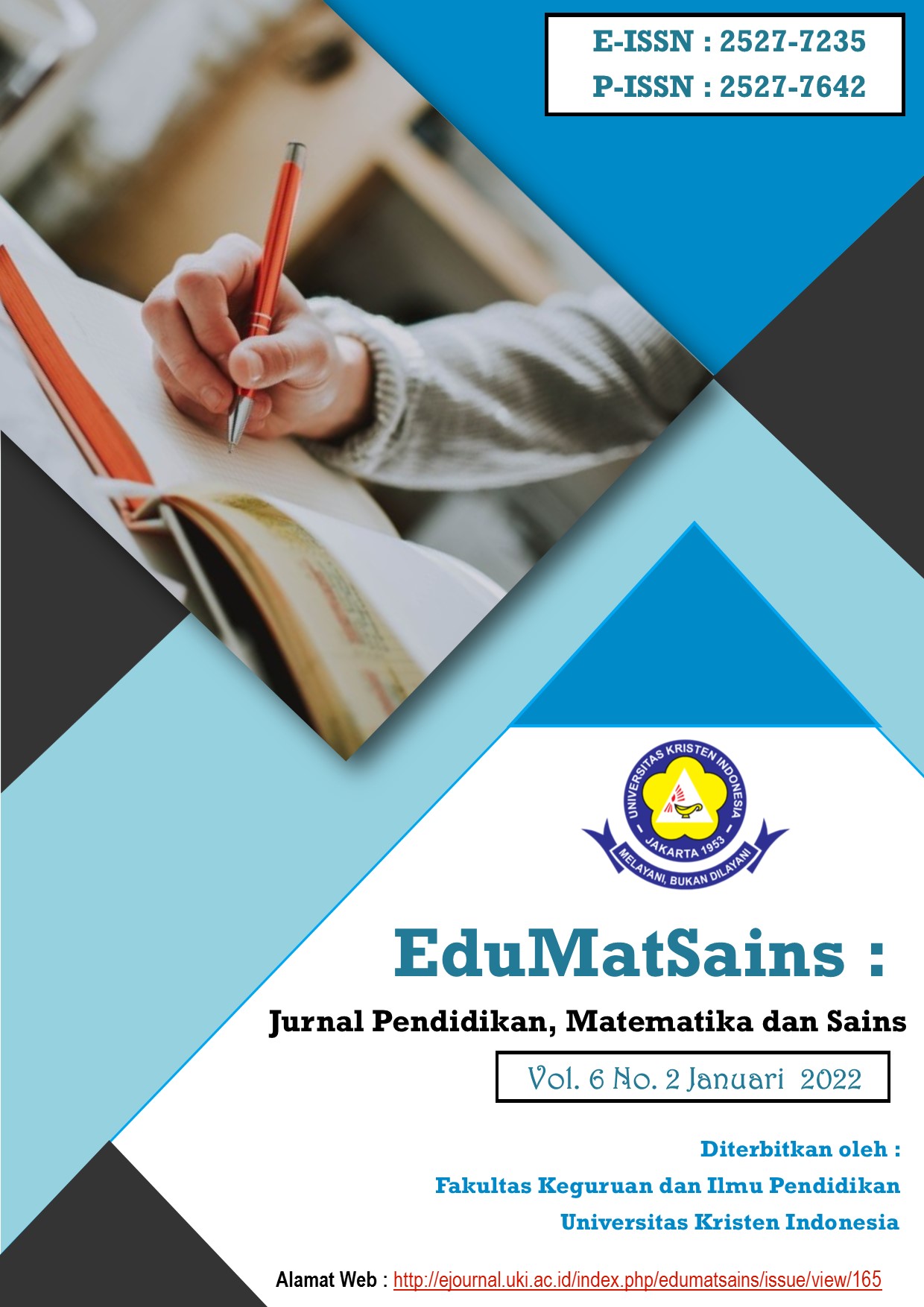 View 271 times Download 271 times PDF
How to Cite
Annisa Kurniawati, & Hanifah Nurus Sopiany. (2022). MISKONSEPSI SISWA DALAM MENYEDERHANAKAN OPERASI PERKALIAN DAN PEMBAGIAN PADA BENTUK ALJABAR MENURUT TEORI BRUNER. EduMatSains : Jurnal Pendidikan, Matematika Dan Sains, 6(2), 363-376. https://doi.org/10.33541/edumatsains.v6i2.3614
Copyright (c) 2022 Annisa Kurniawati -
This work is licensed under a Creative Commons Attribution 4.0 International License.