PROFIL KEMAMPUAN KONEKSI MATEMATIS SISWA SMP DALAM MENYELESAIKAN SOAL PERSAMAAN GARIS LURUS
Dinda Risdayani

Program Studi Pendidikan Matematika, Universitas Singaperbangsa Karawang

Alpha Galih Adirakasiwi

Program Studi Pendidikan Matematika, Universitas Singaperbangsa Karawang
Abstract
Mathematical connection is one of the mathematical ability that need to be possessed and developed in students. Mathematical connection ability will help students build a much better understanding of mathematics. This research is a qualitative descriptive study that aims to describe students' mathematical connection ability in solving straight line equations. The research subjects in this study were three students of class VIII-D at SMPIT Nurul Husna Bekasi Regency, from 14 people. Subject selection based on written test results. The data collection technique described the mathematical connection ability test questions and interviews. Then, the data analysis technique used was data reduction, data presentation, and conclusion drawing. The study results showed that students with high mathematical connection ability had met the three indicators of mathematical connection, in contrast to students with low and medium ability who had not completed the three indicators of mathematical connections.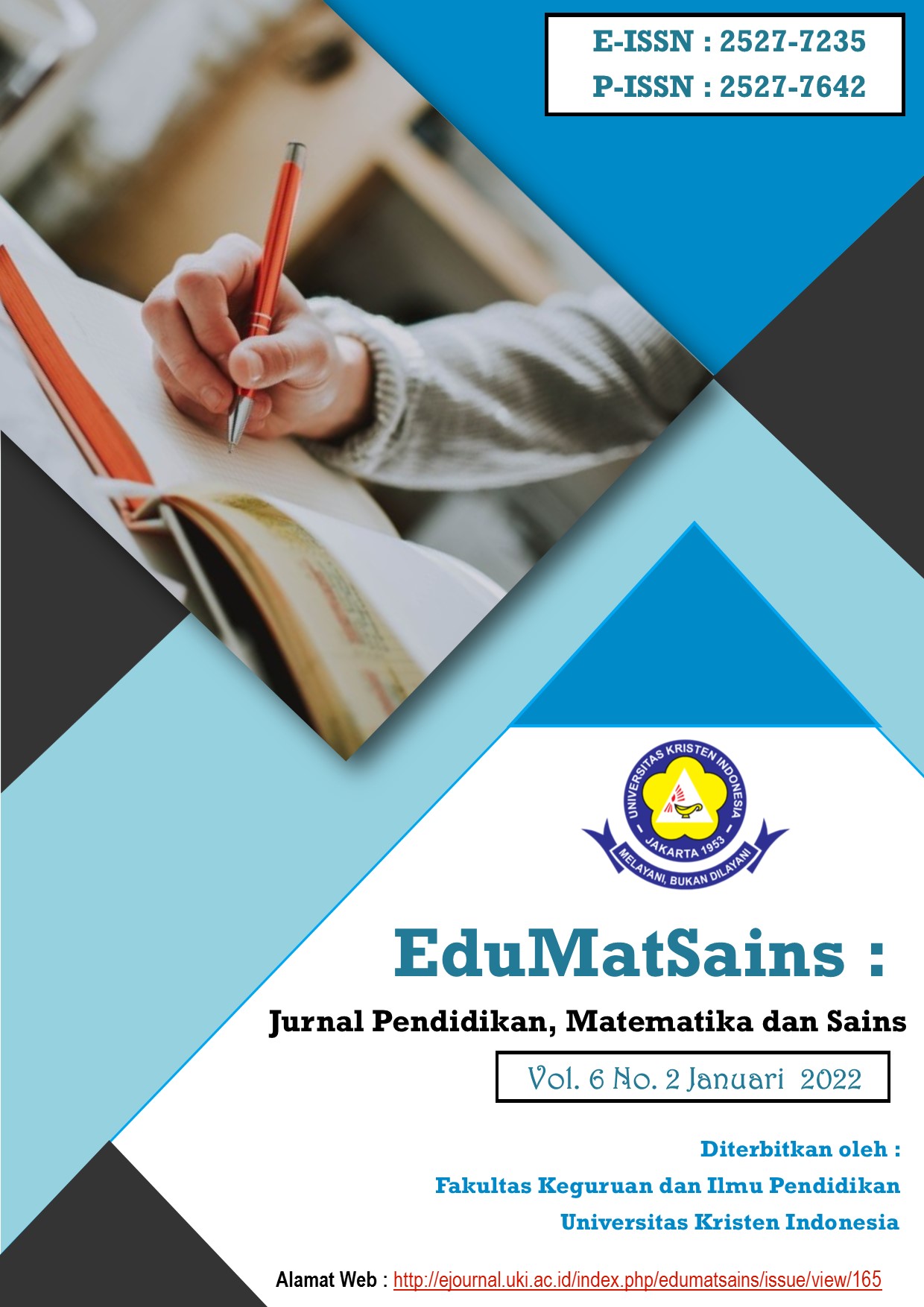 View 229 times Download 229 times PDF
How to Cite
Risdayani, D., & Adirakasiwi, A. G. (2022). PROFIL KEMAMPUAN KONEKSI MATEMATIS SISWA SMP DALAM MENYELESAIKAN SOAL PERSAMAAN GARIS LURUS. EduMatSains : Jurnal Pendidikan, Matematika Dan Sains, 6(2), 343-362. https://doi.org/10.33541/edumatsains.v6i2.3613
Copyright (c) 2022 Dinda Risdayani, Alpha Galih Adirakasiwi
This work is licensed under a Creative Commons Attribution 4.0 International License.