PENGARUH ASAM SALISILAT TERHADAP KANDUNGAN FLAVONOID PADA KULTUR KALUS GINSENG JAWA (Talinum paniculatum (Jacq.) Gaertn.)
Matthew Linardi

Program Studi Biologi, Fakultas Bioteknologi, Universitas Kristen Duta Wacana

Ratih Restiani

Program Studi Biologi, Fakultas Bioteknologi, Universitas Kristen Duta Wacana

Dwi Aditiyarini

Program Studi Biologi, Fakultas Bioteknologi, Universitas Kristen Duta Wacana
Abstract
Javanese ginseng (Talinum paniculatum) is a plant that is used as raw material in traditional medicine because it contains flavonoid as one of it's secondary metabolites.  Increasing the flavonoid content in Talinum paniculatum can be done by applying elicitation to in vitro culture. Salicylic acid is an abiotic elicitor that is often used in elicitation because it can increase the production of secondary metabolites. The aim of this study was to determine the effect of salicylic acid concentration and elicitation time on callus biomass and flavonoid content in Talinum paniculatum callus culture. Talinum paniculatum callus production was carried out on MS medium with a combination of 2 mg/L 2-4,D and 3 mg/L kinetin. Elicitation was carried out on callus that had entered the stationary phase on the interaction of variations in the concentration of salicylic acid concentrations of 5 ppm, 10 ppm, 15 ppm, and 20 ppm and elicitation times were 2 days, 4 days, and 6 days. Each variations were replicated three times. The callus was dried and extracted and then the flavonoids were identified and measured semi-quantitatively using thin layer chromatography (TLC). The callus biomass elicited by varying the concentration of salicylic acid and elicitation time (0.052 – 0.067) was not significantly different from the control (0.067). The most optimal concentration and elicitation time were found at 20 ppm salicylic acid concentration and 2 days elicitation time with the largest flavonoid stain area (1.570 cm2), color intensity 3, and Rf value similar to control (0.5).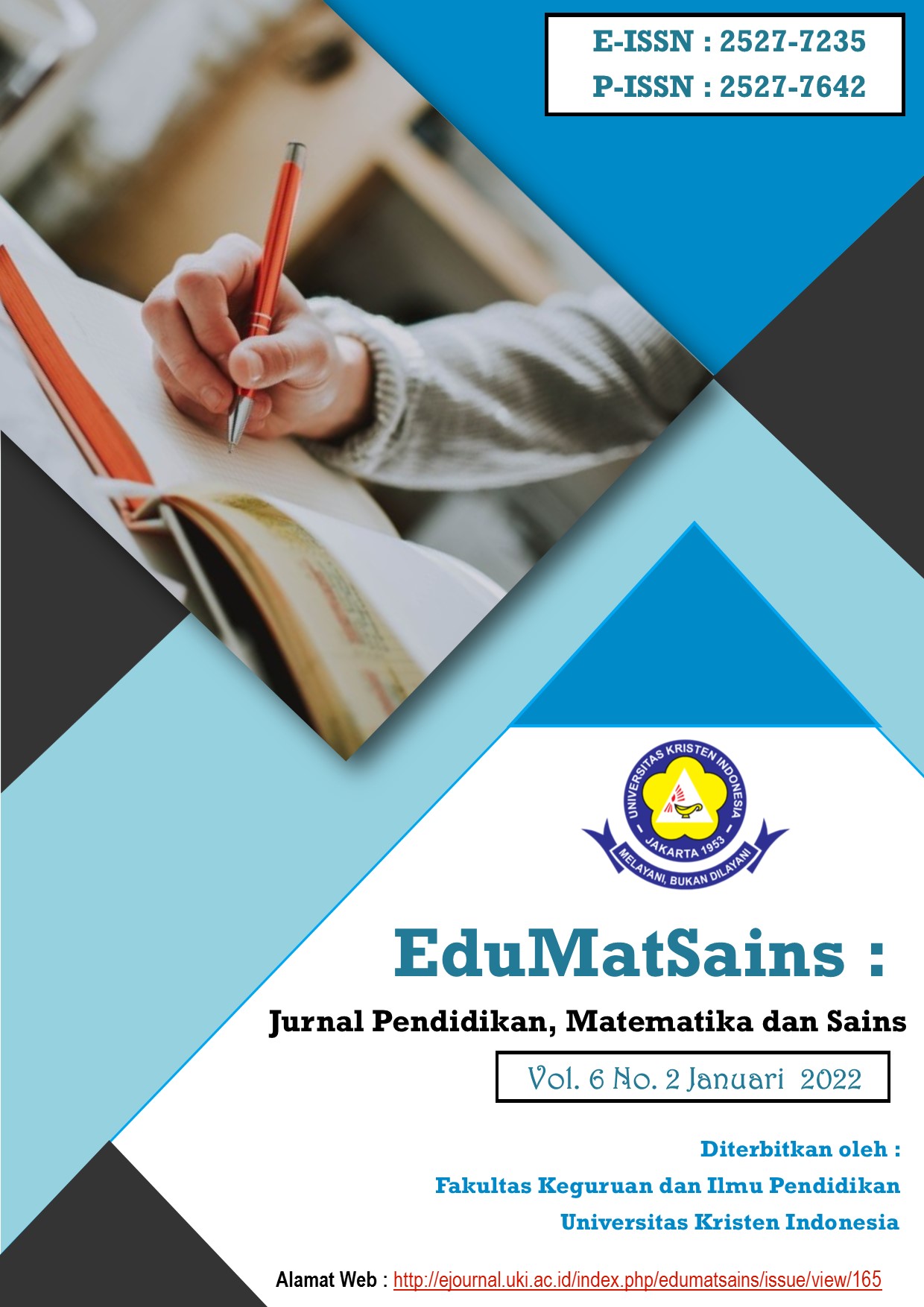 View 585 times Download 585 times PDF
How to Cite
Linardi, M., Ratih Restiani, & Dwi Aditiyarini. (2022). PENGARUH ASAM SALISILAT TERHADAP KANDUNGAN FLAVONOID PADA KULTUR KALUS GINSENG JAWA (Talinum paniculatum (Jacq.) Gaertn.). EduMatSains : Jurnal Pendidikan, Matematika Dan Sains, 6(2), 443-458. https://doi.org/10.33541/edumatsains.v6i2.3331
Copyright (c) 2022 Matthew Linardi, Ratih Restiani, Dwi Aditiyarini
This work is licensed under a Creative Commons Attribution 4.0 International License.