IDENTIFIKASI KESIAPAN DAN KESULITAN GURU MATEMATIKA DALAM PELAKSANAAN KURIKULUM 2013 DI MASA PANDEMI COVID 19
jitu Halomoan lumbantoruan

Program Studi Pendidikan Matematika, FKIP, Universitas Kristen Indonesia
Abstract
The research method used is descriptive qualitative. Collection of primary data and secondary data. Analysis with data reduction, presentation, conclusion and verification. Research at SMA Yadika 11, SMK 4 and SMA 7 Bekasi. The results of the analysis, 1) 95% of the online learning process is still from curriculum 13, the school facilitates teachers. However, when the implementation was not in line with expectations, this was because the material provided was not prepared with the standard of the initial ability of students, the books provided were not strong enough to build concepts, educators had difficulty writing symbols, student responses to professional competence were 79%, 70% of participants students assess that teachers do not have teaching materials and modules used as learning aids, observing 4 teacher materials have difficulty explaining related to writing symbols and proof. 2) The form of readiness by providing textbooks as the main source, however, books with cognitive dimensions. Lots and not hot books, this is not in line with curriculum 13. 3) The assessment method is prepared by the teacher, however, the assessment method is not given and the material tested is more difficult than what is taught and 60% disagrees with the teacher's assessment method.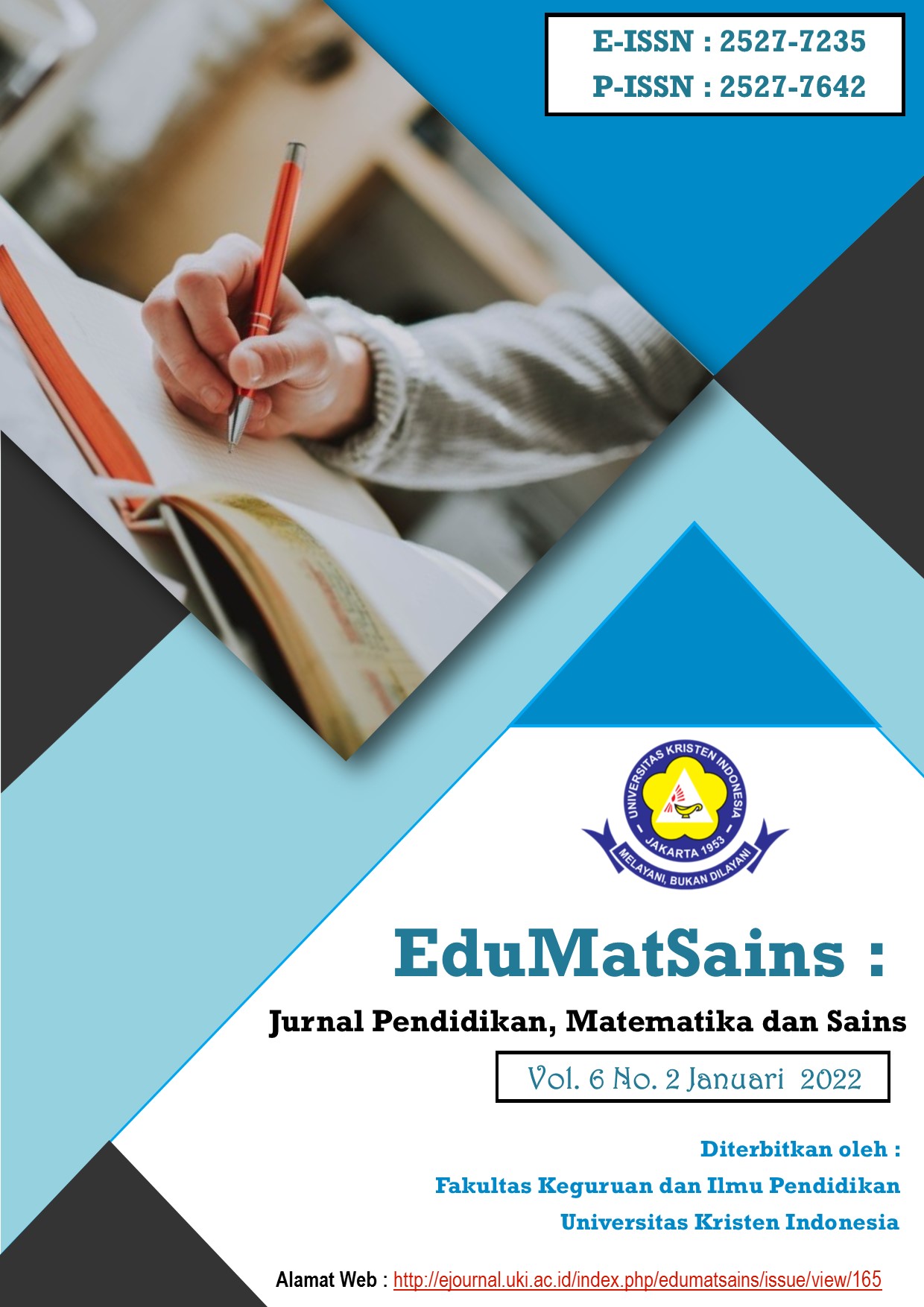 View 189 times Download 189 times PDF
How to Cite
lumbantoruan, jitu H. (2022). IDENTIFIKASI KESIAPAN DAN KESULITAN GURU MATEMATIKA DALAM PELAKSANAAN KURIKULUM 2013 DI MASA PANDEMI COVID 19. EduMatSains : Jurnal Pendidikan, Matematika Dan Sains, 6(2), 231-244. https://doi.org/10.33541/edumatsains.v6i2.3297
Copyright (c) 2022 jitu Halomoan lumbantoruan
This work is licensed under a Creative Commons Attribution 4.0 International License.