STUDI KOMPARASI KANDUNGAN TIMBAL PADA BUAH APEL (Malus domestica) VARIETAS FUJI DARI PASAR TRADISONAL DAN SWALAYAN DI YOGYAKARTA
Minarsih Maria Sambo

Program Studi Biologi, Fakultas Bioteknologi, Universitas Kristen Duta Wacana

Guruh Prihatmo

Program Studi Biologi, Fakultas Bioteknologi, Universitas Kristen Duta Wacana

Dwi Aditiyarini

Program Studi Biologi, Fakultas Bioteknologi, Universitas Kristen Duta Wacana
Abstract
This study aims to determine and compare the concentration of Pb in Fuji apples from traditional markets and supermarkets. Samples were obtained from the outer Demangan market, the outside and inside Kranggan market, Superindo and Mirota Kampus. Samples were extracted using aqua regia HCl: HNO3 (3:1, v/v). Analysis of Pb concentration using Atomic Absorption Spectrophotometer (AAS). Data processing using SPSS with ANOVA test to determine the ratio of Pb concentration from each location. The average concentration of Pb in Fuji apple samples was obtained from the Demangan outside market (0.213 mg/kg), Kranggan outside market (0.208 mg/kg), Kranggan inside market (0.162 mg/kg), Superindo (0.147 mg/kg) and Mirota Campus (0.168 mg/kg). Based on the BPOM quality standard (2018), the concentration of lead in the outer Demangan market and the outside Kranggan market has passed the quality standard. As for the quality standard of SNI (2009) all concentrations are still within safe limits. So from the results of this study it can be said that the sales location is important to the lead content in Fuji apples, especially those sold near the highway, this is indicated by the highest lead concentration sourced from open sales locations and close to the highway, that is Kranggan outside market and the Demangan outside market. The treatment of washing fuji apples also showed a decrease in lead levels in fuji apples.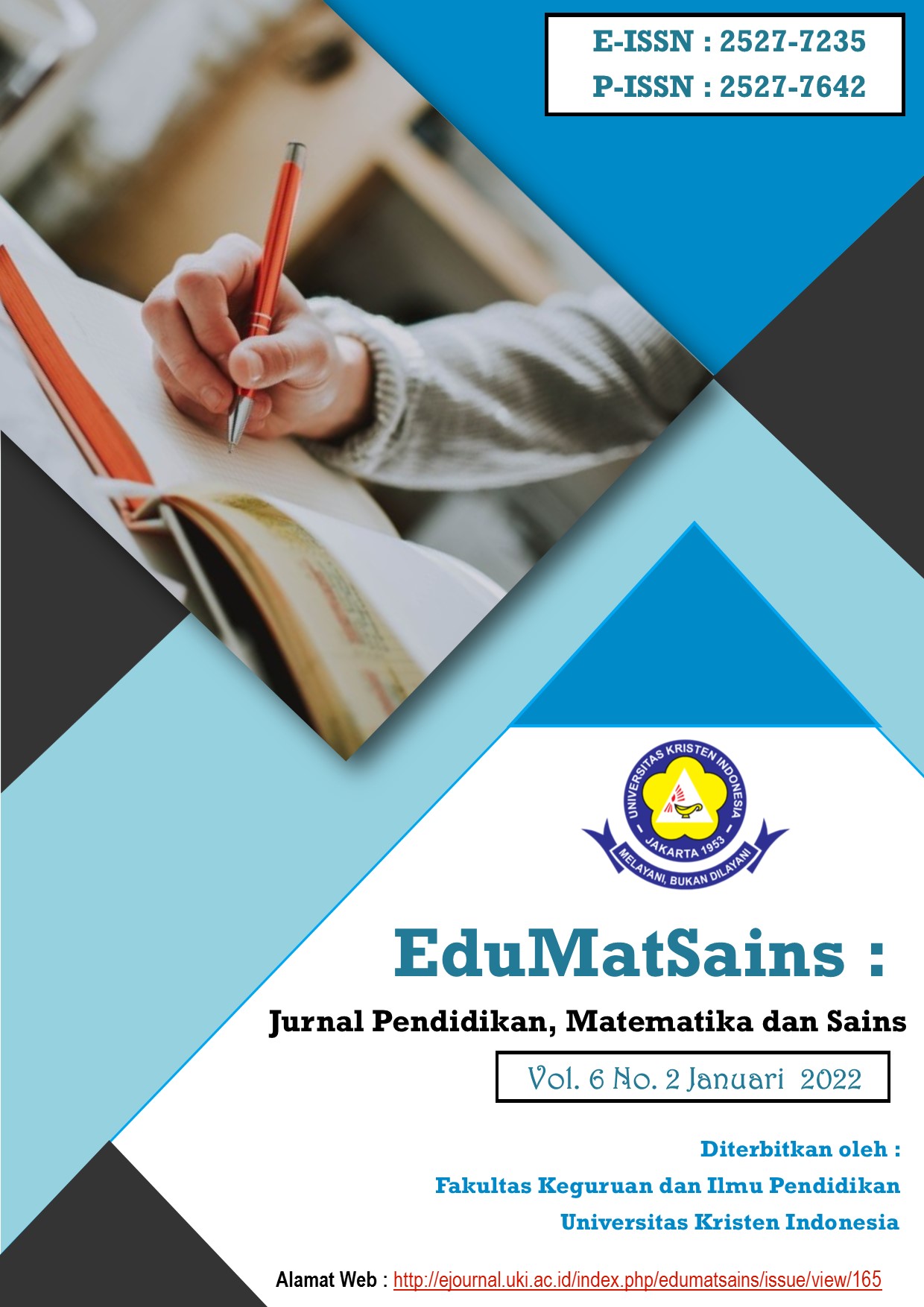 View 417 times Download 417 times PDF
How to Cite
Sambo, M. M., Prihatmo, G., & Aditiyarini, D. (2022). STUDI KOMPARASI KANDUNGAN TIMBAL PADA BUAH APEL (Malus domestica) VARIETAS FUJI DARI PASAR TRADISONAL DAN SWALAYAN DI YOGYAKARTA. EduMatSains : Jurnal Pendidikan, Matematika Dan Sains, 6(2), 245-256. https://doi.org/10.33541/edumatsains.v6i2.3134
Copyright (c) 2022 Minarsih Maria Sambo
This work is licensed under a Creative Commons Attribution 4.0 International License.